This post may contain affiliate links. This means by purchasing through one of these links I may make a small commission at no extra cost to you. Please see my disclaimer for more details.
Deciding on a name for your sweet baby girl is no easy feat, but we are here to help you on your journey to the perfect baby girl name!
Are you looking for short and sweet, one syllable baby girl names?
You're in the right spot, friend. I've got a list here of stunning one syllable baby girl names! From classic to vintage, and pretty to unique, there is one for almost every taste.
If you are open to some longer suggestions, I've got another article you HAVE to see. Click to read 87 stunning baby girl names you are sure to fall in love with!
There is something so charming about a simple, beautiful name, isn't there? They hold their own, but also make a perfect match for longer last names too. Not to mention, they can beautifully balance out longer first and last names as short and sweet middle names too!
As a new mama myself, I've noticed nicknames for longer names are making an entrance as complete baby names too. It's perfectly adorable!
Gender-neutral names are another trendy, unique option! Here is a list of 27 incredible choices you can check out now.
Okay let's get to these gorgeous one syllable baby girl names you came for….
50 Charming One Syllable Girl Names From All Different Origins!
Pretty one syllable baby girl names starting with A to G.
Anne
Bee
Belle
Beth
Blair
Bo
Bree
Britt
Claire
Dee
Dot
Elle
Eve
Fern
Finn
Fleur
Gem
Gwen
Unique One Syllable Baby Girl Names Starting With J to Q.
Jade
Jean
Joyce
Jules
June
Kate
Kay
Lace
Leigh
Lille
Liv
Liz
Mae
Mar
Maeve
Maude
Nell
Paige
Pearl
Quinn
Lovely One Syllable Baby Girl Names That Start With R to V.
Rain
Rose
Rue
Ruth
Rynn
Sage
Shae
Tess
Trish
Val
Vi
Viv
There you have it! 50 stunning and simple one syllable baby girl names. For even more amazing choices check out this post here.
Would you like to check out the meaning of a few of your favorites? Head on over to babynames.com to find out!
There is often a lot of pressure when it comes to choosing a baby name. Try not to stress about it! Have fun exploring different options and combinations.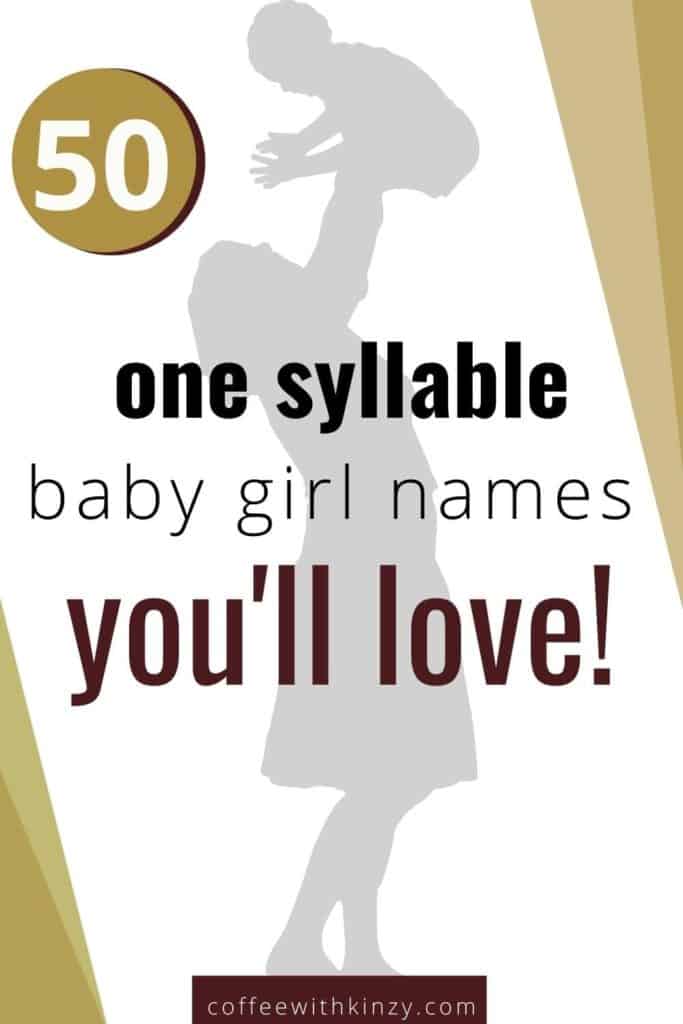 Some things to consider in choosing the perfect baby name:
Do the initials spell anything, good, bad, or otherwise?
Do you want to carry on a family name?
Does the name have a meaning? While this may not matter to you, your child may look it up in the future and be curious about it.
Is it easy for children to pronounce?
Whether you choose to share your baby's name before birth or not, don't let other's get you down. It's a personal decision for you, the parents, to make!
Happy naming, and congratulations!
Xo,
Kinzy
For more baby girl names:
55 vintage girl names you don't hear anymore
101 whimsical nature baby names
87 simply stunning baby girl names