This post may contain affiliate links. This means by purchasing through one of these links I may make a small commission at no extra cost to you. Please see my disclaimer for more details.
Planner printable lovers, this one is for YOU!
This FREE holiday planner is chock-full of goodies to help you stay organized and in control this holiday season!
We are talking a 20-page printable bundle in beautiful holiday inspired colors. It was designed with the busy mom in mind!
This free planner is part of my exclusive library of printables. Get immediate access by signing up right here:
We promise no spam. Unsubscribe at ANY time, no hard feelings. See my privacy policy for more details!
What's inside the free holiday planner?
20 pages of gold! You'll find calendars, weekly and daily planners, menu templates, grocery list printables, budget worksheets, gift and card trackers, wish lists, stocking stuffer inventory sheets, bucket list activities, memory worksheets & more.
Keep reading to get a preview of each planner page included in this holiday planner printables set.
Dated November 2020 and December 2020 Calendars
That's right, you don't even have to fill in the little numbers yourself! Just start adding in all your events and to-do's and mix up your current calendar pages with these festive versions.
Weekly Planner
Break down your busy weeks with an overview using this beautiful weekly spread. I don't know about you, but I love seeing a summary of my week on a single page!
Daily Planner
Next up, print out a copy of this daily planner for the days you have a lot going on! This one even has a built-in schedule for you to time block events, to-do's, errands and more.
Track your top intentions for the day (because intentions sounds so much better that to-do's, don't you agree?!), stay grateful and jot down any notes that come to mind in the boxes on the right-hand side.
Related: How to Time Block for Busy Moms
Holiday Budget Planner
Build out your holiday budget for this season using this budget breakdown worksheet.
Meal Plan, Holiday Menu and Grocery List Holiday Planner Printables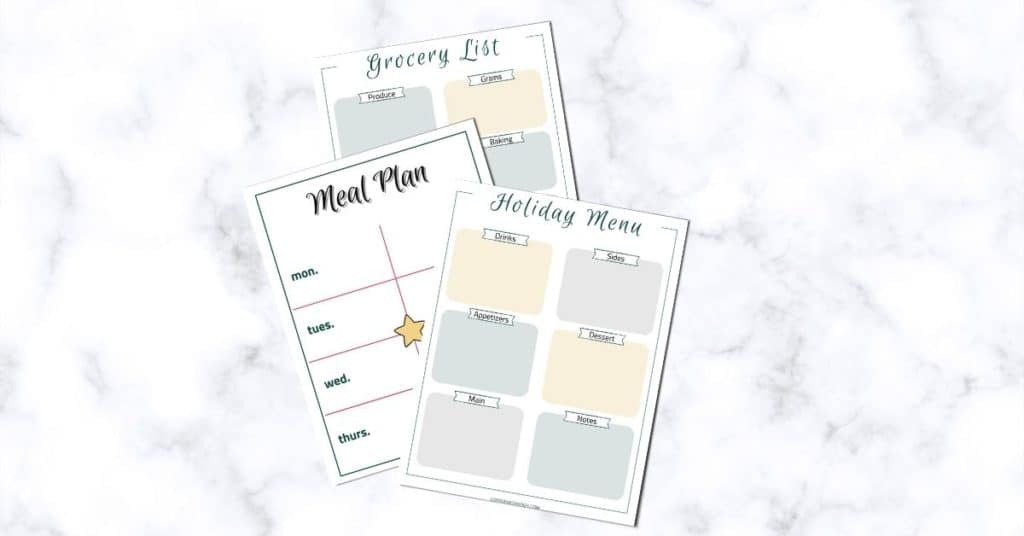 There is simply no need for extra stress during the holidays.
Stay on top of everything in the kitchen by planning your weekly meals, creating any holiday menus for dinners or events you are hosting and keeping a comprehensive grocery list so you don't forget any required ingredients!
I'm not about making more than one grocery trip a week… especially during this pandemic! I like to have an organized, ongoing grocery list so nothing gets left behind.
Related: How to Meal Plan in Less Than 10 Minutes Per Week
Holiday Greeting Card Tracker
Sending out holiday cards this year? Use this printable to track your cards!
My Wish List
Jot down your wants, needs and dreams here so anytime you are asked what kinds of things you'd like to receive for Christmas you have an answer!
Gift Ideas & Gift Trackers
Brainstorm gift ideas and stores/websites on this worksheet and then track all your purchases with the gift tracker! I'd suggest adding a budget to the gift ideas sheet to, to help you stay on track for each individual.
The stocking stuffers planner page is perfect for writing down all the little goodies you've picked up for each stocking. You could print a second copy as a brainstorm worksheet too!
I know I've definitely bought stocking stuffers early only to completely forget about them… this will help make sure that doesn't happen to you this year!
Related: 30 Toddler Stocking Stuffers Under $10 (That Aren't Junk!)
Holiday Traditions & Family Fun Christmas Checklist
Make a holiday activity list and check them off as you complete your favorite holiday traditions this year. I also included a Christmas fun checklist incorporating a ton of festive family friendly activities!
Related: 10 Holiday Traditions to Start This Year
Baking & Crafts
These matching printables are perfect for organizing your holiday baking and crafts this season.
Letter to Santa
If you have older toddlers and children, print out this page to let them send a letter to Santa!
Memory Builder
There are so many wonderful memories made during the holidays. Print this sheet out and track the daily moments you never want to forget!
Staying grateful during the busy holiday season is good for the soul. Slow down, come together as a family and have fun reliving the day's highlights!
Bonus: 5 Gratitude Quotes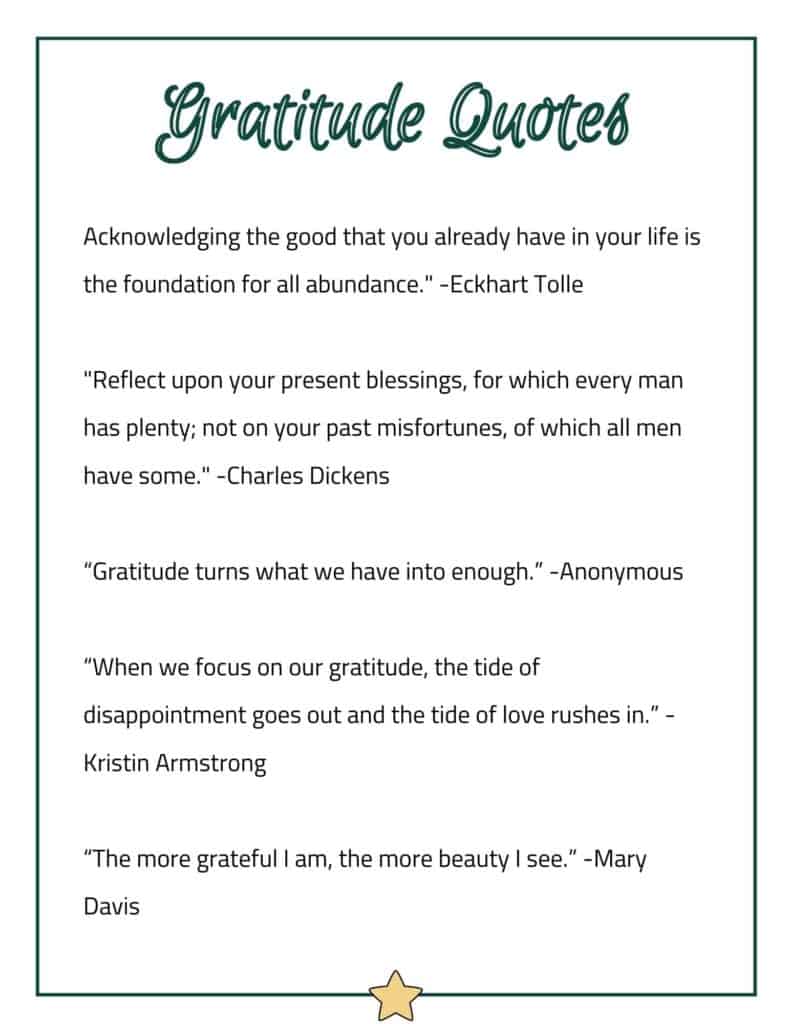 These inspirational gratitude quotes are the perfect addition to any planner. Print this one out or copy the quotes into your monthly or weekly calendars to dress them up!
Get your holiday planner bundle right here, right now, for FREE!
We promise no spam. Unsubscribe at ANY time, no hard feelings. See my privacy policy for more details!
Happy planning!
Drop me any questions or comments you have about the bundle below. I hope you all have the most amazing holiday season! I know it's a little strange with the pandemic, but we are all in this together. It's a season, and this too shall pass. In the meantime, there is always something to be grateful for.
Please share this post on Pinterest:
Xo,
Kinzy
You might also like:
Free Planner Printables for Moms: Take Back Your Time (Updated for 2021)
How To Brain Dump and Stop Feeling Overwhelmed
30 Toddler Stocking Stuffers Under $10