This post may contain affiliate links. This means by purchasing through one of these links I may make a small commission at no extra cost to you. Please see my disclaimer for more details.
Friends, meal planning is the BEST.
It's my favourite busy mom, time-saving hack by far! And what makes it even easier are awesome, printable & free meal planning templates.
But before we get to those… Do you want to learn how to meal plan for the week in less than 10 minutes? Be sure to check out this article on how to meal plan in less time than it takes to unload the dishwasher.
The basics of meal planning:
A meal plan is a tentative schedule of what you and your family will eat throughout a week. You can meal plan all 3 meals and snacks every day or you can choose to meal plan just the meals that are more difficult for you.
Personally, I usually thoroughly meal plan our lunches & dinners. Breakfast I tend to rotate around the same few things, so I just make sure those ingredients are on the grocery list (think oatmeal variations, avocado toast, omelets). I also have a snack list on hand, so I can quickly glance at what options I have to offer my hangry little toddler!
Who should meal plan?
Everyone.
EVERYONE.
But especially busy parents who don't have time to waste expending excess energy on meal times and feeding their families.
Toddlers go from happy to hangry in 0.5 seconds, am I right? Having a plan helps you minimize the time from "I'm hungry" to having food in their hands.
Why should you meal plan?
To save time.
To save money.
To reduce stress.
To eat healthier meals at home.
To teach your family healthy eating habits.
And this is just to name a few!
When should you create your meal plan?
I've seen people meal plan once a week, once every 2 weeks and others who even do it monthly.
I'm on team 'meal plan once a week' for a few reasons. I like to grocery shop weekly to keep produce fresh. Also, weekly plans allow you to push meals back to the next week if you end up ordering takeout one night and eating out. It allows for greater flexibility, and I'm all about that.
Meal planning doesn't have to be so rigid. If you do it right, you can easily swap around meals and have it be adjustable.
Where do you meal plan?
Meal plan in your kitchen, if at all possible, so that you can easily check what ingredients you already have!

If not in your kitchen, try to meal plan somewhere with your pantry/fridge/freezer inventory sheets nearby. You save $$ and minimize wasting food by using ingredients you already have.
How do you meal plan?
Friends, I've tried many a way to meal plan.
The most effective ones always come down to having great templates and systems to keep you organized.
That's why I created this epic bundle of meal planning printable templates for you. And the best part?
They are F R E E !!!
Snag your family meal planner bundle right here, right now:
The free meal planning templates included in this bundle: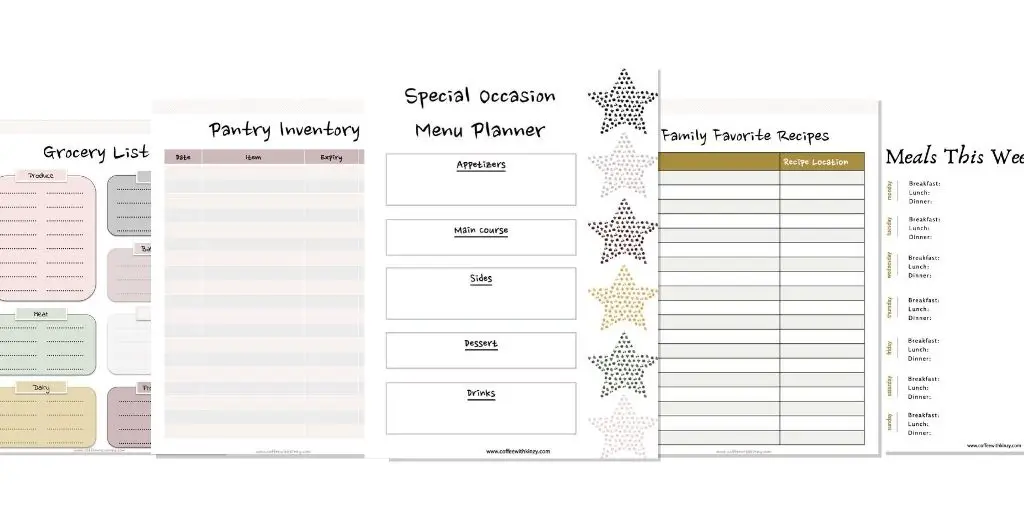 Weekly Meal Plan Template
A printable template you can place on your fridge so everyone in the family knows what to expect in the week to come!
Grocery List
As you plan your meals for the week add the items you need to your grocery list using this free grocery list template.
Pantry Inventory
Keep an ongoing list of what's in your pantry so you can quickly glance at what you already have and don't end up buying extra of items you don't need!
Freezer Inventory
The same idea as the pantry inventory sheet. This one has come in extra handy during this quarantine time as my freezer is full and I can't see what's in the back.
Frozen Breast Milk Inventory
I see you, and I've got you pumping mamas! Keep track of your milk with this list to make sure you don't lose a whole stash in the freezer.
Family Favorite Recipe List
Keep a list of family favorites for even easier meal planning in the days ahead! I like to pull a few family favorites each week to keep everyone on board and happy!
Snack Ideas
When my toddler first started snacking I was always scrambling through the fridge and cupboards. With a list of healthy snacks nearby you can get inspiration quickly and get a snack into their hands!
Special Occasion Menu Planner
Are you hosting a dinner party? Cooking Christmas dinner? Planning a special meal for your spouse? Whatever the case, this special occasion menu planner will help you stay extra organized!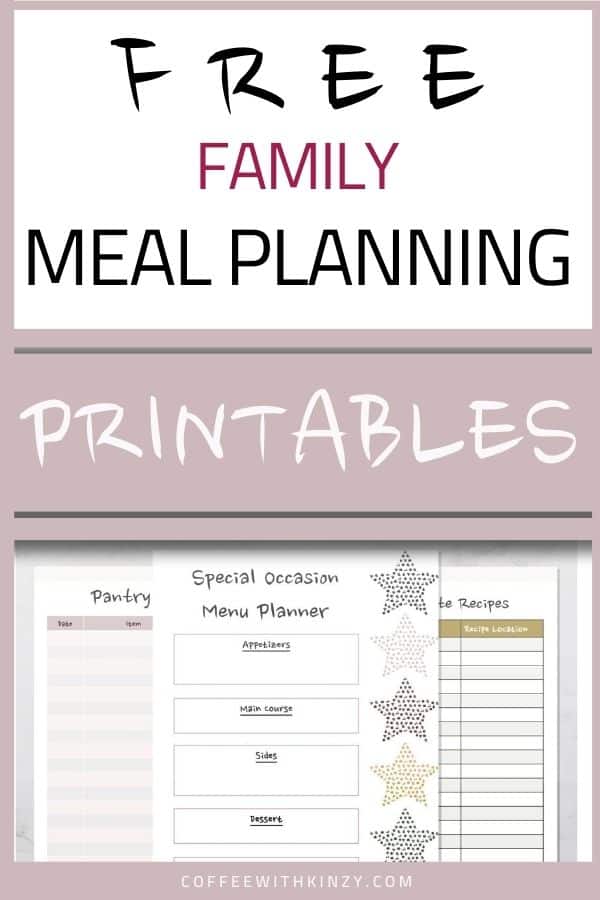 Are you ready to start meal planning for the family now?
Grab this printable bundle for free right here:
Meal planning takes away all the time spent wondering what to make for breakfast, lunch or dinner. It stops you from spending way too long looking through cookbooks or Pinterest to find one recipe for one meal multiple times a week. It removes unnecessary trips to the store and allows you to cook nutritious food at home.
It really is the best!
Happy meal planning!
Xo,
Kinzy
You might also like:
15 Awesome Meal Planning Categories
10 Tips for Creating Healthy Meal Plans With Kids
A Painless 5-Step System to Easy Meal Planning for Families