Mamas, there are some days when we are just stuck inside. Be it some nasty weather or a global pandemic, it happens… Sometimes we just need some good old, screen free activities to do with toddlers at home.
To help save your sanity I've compiled a list of fun, free or low-cost activities you can try today (minimal supplies required!). The goal is for you to create these activities without having to leave the house!
Do you want a printable version to keep on hand for later? Sign up here and get it delivered straight to your inbox!
Alright, mamas, since I've peaked your interest, let's get to it.
21 Fun, Screen Free Activities For Toddlers:
Bake with Mom
Even littles can be "helpers". My daughter loves to play with colorful measuring spoons or stacking measuring cups while I whip up some muffins.
Build a Fort
I know I loved building these as a kid. Drape a sheet over a table or rearrange couch cushions to make an epic fort with your tot.
Make an Obstacle Course
Use pillows, couch cushions, air mattresses, boxes, etc and create an awesome energy busting obstacle course for your tot!
Do Yoga
Or another form of exercise. It's super important to get out that energy. Everyone will feel better and sleep better too!
Create a Texture Walk
This looks so fun! Make a path of different textures for your kiddos to explore. Get the instructions for one by A Cotton Kandi Life by clicking here.
"Bowl" with cups/bottles
Line up some plastic bottles or cups and use a ball to create your very own bowling game!
Have a Dance Party
Work out some energy by having a dance party to your favorite tunes!
Sing songs
I can't sing to save my life, but my daughter LOVES when I sing to her. Check out this list of fun songs over at Today's Parent to get started.
Make music together
No instruments required, but if you have some use them! If not, create them out of buckets, boxes, pans, Tupperware, etc.
Water play
Fill a bucket with water and grab some splash proof toys! This is a staple activity in our home.
Water painting
All you need for this is a paint brush, a bowl of water and a piece of cardboard. Let your toddler explore "painting" with no MESS! Is that a mom win or what?
"Bathe" the toys
Get your kiddo involved and "bathe" (ie wash/disinfect) their waterproof toys!
Fridge Magnets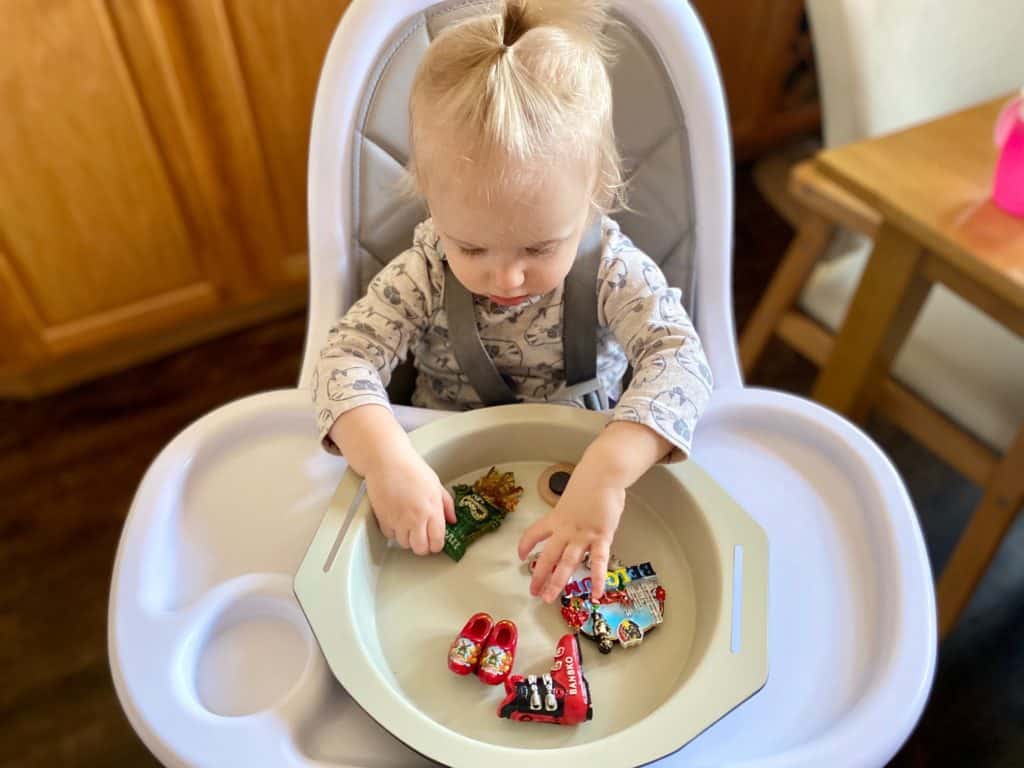 Use baking pans and fridge magnets. Your toddler will love arranging the magnets and sticking them to different surfaces. This one keeps my girl entertained for a while.
Sensory Jars
Take Tupperware or jars you have around the house and fill them with random things. Let your toddler shake them and stack them. Right now I have one jar with almonds, one with sprinkles and one with cupcake frosting tips. S loves all the different sounds!
Sensory Bottles
Fill empty bottles with liquids of different colors and random (waterproof) objects. You can even do nature bottles and fill them with rocks, sticks, dirt, etc.
Ball Drop
Find a container and let your toddler work on their eye-hand coordination with this fun activity. Click here for photos of a super easy way to set this up by Busy Toddler.
Balloon Play
Inflate a balloon (or 2) and play away!
Read Books
Have a few options laying out and let your toddler pick what they are interested in!
Simon Says
This is a great game/activity for teaching your toddler. "Simon says touch your nose!"
Scoop & Transfer
Check out this easy activity by Busy Toddler using household objects here.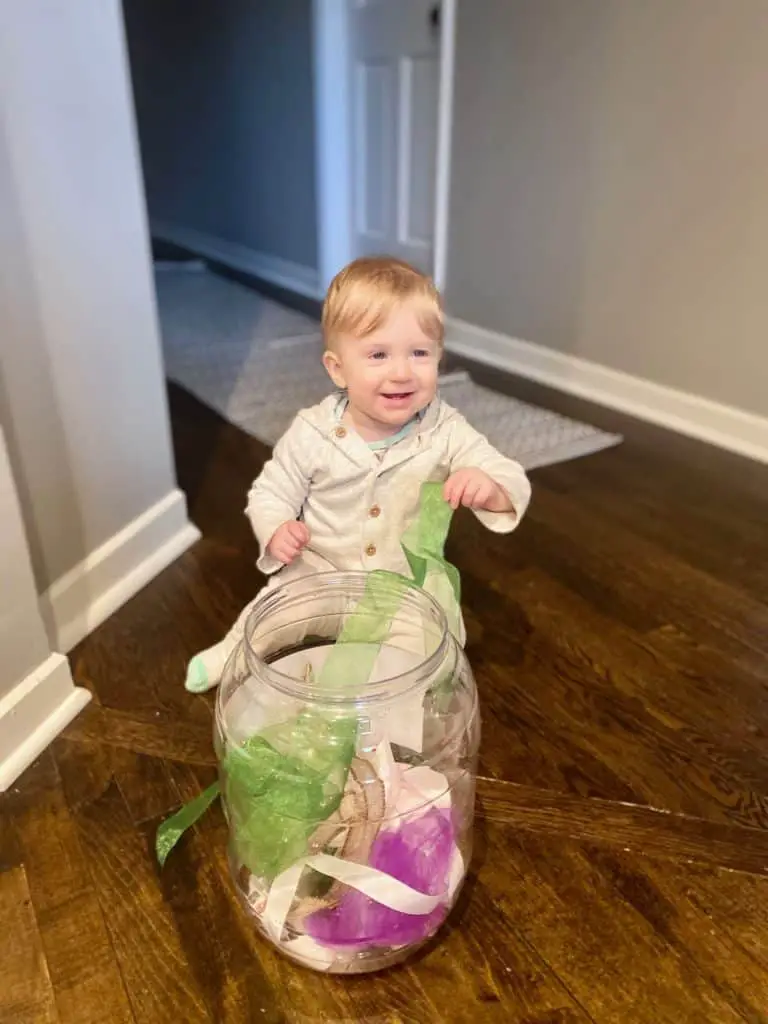 Bucket of Ribbons
I filled a giant container with ribbons of different sizes and colors. S loves to pull them out and explore. (Make sure you supervise as they can get wrapped up in them!). You could also fill an old wipes package with items they can pull out. What fun!
Animal Rescue
Get instructions at Busy Toddler to create this fun sensory rescue bin and let your tot rescue their favorite animals from the depths of the water bin.
Looking for more ideas?
Check out this great resource at Little Learning Club on even more easy to create activities for 12-18 month olds.
Would you like the printable version of this list to keep on hand? Sign up here and it will be delivered straight to your inbox!
I hope this serves you mamas. Please let me know which activities were a hit!!
Have a splendid day!
Xo,
Kinzy