This post may contain affiliate links. This means by purchasing through one of these links I may make a small commission at no extra cost to you. Please see my disclaimer for more details.
Are you looking to experience more gratitude in your life?
I'm here today with 30 thought-provoking gratitude journal prompts to help you tap into the power of positive thinking, attract more abundance and manifest the life of your dreams.
Now that may sound a little over the top, or even a little "woo" but it has been proven again and again that gratitude is SO powerful. It's shown to be connected to greater happiness (Harvard Healthbeat), and who doesn't want that?!
There are countless benefits to practicing gratitude in your daily life. Gratitude is grounding. It brings you back to the present and allows you to leave worry, overwhelm and negative thinking behind.
Related Post: How to Brain Dump and Stop Feeling So Utterly Overwhelmed
Grab your printable gratitude journal prompts inside my freebie library!
My gratitude story…
Somebody once told me that your thoughts control your feelings, and your feelings control your actions.
I was instantly intrigued by this seemingly simple statement. It set me on a life-changing personal development journey that started a few years ago.
To be honest, I always thought I was genetically a bit of a negative Nancy.
It's funny because my dad has always taught me to look at the positives in every situation, but I always thought, I'm just not like him. My life is different. XYZ happened to me, my dad has never had to deal with that.
I see them now as the excuses they were. I told myself these stories to avoid doing the inner work, when I was choosing to look through that negative lens. In reality, I was so dang worried about future what if's that I never enjoyed the present.
Then, in 2018, I lost my mom to her very short battle with cancer, and my entire world turned upside down. I was heartbroken, extremely sad and 3 months pregnant with my first child.
Life felt horribly unfair.
But it continued on. After a few weeks people stopped checking in on me. There wasn't anything more to say. I returned to work, but I was a ghost of myself. That time in my life was a blur of gut-wrenching grief.
Finally, I had my next ultrasound, and I was just blown away by the little baby inside me. She continued to thrive and grow. Seeing her flail her little limbs like she was having the time of her life dancing in my womb, suddenly made it all click.
Look at this beautiful gift I was given! She chose me to be her mama. She was (and is!) something so perfect for me to focus on.
Now I had to choose to change my thoughts and create a life worth living. For myself, for her and for my family.
Nobody was going to do it for me. It was up to me to honor my mom, and to live purposefully, intentionally & fully present.
It was around that time I started a gratitude journal. Some days it didn't feel like there was a whole heck of a lot to be grateful for. But you know what? I could always find something. Even if it was just the cozy pajamas I wore to sleep that night or the cup of coffee in my hand.
Now? I am grateful for every one of the 28 years I had with my mom. I'm thankful for every holiday we spent together and all the amazing memories I have with her. Yes, I miss her every single day, but I know she's our guardian angel now.
Practicing gratitude has helped me to overcome this transformational period. I shed that negative Nancy persona, and she's never coming back.
Being appreciative and thankful has helped me find true happiness.
After all, grateful thoughts create happy feelings and happy feelings create purposeful, positive actions!
---
How do you practice gratitude?
There are a ton of ways to practice gratitude: journaling, visualizations, meditation, acts of kindness, etc. This post is going to dive into using journaling, however you could totally use these prompts for visualizations too.
What do you write in a gratitude journal?
You can write about absolutely anything that makes you feel thankful, grateful and appreciative. It can be tiny little simple pleasures to huge life-changing moments. Every day will be different, but every day you can find something to be grateful for.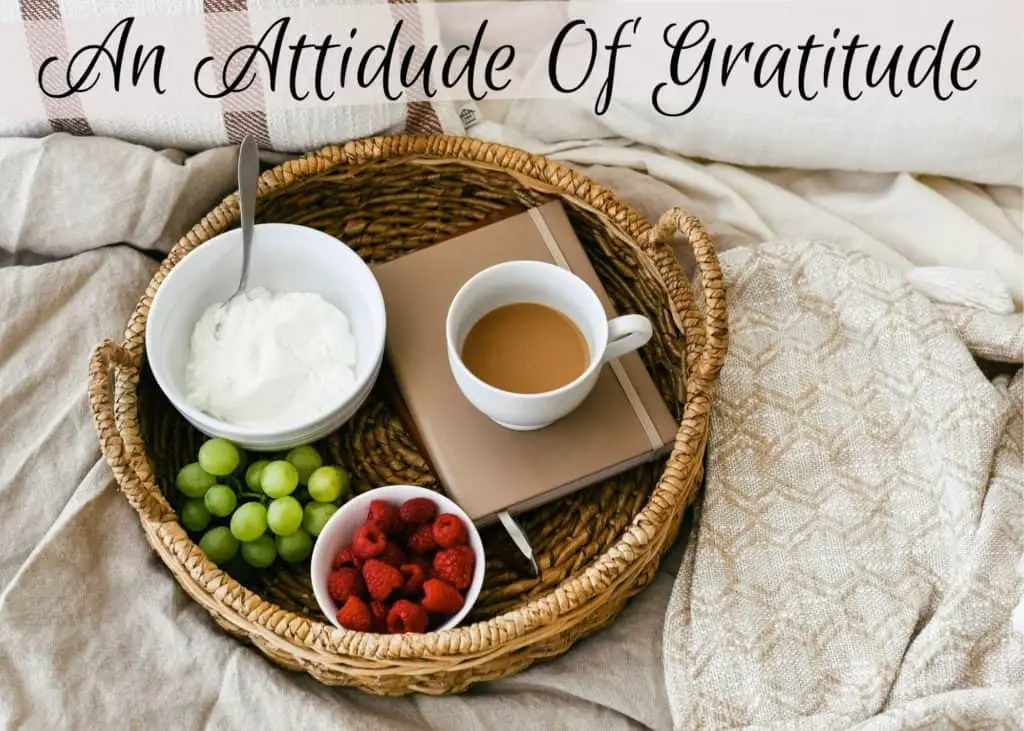 Let's get to the 30 day gratitude journal prompts that will help get you started!
The 30 day gratitude challenge journal prompts:
Top 3 things you are grateful for today.
A memory you appreciate.
A person you are thankful for.
An item that means a lot to you.
A favorite food or drink.
A song that sparks happiness.
A book you could read again and again.
A place you are thankful for.
The body part you appreciate the most.
The bill you are most thankful for. What does it provide you?
A friend that means the world to you.
The best thing that happened today (or yesterday).
Your favorite hobby.
Your favorite self care activity.
A movie you love (& why!)
A quote that inspires you.
Something that made you laugh today.
Something you learned today.
Someone who made you smile today.
Your favorite season.
Your favorite treat.
A smell you love.
Something that comforts you.
A strength of yours.
Something you accomplished today.
An act of kindness you experienced recently.
A vacation you're grateful for.
A person who inspires you.
An item that makes you happy.
A simple pleasure you appreciate.
How do you start your own gratitude journal?
There are a few ways you can go about this. Pick whichever suits your lifestyle!
You could dedicate a complete journal to gratitude and write in it as often as you can. You could use a traditional journal and incorporate gratitude entries or you could choose to use your planner and write down things you are grateful for under each weekday! There are a ton of guided gratitude journals available too. These particularly make it super easy to get started. Personally, I use my bullet journal and have specific pages dedicated to documenting gratitude.
I also create pretty, practical printable planners and journals in my shop. Check out my new watercolor floral gratitude journal here.
Related post: How to start a bullet journal
How do you make gratitude part of your daily routine?
Practicing gratitude is relaxing and a total mood booster – so once you start, you will find it quite enjoyable. Like anything you want to make a habit, you need to find a consistent place within your day that you can dedicate to it.
Some people like to keep a journal beside their bed and do it first thing in the morning or right before sleep. Others enjoy journaling with their morning coffee. Some busy moms do it once their kids are down for naps and they have a few quiet moments to themselves. There is no one way to do it – you simply have to find what works for you.
If you are struggling to make it consistent, I recommend trying 1 of these 2 strategies: set a recurring alarm in your phone or associate it with another habit in your day. What do I mean? You brush your teeth every night before bed. Add your gratitude journaling as the next step, and soon you won't even think about writing after you brush your teeth. It will become second nature.
How do I start my gratitude practice?
You start by declaring your intention to be more grateful. It doesn't take a lot of time, so you can start RIGHT NOW. Pick up a pen or close your eyes and think of 3 things you are grateful for at this moment.
Recap
Practicing gratitude can be a total mood and productivity booster. It's simple but incredibly effective. Try these tips and strategies to start your gratitude practice today!
Grab your printable gratitude journal prompts (PDF) by signing up right here.
Xo,
Kinzy
You might also like:
How to brain dump and leave mental clutter behind
7 things productive moms do every single day
How to find happiness as a stay at home mom
A 30 Day Gratitude Challenge: Printable Gratitude Journal Prompts for Everyone!