Friends, I am huge introvert. I need alone time to recharge and be the best version of myself. I'm sure many of you can relate. But even so, after a couple months of being a stay at home mom, I started to crave some real, adult conversation and a break from our home routine. I adore my time with my sweet girl, but when she was around 3 months old I knew we both needed to start getting out more.
So here they are, my top 5 reasons to join a moms group near you:
1. The obvious one: meet new friends with kids.
Motherhood is a new season of life. Change is always hard, I get it, but it sure can be beautiful too! You may want friends who can relate to what you are currently going through. Don't get me wrong – I still love my friends who are childless but there are things they simply don't understand and cannot sympathize with.
This season of life has also completely changed our schedules, particularly on the weekends. I mean, kids wake up early! Now we like to do a lot more activities earlier in the day. It's nice to have friends who are on this same kid run schedule.
Now, I'll admit, I was terrified to go to my first mommy meet up. I don't have the best social skills and I'm super shy. But what got me out the door was my hubby telling me this: these mamas are in this group to make new friends! This resonated with me. If they didn't want to meet other moms they simply wouldn't be there. And he was right. They were super welcoming, warm and, all around wonderful. No, I didn't connect with all of them, and you possibly won't either, but that's ok too. There are a multitude of personalities coming together over one major commonality – our kiddos!
2. Get advice.
Babies don't come with manuals. That sure would be helpful, wouldn't it? I find it so interesting to hear other mama's opinions and solutions to the struggles I'm currently facing. They have lived it – and recently too! They can share the dentist they chose, their favourite neighborhood park, the best place to host a kids birthday party…. etc. Real life reviews, friends.
3. Give advice.
There is something naturally uplifting about helping others too. And moms – we need all the help we can get! We must stick together and support each other. I love relating to the other moms and sharing my advice to those in the stages behind me.
4. Get out of the house.
It's just an hour. Maybe more, if you are enjoying yourself. But this hour wears the kids out from playing (hello afternoon nap!) and breaks up your routine. I find it refreshing and look forward to it.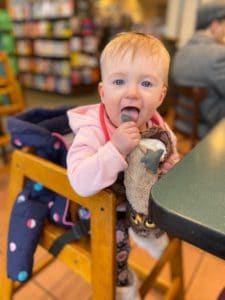 5. Try new things.
Mom's groups meet everywhere. It took me joining a couple to find the one I felt most comfortable with and whose meet-ups worked best for our day to day schedule. I have now explored almost every park in our neighbourhood – some I would have never found without these groups. I've tried new coffee shops, bakeries and been to kids events I wouldn't have found otherwise.

Lastly, let me share my other major hesitation I personally had about going to a group. I was worried that my babe was only 3 months old. It's not like she could play with the other kids… But to my surprise when I got there, there was a new mama with a one month old! My daughter adores watching the older babies play and their moms love to reminisce about the tinier days. It's a win-win! And if it isn't a fit? You don't have to go back and it was just one hour out of your week.
Tell me mamas, are you part of a moms group? If so, where did you find yours? [I found mine on Facebook!] Drop me comment below!