Friends, it is DECEMBER and that means I'm in full fledged holiday mode!
Ok, ok, I'll admit it – I changed my fireplace decor over to Christmas before Thanksgiving (much to hubby's dismay)… but Thanksgiving was so late this year I just couldn't wait!
But now that it's December, the holiday tunes are blasting, gifts are being wrapped, and the rest of the house is getting decorated too. I can't wait to start partaking in these holiday traditions for families!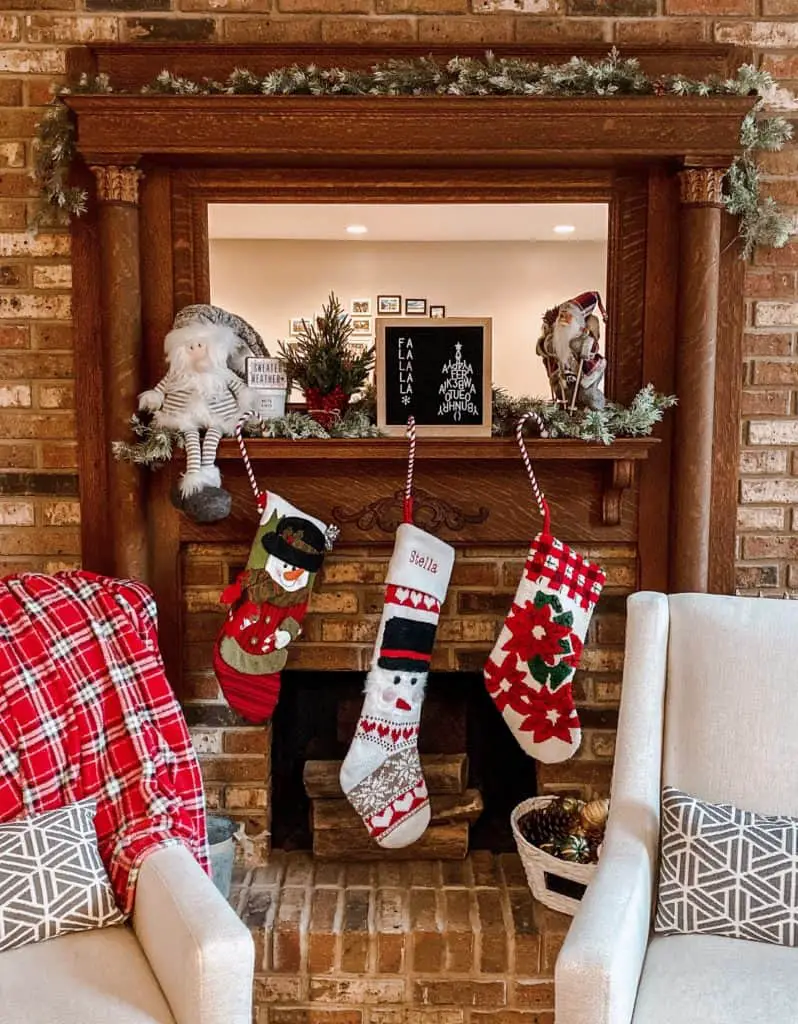 It is my baby girl's first Christmas, and I am so looking forward to having family traditions for Christmas. I want to share with you the ones we are starting this year and I would love if you would share with me any fun traditions you and your family have!
Drop me a comment below on your favourite holiday traditions for families.
10 Holiday Traditions for Families:
Matching family (or kids) pyjamas
Yep, we were that family growing up. Now, they were hideous red gowns my mom made us all wear (even my brother…) until I was around 10 when she finally transitioned to "cute" pjs, thank goodness. BUT, I love the idea of matching pjs for my girl's first Christmas.
You can check out my top picks for 2022 in this post.
Open one Christmas Eve gift
This is another family tradition I will pass along to my daughter: she will open one gift on Christmas Eve. Each year it will contain cozy pajamas, a new book and a few other treats!
I have an entire post dedicated to creating the perfect Christmas Eve box. You can check it out right here!
Go on a twinkle tour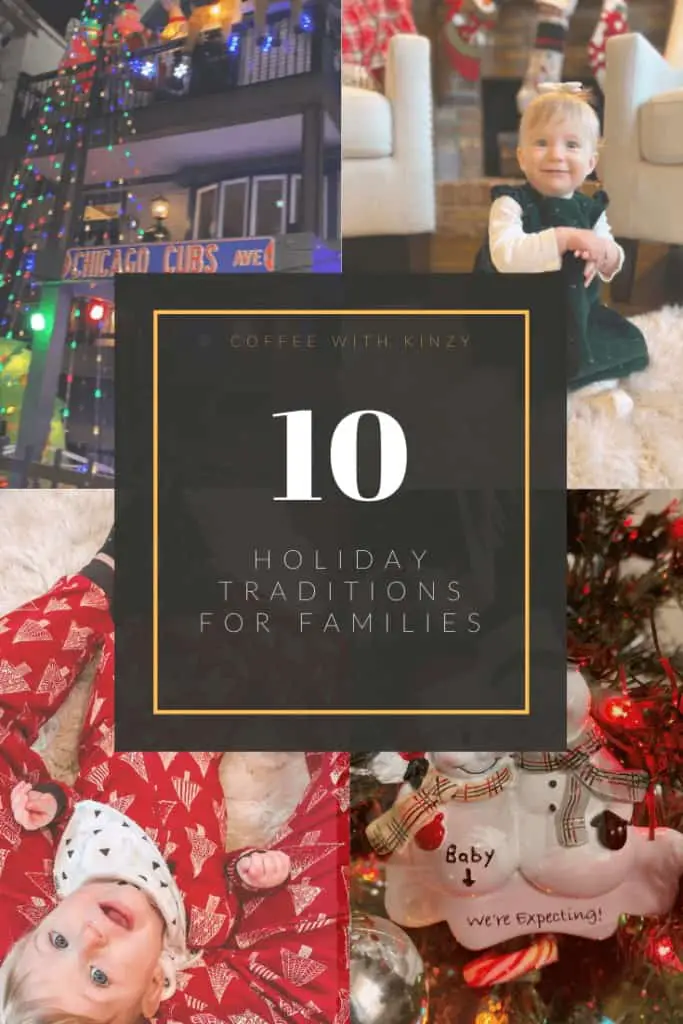 Take a drive by or walking tour of a fun neighbourhood and check out all the Christmas light displays! The only bonus of it getting dark early in the winter is you can do this tour with the kiddo's before bedtime!
This is totally something you can do weekly leading up to Christmas too! Different neighborhoods offer different displays and experiences.
Baking together is a favorite family Christmas tradition!
We like to bake fresh cookies on Christmas eve, but really you can do this anytime (or multiple times!) leading up to Christmas. Don't forget to leave a couple of treats out for Santa and his reindeer!
One new tree ornament
I love the idea of wandering craft fairs or even Target and letting the kids pick out one new ornament for the tree. You can build up a unique, meaningful collection over the years together.
Decorate their bedroom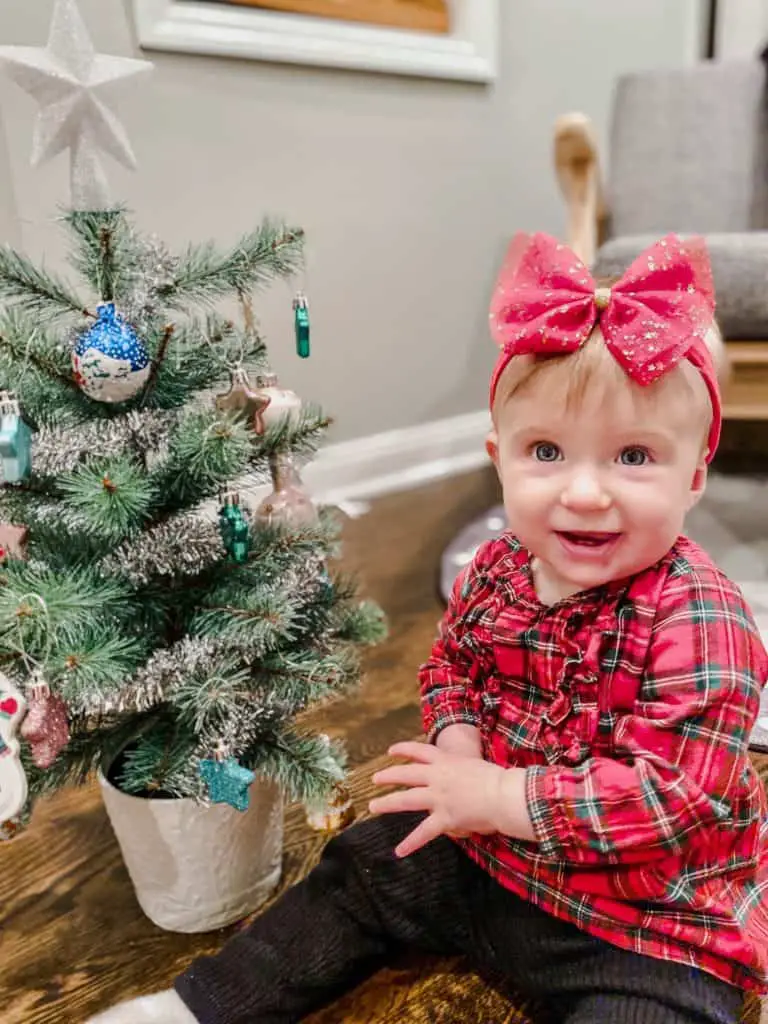 I got S a mini tree (really mini, friends, like 2 feet). I love that it brings some festive air into her bedroom, and she adores looking at the lights and ornaments.
Her nursery is woodland themed, so I actually leave the tree year round and decorate it for different holidays!
Advent calendar activities
I love the reusable advent calendars and the idea of slipping little papers in each day with an activity to do with the kids. S is too young this year, but I am already plotting for the future! This post over at Edventures With Kids has 100 great ideas to get you started!
Watch a Christmas movie together
Growing up it was always the Home Alone series (where my 80's/90's mamas at?). I can't wait to see what this morphs into with my own children!
Meet or see Santa
We'll see how this one goes. Stella is in an extreme stranger danger phase, so we may just see Santa from a distance…
There are often plenty of free events where you can meet Santa too… and even many where you can bring along the pets!
Take fun holiday photos together
These will make wonderful memories for years to come! Use the decorations you have and have fun taking photos with your littles.
Recap
There you have it! 10 fun, festive Christmas traditions for families you can implement this holiday season! Tell me about your holiday traditions in the comments below!
You might also like:
The best Christmas Eve box for kids, toddlers & babies
Stocking stuffers under $10
Practical gifts for one year olds