The best places to get your matching family Christmas pajamas this year!
I have to admit I'm a sucker for matching family holiday pajamas.
It feels so festive to hang around the tree together in cozy pj's. My mom passed along this tradition and it's one I'm excited to continue with our kids. It's those kinds of memories that stay with us forever – not the gifts under the tree!
Over the years we've gotten our matching pajamas from many different stores and I'm here today to share my top picks! It can get quite expensive but fortunately most stores embrace pre holiday sales so usually you can score them anywhere from 30-50% off if you plan accordingly.
Here we go:
This post may contain affiliate links. This means by purchasing through one of these links I may make a small commission at no extra cost to you. Please see my disclaimer for more details.
Burt's Bees
Our pick for this year because they have a tropical holiday print and we are in the midst of moving our family from the Midwest to sunny Arizona.
They had a wild sale and I also scored the mugs of happiness print just for the kids – sooooo adorable! I love a good festive print that feels like it can be worn all winter long.
Shop Burt's Bees Holiday FamJams
Hanna Andersson is my top pick for QUALITY. They are definitely on the pricier side but you can also find great sales during the holiday season. They have classic prints, disney and more.
Shop Hanna Anersson Holiday Pajamas
Primary
Primary is perhaps a lesser known GEM. I love them because they are sustainable and don't have any annoying labels. They have gender neutral pajamas in bright, fun colors and their quality for price is FANTASTIC!
Shop Primary here (not an affiliate link – just a genuine fan!)
What drew me to Koh's initially was their selection of matching holiday pajamas with TALL sizes. They have fun prints for great prices and are definitely worth a look. Here's our pick from last year: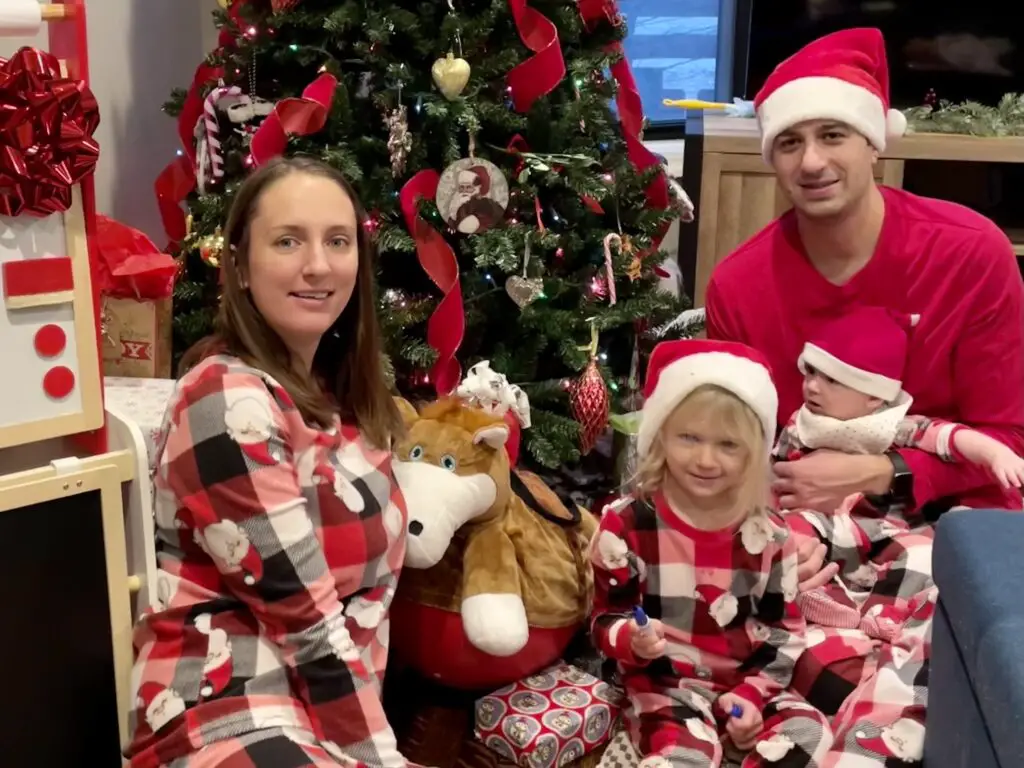 Carter's has fantastic sales that often come with free shipping – win win! They have SO many great prints this year too. I love their versatility in styles, and you can also find both cotton and fleece options available.
Shop Carter's Holiday Pajamas Here
On the pricier side, but they have the SWEETEST prints. I'm particularly obsessed with the candy cane's and the gingerbread prints this year.
Check out the Monica & Andy Pajama Shop
Target has a great selection of tartan prints this year. I love how they have mix & match options. My personal fav this year is the holiday JOYFUL print.
Check out Target's Holiday PJ's
Walmart has really upped their game in sourcing holiday pajamas. You'll find character prints, classic plaids & more starting at just $15.
Check out Walmart's selection here
Ok – Old Navy has a fantastic selection of collared pajamas & onesies. Love that they have matching maternity pajamas too! This is something you don't always find. I'm loving the classic buffalo plaid and pink gingerbread tree prints this year.
Shop the Old Navy Jingle Jam Shop
Gap has a great selection of recycled fabric and organic cotton pajamas. They brought the color this year with their colorful plaid print. I love how they included a matching robe – how cute!
Check out the Gap Plaid Holiday Pajamas
Until I saw the brochure this year I never considered Costco for my holiday pajamas. Of course they have some for a great price… what doesn't Costco have??
Shop the Costco Christmas Pajamas
The Top 11 Places to Buy Matching Family Christmas Pajamas