Choosing a name for your sweet little bundle of joy is certainly exciting but it can also be a little daunting and overwhelming. Not to mention, agreeing with your significant other can also be a fun challenge! If I'm being honest, my husband and I couldn't agree on anything. He vetoed probably 100 names I LOVED before we finally both fell in love with the name Stella when I was 8 months pregnant.
For more amazing baby girl names be sure to check out this list of 50 short & sweet one syllable girl names or these 60 vintage girl names you don't hear anymore!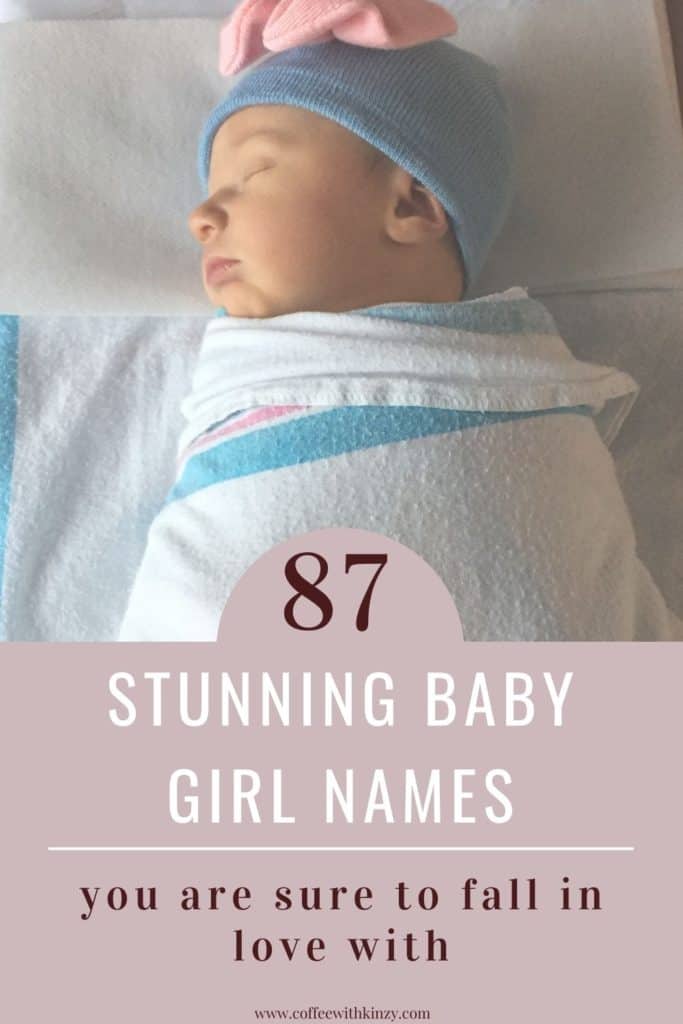 Considerations in choosing a name:
Before we get to the list itself, there are also a bunch of scenarios to think about as you start your journey to naming your baby. Do you choose a family name but risk other family members being jealous? Maybe you want a name with a beautiful meaning behind it, or perhaps you want something truly unique? Do you want the initials to spell something, or to specifically not spell anything at all? 

If you are anything like me, all of these questions crossed your mind at one point or another in your journey to selecting the perfect name…
So how did I come to have this list of 87 stunning baby girl names?
Well, I am the girl who thought about baby names even as a teenager. I wanted to be a mom for as long as I can remember (I'm pretty sure this terrified my dad when I was fifteen and talking about wanting babies!).
Anyways, I always dreamed of having a family and so I kept an ongoing note in my phone of all of the beautiful names I came across over the years. I'm sharing them with you today in the hopes they may inspire you in your own search for the perfect baby name.
Alright, without further ado, here they are:
87 of the most stunning baby girl names you are sure to fall in love with
Anya
Annika
Aria
Aurora
Blair
Brielle
Brinley
Brexley
Bryn
Celestina
Daphne
Danica
Delilah
Elsie
Ellery
Emery
Emilia
Ember
Estelle
Evie
Farrah
Fleur
Finley
Frances
Gabriela
Gemma
Genevieve
Gianna
Giselle
Hadley
Halle
Harlow
Harper
Imrie
Ivory
Ivy
June
Juniper
Kadence
Kalina
Keira
Kenna
Lennox
Libby
Luella
Luna
Mallory
Maisie
Marcella
Marielle
Matilda
Melina
Nola
Norah
Nova
Opal
Ophelia
Pearl
Penelope
Piper
Poppy
Quinn
Remi
Renna
Rhea
Riley
Riva
Ruby
Sadie
Sofia
Spencer
Tatiana
Teagan
Vivien
Waverly
Willow
Wylla
Xyla
Zadie
Zara
Zephyr
Zoella
Zoey
For more name inspiration, check out these 50 gorgeous one syllable baby girl names!
I'm dying to know, friends, which of these beautiful baby girls names is your favourite? Did your baby's name make this list?
Looking for more inspiration? Check out this list of gender-neutral baby names!
Xo,
Kinzy
You might also like:
Top 10 Baby Registry Must-Have Items
5 Baby Items Totally Worth the Splurge
An Honest NewtonBaby Mattress Review