I've had a few requests lately to share a little about what our day to day looks like. As any of you mamas know, no day in raising babies is the same, but we do try to stick to a general routine.
I honestly believe babies (and adults, really) thrive off routine and consistency!
So here I am sharing our day with you, because I, too, have google searched 9 month old sample schedules as a new mama…but know this, mamas. No baby is the same. I truly believe you have to adapt any schedule to fit the needs of YOUR baby.
There isn't a one size fits all schedule.
A few personal disclosures:
A few things to note about our family situation.
First, I am largely a stay at home mama (I work one or two days a week when my daughter is home with her dad).
Secondly, I nurse on demand if she is hungry but we generally stick to a schedule of every 3-3.5 hours.
And thirdly, I have not sleep trained and I still nurse 1-3x a night as needed.
Keeping those things in mind, read on to see what is working for our family!
Our 9 month old sample schedule:
7am: daily wake time & nursing session
7-8am: independent play time
8am: breakfast (usually a smoothie bowl)
8:30-9:30am: mom & baby play
9:30am: story time
9:45am: nurse
10-11:30/12pm: nap
12pm: snack/light lunch (baby led weaning)
12:30pm: errands, walk, library classes, etc
1:30pm: nurse
1:45-2:45pm: activities at home, or park play
3-3:30/3:45pm: nap
4-5pm: playtime, mommy meet up, park play, walk, etc.
5pm: nurse
5:15-6pm: play time at home, often in the kitchen as I prep/make dinner.
6pm: dinner (baby led weaning)
6:30-7:30pm: daddy time
7:30-8pm: bedtime routine (including nursing)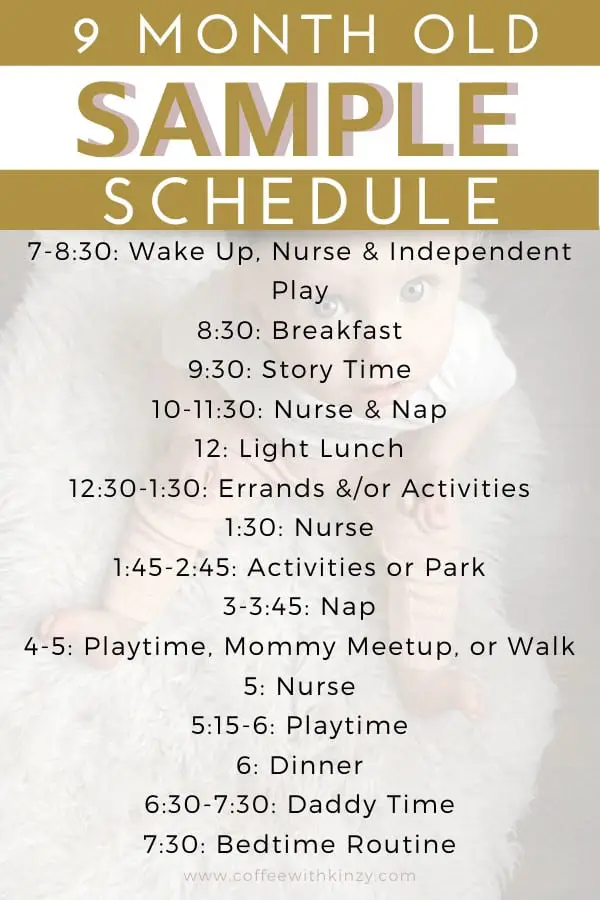 Note: Ideal does not equal actual.
This 9 month old sample schedule sums up our ideal day.
But of course, babies are anything but predicable, am I right?!
Sometimes naps are only 30 minutes long (aka crap naps…) and the day is spent amusing a grumpy baby.
Sometimes we are cutting teeth and spend the day chomping on new textures.
And some days we go out for the entire afternoon, and she naps on the go.
Life happens, we give ourselves grace and roll with it.
Baby Led Weaning:
As you may have noticed above, we partake in baby led weaning and have since my daughter was 6 months old. She simply was not interested in pureed veggies or meats.
We did a lot of research and took the Feeding Littles course and decided it was the right method for OUR family. Always make sure to talk to your pediatrician and do your own research prior to making these decisions for your family.
If you are considering baby led weaning, I do recommend the Feeding Littles class and their Instagram account is also full of fabulous (& free) tips!
Be flexible.
If you've been around here, you know I'm a planner at heart. Yet, having my daughter has taught me so much about being flexible and much more "go with the flow".
And you know what? Once I actually accepted it, I noticed it's actually rather liberating. Yes, I love routines, structure & systems. But there is a place for spontaneity and random adventures too!
Tell me mamas, do you have a general schedule you try to stick to or are you more of a go with the flow kinda gal?
Xo,
Kinzy
Be sure to visit my 12 month old sample schedule next and pin it for reference later!
Your little one will be a year old before you know it!
PS. You might also like:
10 darling first birthday theme ideas!
Practical first birthday gifts for one-year-olds (TRENDING!)