Chances are if you've landed here you are one busy mama looking to simplify your day to day and take back ownership of your time!
Well, mama, I've got you.
My free planner printables for moms are now available! These organizational goodies have been updated for 2021. We are talking printable calendars, printable weekly & daily planners, printable meal planning templates, printable grocery lists & chore planners, & MORE! Subscribe to my email list and receive your copy straight to your inbox!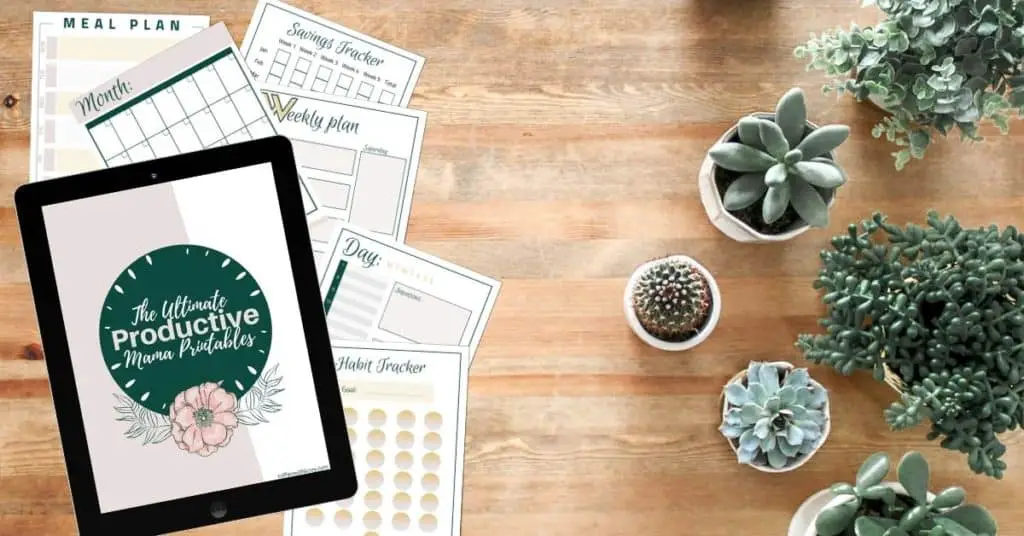 If you've been around here before you know I'm an avid bullet journaler. I created these templates based on my personal bujo spreads as I understand journaling isn't for everyone. I use them weekly so I can assure you they are functional mama time savers!
Side note: if you would like more info on starting your very own bullet journal head over to this article here. All you need is a journal and a couple of coloured pens!
If you are a printable fan, read on…
Free Monthly Calendar Printable for Moms:
Every mama needs a calendar. While my phone calendar works for day to day stuff it doesn't give me an adequate overview of the month. I am a visual being, so I need to see it all on ONE page.
These free printable calendars for moms are simple and sleek, with space to add your events, appointments and activities! Add an affirmation from the last page of the bundle and you have a unique planner for each month of the year!
Weekly Planner Printable, Meal Planning Template & Printable Grocery List: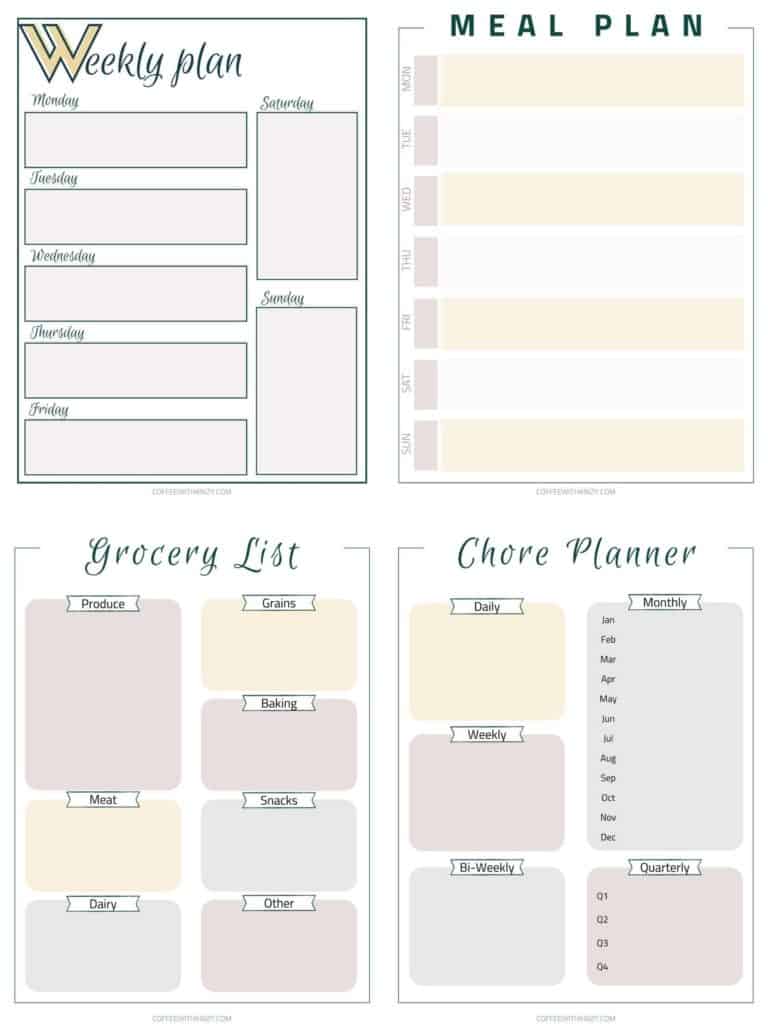 Next, I included a weekly planner to break down your tasks & to-do's. I love starting off my Mondays by filling in my weekly schedule. An organized mama is an efficient mama, after-all.
On that same note, I start my weeks off with a solid meal plan and grocery store trip (or online order, if I'm particularly busy). Meal planning is a HUGE mama time saver. No more multiple trips to the grocery store, pestering your spouse to stop and pick up forgotten items or wasted time staring into the pantry wondering what the heck to make for breakfast/lunch/dinner. It's life-changing.
If you need help implementing a meal planning system for your family you need to check out this post. It goes through step by step how to meal plan in less than 10 minutes (+ one grocery store trip or 10 minute online order) every week!
Chore Planner & the Benefits of Using One:
Routines get a bad rap for being too rigid. But I'm here to say, routines are flexible, mamas. It's great to have them as a baseline, but you have to give yourself grace and know that life happens. Don't abandon them because it didn't work one day – pick back up where you left off and modify them until they fit your lifestyle!
Chore planning is essential in creating sustainable habits for getting tasks done around the house. Once you create a habit, you barely even think about those tasks anymore. Imagine the laundry is done and you didn't even DREAD it?!
Take a minute and fill this one out. Which tasks do you need to do daily to stay on top of? Which can be done weekly? Bi-weekly? Monthly? Quarterly?
Let me give you a personal example. Let's go back to laundry, because there is a ton of it when you have a family. First thing in the morning I throw a load in. Mondays & Tuesdays are for kids laundry, Wednesday is towel day, Thursday is a flex day (if life happened and I need to catch up!), Friday & Saturday are for hubby & I, and Sunday is for bedding. It's not hard to find a minute to flip it somewhere in the day and then you can fold/put it away during nap time, when your partner gets home, or wherever else you find a few minutes.
Printable Habit Trackers for Accountability:
I love using these in my journal. It's so satisfying to colour in the boxes when I complete these tasks that are focused on self-care. Examples include tracking water intake, 8 hours of night sleep, daily exercise or step goals, journaling, morning routine completion, etc. Have fun with these!
Goal Setting Worksheet:
It's easy to dream big. But, mamas, you can't just set a goal and walk away. We want to shoot for the stars… but it's simply not sustainable. You need to break down the big goals into smaller steps and celebrate your victories along the way. This sets you up for success! The worksheet will help you plan out your biggest goals this year!
Bonus: 15 Mom Affirmations!
Because, YOU, are the perfect mama for your babies.
That's a wrap, mamas. Subscribe to my email list and get your Ultimate Productive Mama Printable set delivered straight to your inbox! They are the best free planner printables for moms. Happy Planning!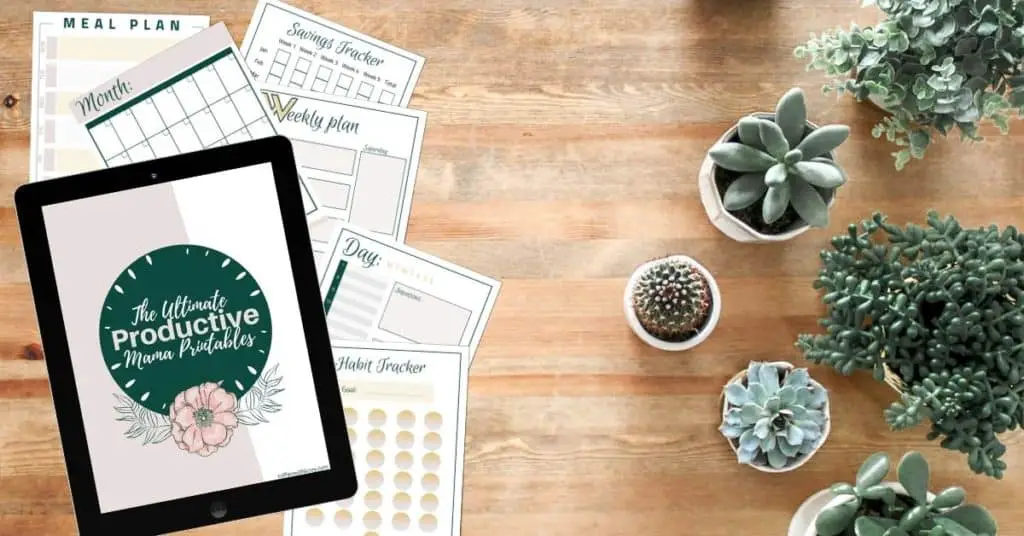 Spread the word: pin this to share with your friends!
PS – I'd love to see you using your new printables! Tag me on Instagram (@coffeewithkinzy) and I'll shout you out in my stories.