This post may contain affiliate links. This means by purchasing through one of these links I may make a small commission at no extra cost to you. Please see my disclaimer for more details.
Do you find yourself wondering how in the world you are supposed to get anything done around the house with a baby around?
I've been there too, and am about to re-enter that season of life with another newborn coming soon.
There's nothing quite like motherhood to turn your world upside down! And with it, your previous cleaning routines. Binge cleaning on the weekend doesn't quite work anymore once you have a little baby around!
I'm here today to talk about how to manage time with baby and housework – namely, how to get cleaning done with a baby around 24/7.
Related post: A Realistic Cleaning Schedule for Busy Moms
Let's get to it, shall we?
How to clean your house with a baby at home
Baby wearing
My number one hack in how to do housework with a newborn. It's genius. You wear them! They LOVE being snuggled close to mom and dad, and they might even take a nap while you get a few things done. Obviously you have to pick and choose here – don't go using toxic cleaning chemicals while wearing your baby and stay away from the hot stove… but you can totally throw on some tunes and get your dusting done or plan your meals for the week!
These are my favorite baby wraps & carriers (yes I'm addicted and have multiple):
Baby swing
Baby swings are another place you can set your baby down for a few minutes, but they, too, need to be used with supervision. There are plenty of chores you can accomplish in the same room as the swinging baby!
Baby bassinet
Baby bassinets are another handy place to lay your baby down while you complete a chore or 2. Hang a fun toy above them or play lullabies nearby, and they may even fall asleep!
Baby exercauser
Obviously not for newborns, but baby activity centers can be quite fun for older babies. I have many mama friends who swear by these. Personally I do not have one, so I have no product recommendations here. Be sure to follow guidelines and have them set up appropriately for your baby.
Babyproof play area
We LOVE having a fenced in babyproof play area. Initially I filled it with soft newborn friendly toys (no small pieces). This starts teaching independent play from a young age too!
We have this gray and cream fence with this adorable play mat. They work perfectly together!
During nap time
Getting things done when baby is sleeping is definitely the most productive route – but don't forget to rest yourself too. Babies under a year old are often taking multiple naps per day. Try using one or part of one to do some cleaning. Having a realistic cleaning schedule will help you minimize the time spent each day tidying up – leaving you more time to rest and snuggle that squishy babe!
After baby goes to bed
Start a new habit of doing a quick 15-minute tidy up after the baby goes to sleep for the night, and then reward yourself with some relaxation or self-care afterwards! Stacking something you need to do with something you want to do is soooo helpful in creating new habits and routines.
Before baby wakes up
Again, it's all about taking advantage of the time your baby is asleep. If you are lucky and your baby sleeps independently this can be a great solution for you to actually get some cleaning done with a baby at home.
How to manage time with baby and housework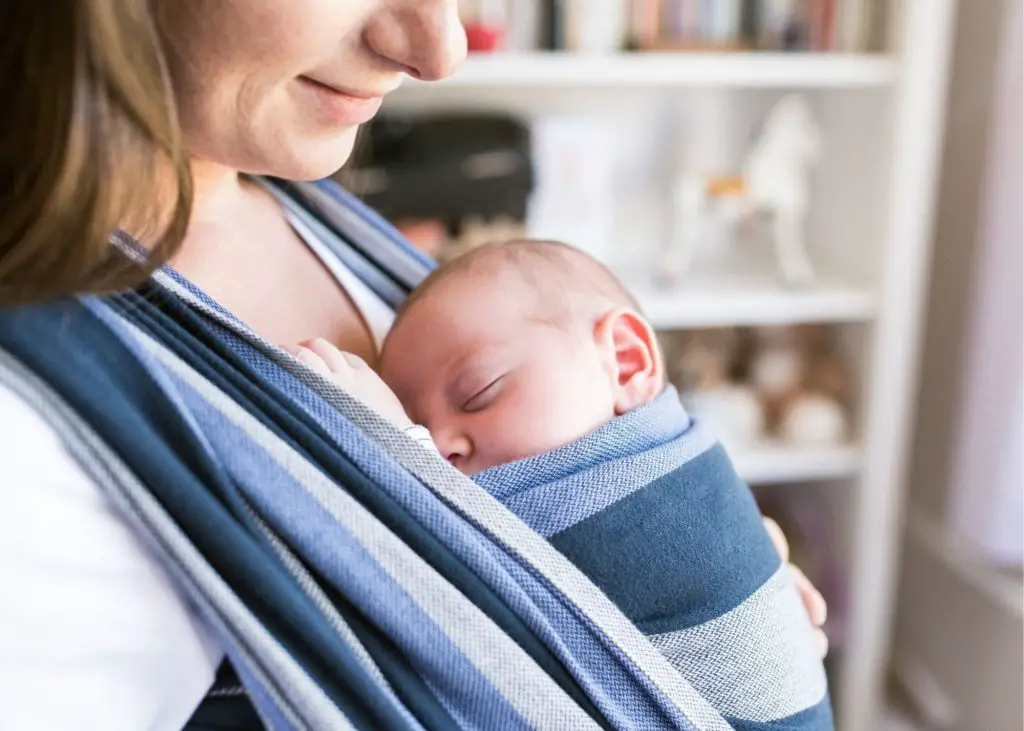 Declutter before baby arrives
Less stuff = less cleaning = more time for you.
It's as simple as that.
Baby already here? Try decluttering one drawer or cupboard in one room every day!
Give everything a place
The more organized you are the less time you waste looking for things and the less tidying up you have to do. If it takes less than a minute to do, always put something back in its place when you are done using it. For example, when you get home, hang your coat immediately in the closet instead of tossing it on the chair.
Get organized – systems & routines!
I'm a systems geek, yes, but that's what I'm here for! My goal is to help you implement easy routines to maximize your time. These are meant to be flexible and freeing… not restrictive and uptight.
Meal planning & prepping can save you HOURS in the kitchen every week, yet it's still flexible in that you can get takeout and go out to eat.
Having a cleaning schedule allows you to stay ahead of the mess instead of having to spend hours scrubbing after having left it for way too long.
Scheduling self-care and workouts ensures you actually look after yourself too. You are way less likely to cancel on yourself when it's part of your routine.
I hope your starting to see the benefits of having some simple home routines. Let's dive into one of the more tedious ones, shall we?
Follow a realistic cleaning schedule
A cleaning schedule. GROAN. I know.
Not many people enjoy cleaning, and once you have kids there just isn't enough time to spend on it.
Having a cleaning schedule keeps you ahead of the nasty messes that take the most time to clean up. It's game-changing as a mom.
Click here to see my recommended realistic cleaning schedule for busy moms.
Do one load of laundry a day
Laundry is just one of those pesky never ending chores that isn't a ton of fun. The secret to conquering it once and for all?
A SYSTEM, of course!
For me, that's one load a day. I throw it in first thing in the morning, flip it whenever I have a moment during the day and fold and put it away when my hubby gets off work. I don't even think about it anymore, it's a habit and it gets done.
That could be you too, friends.
Stack doing what you need to do (laundry) with something you want to do (enjoy a cup of coffee in the morning?) and BAM, you have yourself a new habit.
Grab my free printable laundry schedule here.
Hire help if needed
We can't do it all. If you have the means to do so, hire some help! Whether its someone to run some errands for you or someone to clean your oven… get the help you crave.
Delegate to your partner
You are partners after all. Make sure he/she is contributing. Sit down together and talk about your expectations and wishes. Yes, it may take some compromise, but sometimes we just have to point out what help we need exactly!
Get toddlers & older kids involved
Do you want your children to grow into independent adults? Teach them chores.
It's never too early to start. Seriously, my 2-year-old helps unload the dishwasher (no knives or sharp objects…) and sorts her own laundry. She brings me her laundry basket and reminds me to flip the laundry too most days.
Let family help
If you have family coming by offering help (especially in the baby phase), let them! Whether they help by holding and entertaining your baby so you have a few minutes to get something done or take a shower, or they help by doing some dishes while you feed your baby in peace. It doesn't matter! It can be hard to accept, but it's all help and it makes a huge difference! Try it.
Let go of perfection – the baby stage really doesn't last forever!
Perhaps the most important one of all. This is a new, all too short season of life. Soak up every minute of their tinniness because it's gone all too fast. Someday you will miss the baby stuff scattered everywhere.
One more thing to consider:
Make sure you use kid safe cleaning products! So many cleaning products are chock-full of toxic chemicals that are extremely damaging to adults never mind new babies. Do your research and choose natural and clean cleaning products! This post is a great place to help you get started.
Join the Coffee With Kinzy community and gain access to the free productivity printables library!
Xo,
Kinzy
You might also like:
25 quick time management tips for stay at home moms
The laundry schedule that will change your life
How to meal plan for a busy family in less than 10 minutes per week