This post may contain affiliate links. This means by purchasing through one of these links I may make a small commission at no extra cost to you. Please see my disclaimer for more details.
Are you ready to get your deep cleaning on this Spring? Or maybe it's Fall, Winter or Summer… it doesn't matter.
You're in the right place!
This printable Spring cleaning checklist bundle will keep your organized and get your entire house in tip-top shape!
No more aimless, random cleaning for you. With this Spring cleaning checklist PDF you have a targeted plan for every room.
So let's get to it, shall we?
What's inside the printable Spring cleaning checklist bundle?
Inside this 15-page bundle you'll find:
Cover page
This checklist belongs to _______
Entryway checklist
Kitchen checklist
Bathrooms checklist
Bedrooms checklist
Living room checklist
Dining room checklist
Home office checklist
Laundry area checklist
Basement/garage checklist
Playroom checklist
Entire house checklist
Blank checklist for any additional rooms or to customize specific rooms as you please
Blank cleaning schedule for you to set a plan you can stick to!
This Spring cleaning checklist PDF comes in a pretty pink floral design. It can be printed, but you can absolutely use it digitally too!
A free printable Spring cleaning checklist for your Kitchen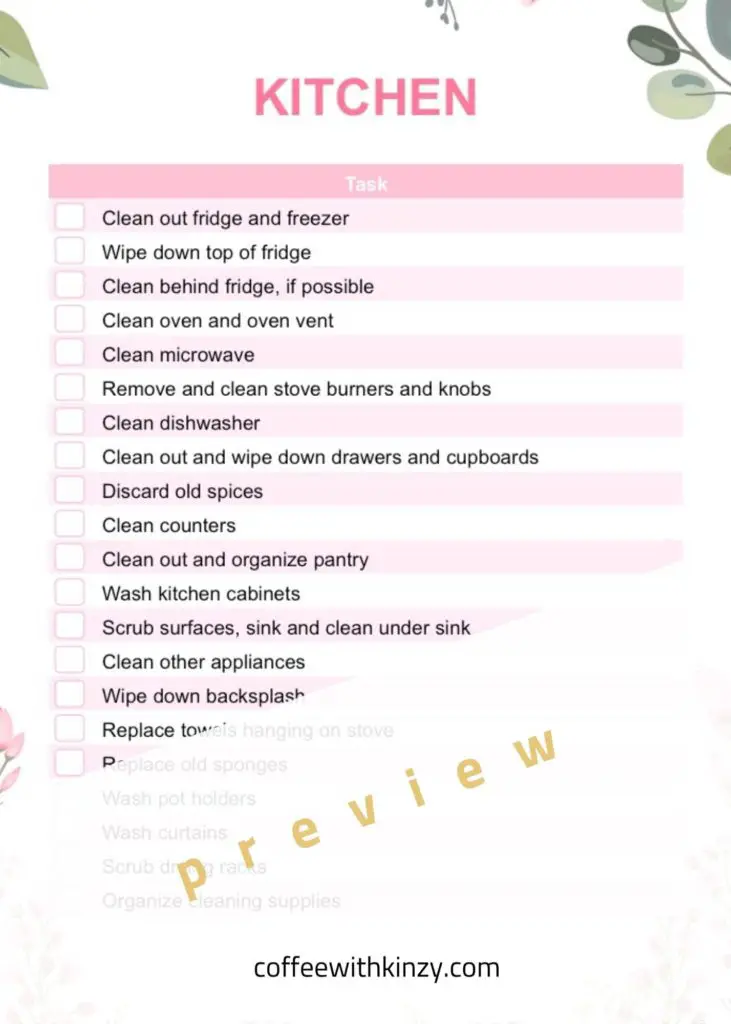 Because I know you'll LOVE these checklists, I'm giving you the printable Spring cleaning checklist for your kitchen completely free.
You can grab it right here & get started anytime!
Room by room deep cleaning checklists:
Entryway
A major drop zone for clutter, you first want to make sure everything has a dedicated spot!
Tasks:
declutter & organize closet
wipe down furniture
clean sliding door tracks
scrub porch (ceiling, floor & walls)
scrub & reseal tile grout
clean doormat
clean interior rugs
organize shoes
swap Fall and Winter outerwear for Spring & Summer
Kitchen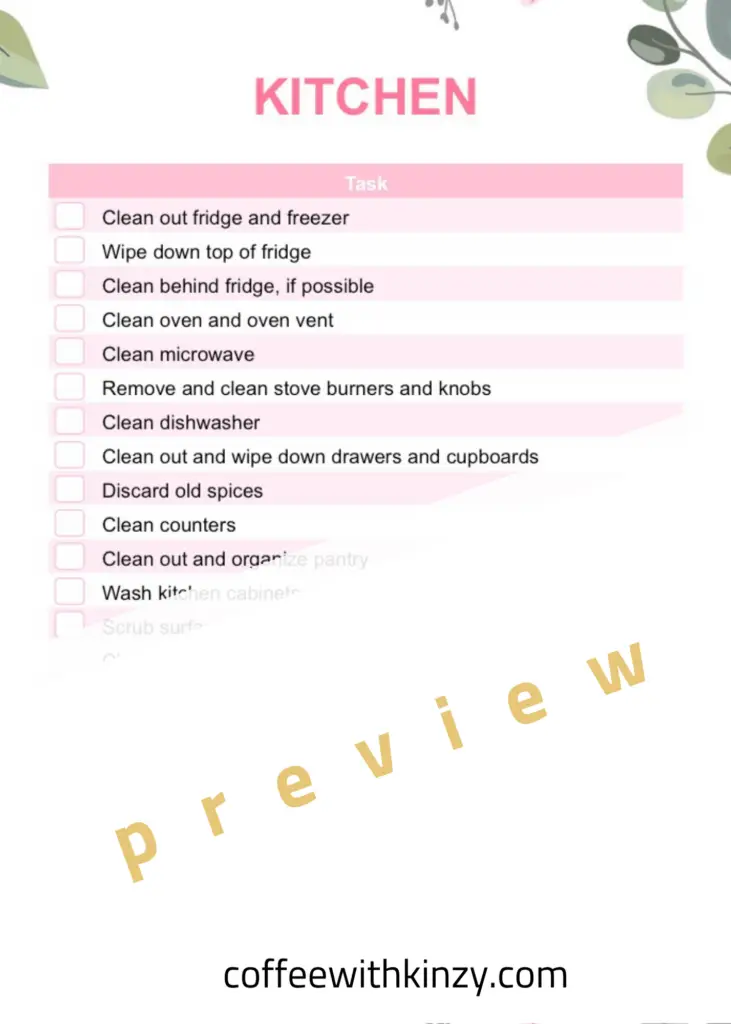 One of the bigger jobs as it tends to be a highly trafficked area in the house.
Tasks:
clean out fridge & freezer
clean top of fridge
clean oven & oven vent
clean microwave (inside & out)
remove and clean stove burners and knobs
clean dishwasher (inside & out)
clean out and wipe down drawers and cupboards
declutter spices and reorganize
clean counters
clean out and organize pantry
wash cabinets
scrub sink & faucet
clean other appliances
wipe down backsplash
replace old sponges
wash pot holders
wash curtains
scrub drying rack
organize under the sink
organize cleaning supplies
Bathroom(s)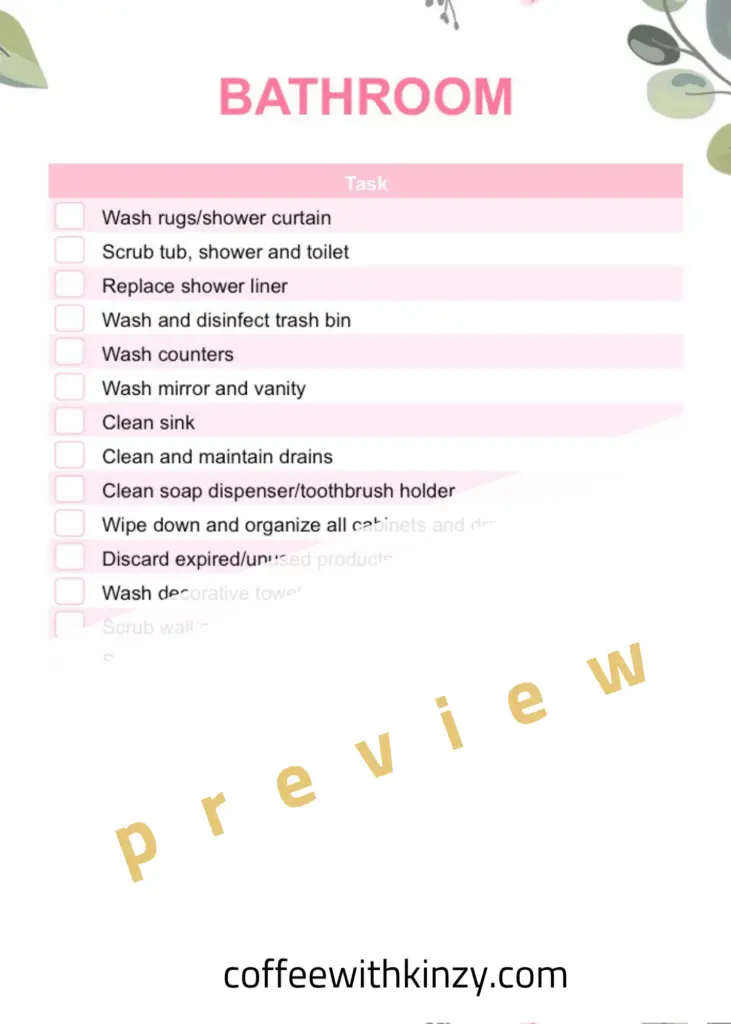 A spotless bathroom is a ton of work, but it's oh so satisfying in the end!
Tasks:
wash rugs
wash shower curtain
scrub tub, shower & toilet
replace shower curtain liner
clean trash bin
wash counters
clean mirror
scrub sink
clean and maintain drains
clean soap dispenser
clean toothbrush holder
wipe down cabinets
organize cabinets & drawers
discard expired and unused products
scrub walls & floors
scrub and reseal tile grout
replace old towels, wash clothes & loofahs
restock paper products
organize cleaning supplies
Bedrooms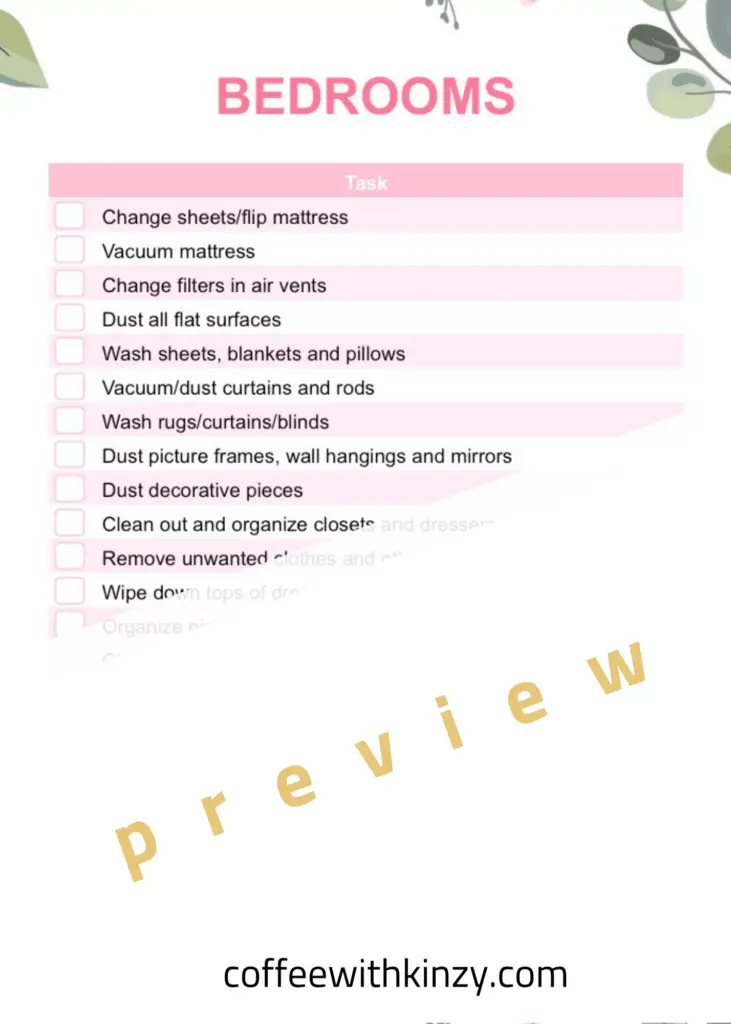 Who else is guilty of forgetting to clean under the beds?!
Tasks:
change sheets
vacuum mattress
change filters in air vents
dust all surfaces
wash sheets, blankets & pillows
vacuum curtains
wash rugs, curtains & blinds
dust all decor
clean out and organize closets & dressers
donate/toss unwanted and old clothes & items
wipe down tops of dressers & stands
organize nightstands
disinfect knobs & light switches
wipe down furniture
clean lamps
vacuum under bed
organize clutter
Living room
Another highly trafficked area of your house that needs attention!
Tasks:
dust and wipe down shelves & furniture
dust and wipe down decor, mirrors & art
clean upholstered furniture & cushions
clean underneath couches and furniture
wash pillows & blankets
clean fireplace & get chimney serviced
polish furniture as needed
dust and wipe down electronics
clean and sanitize remote controls
declutter
Dining room
Anywhere food is involved can get messy, especially if you have small children. IFKYK!
Tasks:
wash table linens
wash curtains
replace old tablecloths
wipe down table & chairs
clean upholstered cushions
wipe down cabinets
declutter
Home office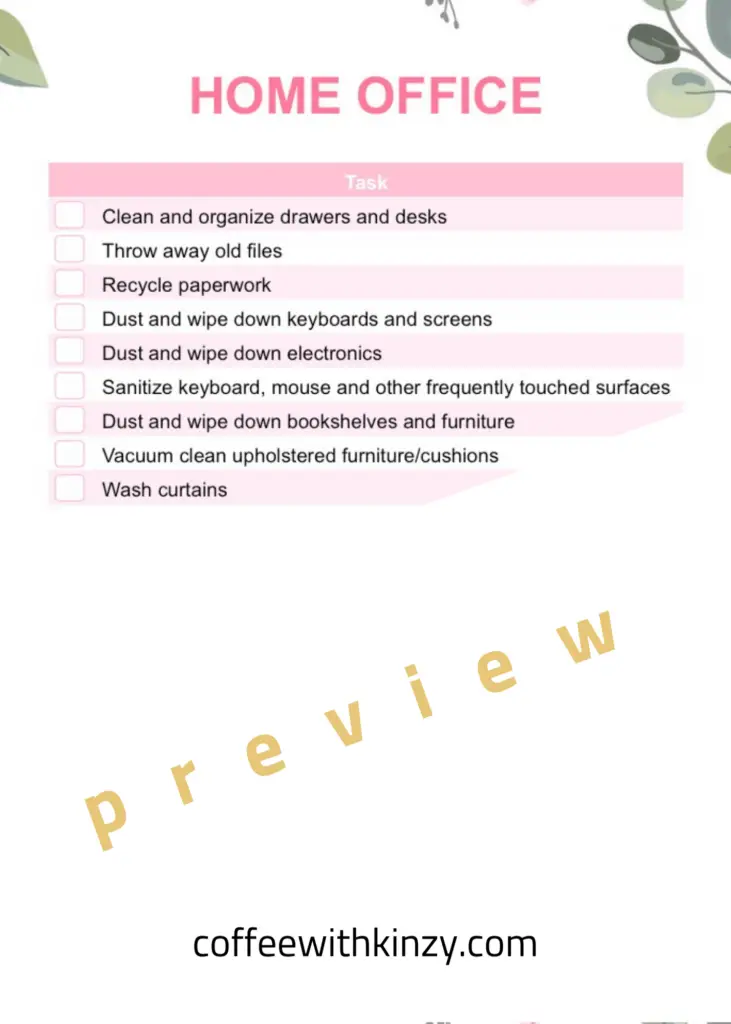 An organized office is essential for minimizing stress and skyrocketing your productivity.
Tasks:
clean and organize drawers & desk
throw away old files
recycle paperwork
dust and wipe down keyboards and screens
dust and wipe down electronics
sanitize keyboard & mouse
dust and wipe down bookshelves and furniture
vacuum upholstered furniture and cushions
wash curtains
Laundry room/area
One of the smaller spaces to tackle and often a great place to start! Starting with a small room gets you feeling motivated and seeing quick results.
Tasks:
wipe down exterior of the washer and dryer
clean lint trap and vent
clean inside washing machine
wipe down shelves and cabinets
discard old products
Basement and garage
Is this the most overwhelming one for anyone else? But it's soooo worth staying on top of to have an organized, clean space.
Tasks:
declutter and reorganize storage bins
organize toys and outdoor equipment
organize and donate unused items
wipe down shelves
sweep
reorganize tools
remove unnecessary or unused items
clean garage door opener
clean interior and exterior of garage door and frame
disinfect door knobs
Playroom
Kids come with clutter and toys galore… time to conquer the chaos!
Tasks:
santizie plastic toys with soap and water
wash stuffed animals and other washable soft toys
donate unused toys
organize toys and play areas
sanitize hard surfaces
dust and wipe down shelves and drawers
vacuum underneath tables
wash rugs
declutter
Entire house
Last but not least… tasks all around the house!
Tasks:
clean baseboards and walls
touch up paint on walls
sweep, mop & vacuum
spackle any holes
spot clean carpets
check and discard expired products in emergency kit (and replace them)
clean light fixtures and fan blades
replace bulbs as needed
wipe down doors and sanitize knobs
clean windows, blinds & sills
clean window tracks
change batteries in smoke and carbon monoxide detectors
check expiration date on fire extinguishers
sweep porch and back deck
wash outside windows
vacuum vent covers
change furnace filters
check roof for damage and repairs
PHEW. We made it. Deep cleaning is work, but once it's done, and you keep it up with a regular cleaning schedule it's really not so unbearable!
Get the printable version of this Spring cleaning checklist for just $3
Use code CWK50 at checkout. You can print it or use it digitally for years to come!
Do you love printables?
I have an entire library of productivity printables that are completely free. You can gain access by joining our community right here:
Recap
You can print these pretty checklists for just $3 using this link and code CWK50 or you can use the tasks listed in this post! Either way you have a strategic plan to tackling some deep cleaning in your home.
Happy cleaning!
Xo,
Kinzy
You may also like:
A realistic cleaning schedule for busy moms
The laundry schedule that will change your life
The free Ultimate Productive Mama planner printables