This post may contain affiliate links. This means by purchasing through one of these links I may make a small commission at no extra cost to you. Please see my disclaimer for more details.
Are you looking to add more organic groceries into your life? You are in the right spot! Let's talk all things eating organic on a budget.
The minute I found out I was pregnant it was as though a switch flipped inside me. I wanted to do everything possible to nourish this sweet baby inside me and keep her safe. As I researched baby products I realized how many harmful materials are used – and I became determined to find the safest and most natural options possible for my family. I began to research foods and pesticides, and made the decision that shopping more organic was something I wanted to work towards. It sent me on a personal journey, and I'm here today to share all my top tips!
Did you grab my free meal planning printable bundle?
Benefits of choosing organic foods
Organic foods are not nutritionally a lot different from their non-organic counterparts. The fruits and veggies contain most of the same vitamins and minerals. BUT, there is a difference in the pesticide levels, toxic metals & amounts of antibiotic resistant bacteria found in the produce and meats (MayoClinic). These reasons make it worth it to me to shop organic where possible.
Downsides to shopping organic foods
There's no doubt that buying organic foods costs more, and there is a huge variation in prices too. Certain foods are nearly double the cost of non-organic alternatives, while others are only a few cents more. But there is good news, organic foods are becoming more affordable as more and more options enter the marketplace (MarketWatch).
How to eat organic on a budget
Buy local
This removes some of the expensive transportation costs (making it more environmentally friendly too) and often means your food is FRESHER! That's a win-win-win.
Take advantage of any local farmer's markets too.
Buy frozen produce
It's often a LOT cheaper than its fresh counterparts, and still jam packed full of nutritional value! For more details about the benefits of eating frozen fruits and veggies, check out this article at Harvard Health Publishing.
We LOVE the organic fruit blends at Costco for making daily fruit and veggie smoothies. So much more cost-effective than buying fresh – or buying the tiny bags you get at the smaller stores.
This is definitely one of the keys to eating organic on a budget.
Eat more plant based protein
Meat is expensive, there's no denying it. Consider the cost difference between beans and your favorite meat – it's remarkable and can save you a ton on your grocery budget!
Plant based diets are becoming more and more popular too, so there are a ton of delicious recipes out there. My favorite place to find new recipes is Pinterest. Follow my recipe board right here!
A list of delicious plant based proteins:
Edamame
Tofu
Tempeh
Lentils
Chickpeas
Beans
Nuts & nut butters
Seeds (chia and pumpkin are my favorites)
Quinoa
Couscous
Oats
Whole grains (bread, cereal, pastas)
These are just a few of my favorites to help inspire you to make the switch to more plant based proteins! Decreasing meat consumption can make a huge difference in helping you afford to eat organic on a budget.
Consider referencing the clean 15 and dirty dozen lists when choosing organic produce
I say consider because there is a lot of conflicting opinions on how reliable these lists created by the Environmental Working Group are.
Personally, I do choose to follow them. I've done my own research, and I encourage you to read up on them and make an informed decision for your family too.
The clean 15 are 15 fruits and veggies that are considered very low in pesticide content in their non-organic form.
The dirty dozen are the 12 fruits and veggies considered to have the highest pesticide levels still found on the produce after washing.
See the dirty dozen list here.
Make your own snack foods
Think homemade granola bars, muffins, cookies and granola. Not only does this save you money on ridiculous packaging costs, but you can avoid unneeded preservatives and over use of sweeteners too.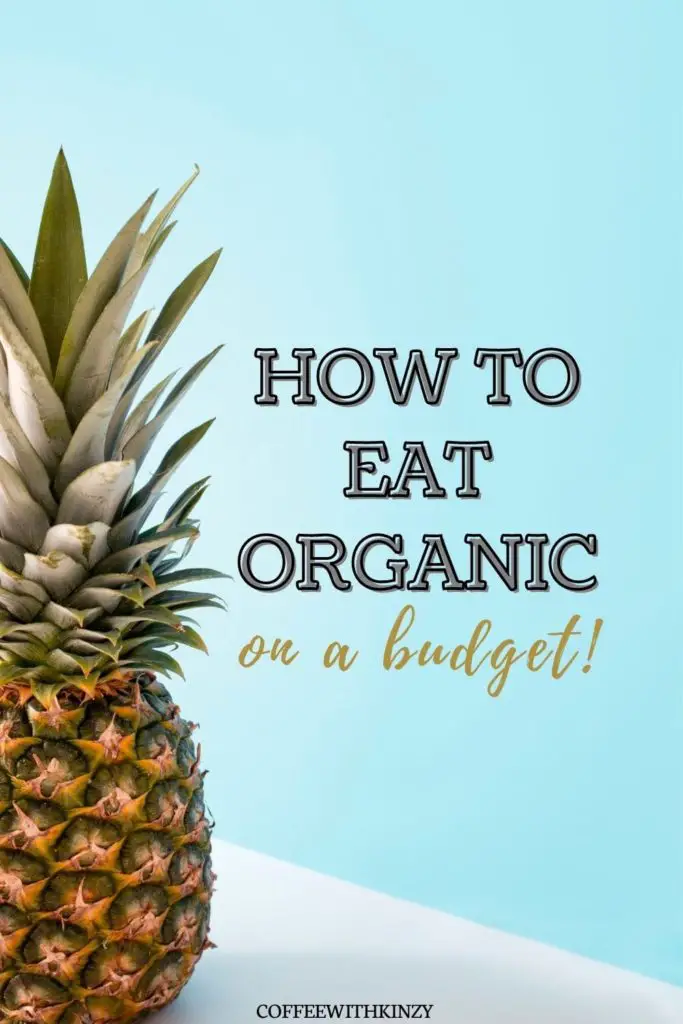 Shop the outskirts of the grocery store
AKA the fresh foods! Avoid processed and prepackaged foods wherever possible, especially those that are individually packaged. You are better off portioning things yourself, per the following tip:
Buy in bulk, and portion it individually yourself.
Portioning out foods like nuts helps keep you to truly eating one serving size. This makes the food last and saves you money by preventing over indulging. I know I'm not the only one guilty of accidentally eating half a bag of chips in one sitting…
Organic meat is more affordable in bulk too. We buy our meat at Costco as they have a lot of variety and it's less expensive to buy the larger quantities.
Meal plan and buy only what you need for the week
If you don't already meal plan, I highly advise it! It helps save you so much money as you buy only what you need and helps limit you from grabbing those tempting distractions at the store. It's also a huge time saver as you don't waste time wondering what to cook and you only have to make one grocery trip every week.
Related post: how to meal plan in less than 10 minutes per week
Check the sales before you make your meal plan
I love to take a quick look at what's on sale before I start planning my meals for the week. That way I can make sure to pick recipes using the fruits and veggies that are discounted.
Choose your grocery store wisely (where possible)
Shopping organic on a budget takes a little research. If you have options, investigate them! Aldi is starting to have more and more affordable organic options. Costco is also great for buying organic in bulk. While Wholefoods tends to be on the pricier side, they often have great discounts for prime members. Consider all your local options!
Look for store brand organic foods
Like their non-organic counterparts, store brands are often cheaper.
Grow your own organic food
Start a garden! This is such a wonderful activity for families to do together. It teaches kids about where their food comes from and gets them involved in food preparation. No family? No problem! Having a small garden can really help save you $$.
I currently live in a small apartment, so while I don't have a garden (yet! A girl can dream…), I do grow fresh herbs. This is HUGE, because they are jam packed with flavor and I don't have to pay $3-5 per tiny package at the grocery store.
Bonus tips to eating organic on a budget:
Use simple recipes and avoid specialty ingredients. Make sauces, marinades and dressings from scratch. These are often so simple, and if you make them as you need them you can further reduce your exposure to unnecessary preservatives.
Recap of how to eat organic on a budget:
It's all about having a plan (meal plan), shopping smart, buying fresh & frozen and avoiding pre-packaged foods wherever possible.
I hope these tips and tricks have served you on your journey to buying organic on a budget. They have truly changed our families eating habits for the better.
Have a question?
I'm an open book! Drop me a comment below.
Xo,
Kinzy
You might also like:
How to meal plan for families (a painless 5-step system)
Meal planning categories that make meal planning a breeze
10 ways to involve your kids in meal planning
Want to up-level your meal planning?