This post may contain affiliate links. This means by purchasing through one of these links I may make a small commission at no extra cost to you. Please see my disclaimer for more details.
Are you looking for some fun, screen-free, educational activities you can do at home with your toddler?
As a stay at home mom, I'm often asked what I do all day long with my toddler, especially when people find out I keep her screen-free (the goal is until she is 2). Our days are busy and fun, and one of our favorite activities are learning worksheets. I'm here today to share a few of our favorite printable activity worksheets for toddlers (ages 18 months and up!).
Related: see our 15-month-old sample schedule here.
Printable worksheets are awesome because you can set up an activity in just a few seconds. The learning activities are endless – you can learn and play with colors, numbers, letters, shapes, animals, patterns and so much more.
With a few extra supplies you can also set up toddler busy books and re-use the activity sheets over and over! You just need to laminate the pages and add some velcro to the matching pieces.
Can I do these printable worksheets with a 2-year-old?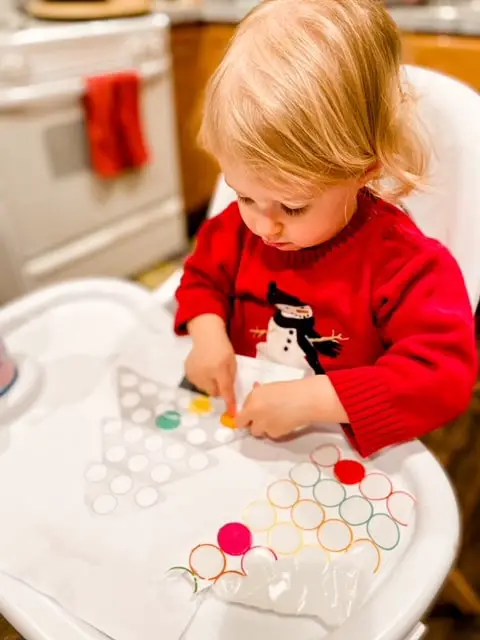 Yes! They won't be able to do all the activities, but it's great for introducing new concepts, and you can re-use them and watch their skills grow.
Toddlers are little sponges at this age! They are observing and taking in everything around them. So yes, while some worksheets may feel advanced for their age – it's not too early to start using them!
For example, right now my 20-month-old doesn't quite understand dabbing the circles on the dot pages or placing the stickers over the outlines. But we talk about the pictures and the colors we are using, and she is absolutely learning! She is starting to grasp the idea the more we practice too.
Related: Boredom-Busting, Screen-Free Activities for Toddlers
What learning activities can I do with a 2-year-old?
There are endless options! You can start learning letter and number recognition, introduce counting, learn colors, animals, body parts, foods. They are expanding their vocabularies and learning constantly!
Let's get to some awesome printable activities for toddlers of all ages:
Dot Winter Activity Pack
This is one of our favorites! We love our Dauber Dawgs dot markers. You can also use them with dot stickers, which are great for developing fine motor skills. My 20-month-old is obsessed with peeling stickers right now so these are perfect!
No dot markers or stickers? No problem! You can paint the circles, fill them with cheerios, play with colored pom poms or anything else you have on hand. (Be sure to supervise the toddler when playing with small objects!)
Grab this winter dot activity bundle by clicking here.
More Dot Activity Packs
Numbers Dot Activity Pack
Learn number recognition and counting skills with these 10 pages of number dot activities!
Alphabet & Numbers Bundle
Save money and grab both the alphabet and number bundle together for just $9!
Color Matching Printable Learning Activities for Toddlers
This awesome pack has 16 different learning activities! I love how bright the colors are too. My daughter is just starting to show an interest in learning her colors now, so this one is next on our list. I will be making an activity binder for her with laminated pages and velcro dots, so she can play as often as she likes. After breakfast, we enjoy sitting down at her toddler table and doing activities like these together.
Get your color matching activity pack here.
Under the Sea Printable Activity Worksheets for Toddlers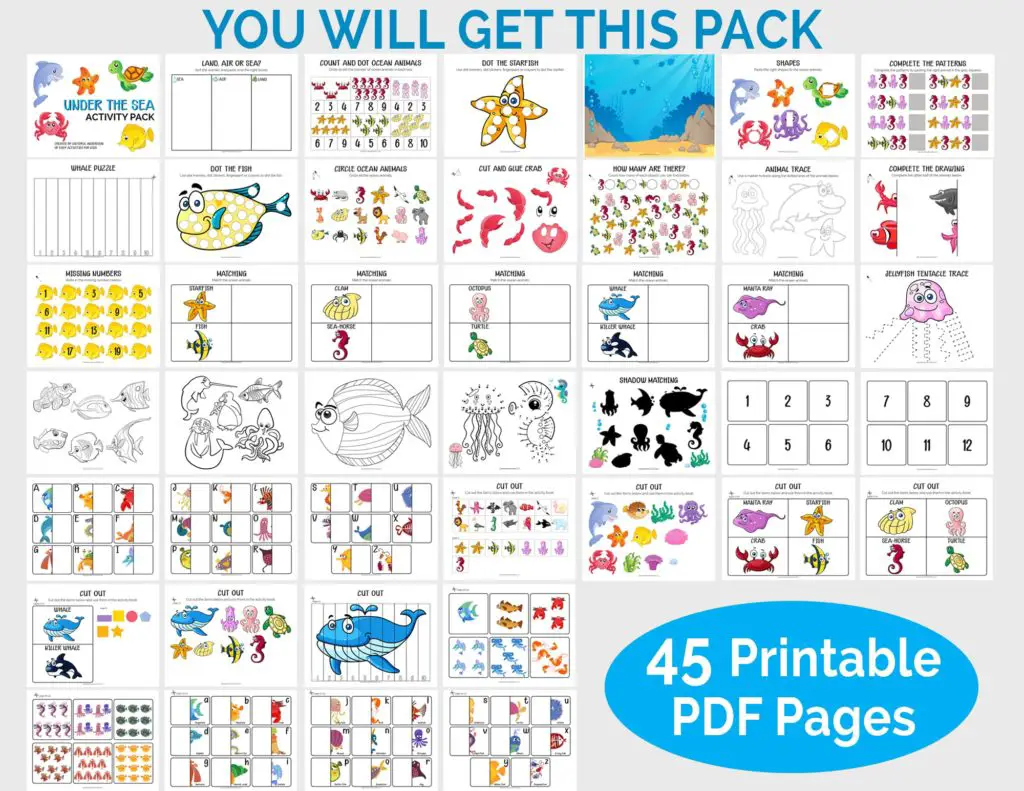 If you are looking for a multi-use, value packed printable bundle – this is it! There are activities for toddlers to learn to recognize letters and numbers, start to count, practice their colors, and learn about patterns. You'll find puzzles, sorting, counting, painting, matching pages and so much more.
Click here to check out the Under the Sea activity pack.
Christmas Themed Printable Activities for Toddlers
The holidays are a truly magical time of year! In December, we love to do Christmas themed printable activities.
To the right you can see my 20-month-old daughter learning about Christmas trees and practicing the fine motor skill of peeling 1″ circle stickers and placing them on the tree. She absolutely loves it!
Christmas Dot Activity Pack
You can check out the Christmas dot activity pack right here.
Christmas Preschool Activity Pack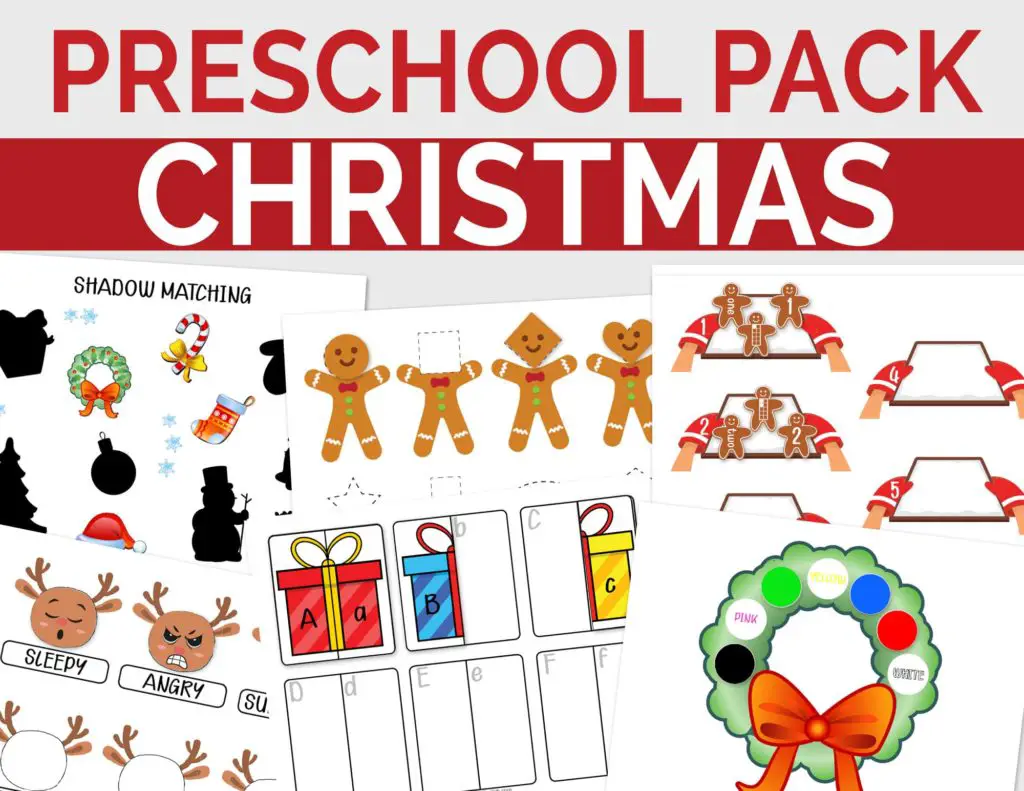 This 54 page printable bundle is a perfect home preschool activity set! It's bright, colorful and jam packed with fun activities. Your toddler can learn tracing, matching, colors, patterns, counting & more!
Santa's Workshop Dramatic Play Set
Perhaps the best Christmas printable set I've come across! This one is a must-have for the holidays. Inside you will find everything you need to set up 6 different Christmas themed activities:
Mail Station: create and write beautiful letters to Santa.
Wish List: make a visual wish list you can send to Santa.
Santa's Workshop: imaginative play to design and build toys together.
Wrapping Station: practice wrapping gifts (perfect for distracting them from opening anything under the tree as they can wrap and unwrap their practice presents!)
Tree Decoration Station: develop fine motor skills through decorating a mini tree (we loved having a "decoy" tree this year as our toddler left the big tree alone!)
Cookie Station: learn all about baking and decorating yummy cookies.
Get the dramatic play set right here.
Have any questions?
Drop me a comment below! These printables were created by a blogger friend of mine, and we are obsessed with them. I know you'll love them too!
Xo,
Kinzy
Interested in free planner and routine printables?
Please note: prices are at the time of writing this article. I will update as often as possible.