This post may contain affiliate links. This means by purchasing through one of these links I may make a small commission at no extra cost to you. Please see my disclaimer for more details.
Welcome mommy to be! I'm here to dish about all my first trimester pregnancy favorites. Putting a bunch of these together would make for a great first trimester survival kit or gift basket for a pregnant friend too. These must haves are absolute game changers for expecting moms!
I'm currently expecting my second little nugget, and my two pregnancies could not have been more different (from sickness to cravings and weight gain to major skin changes). This has led me to create a comprehensive list of first trimester must haves that will help support you whether you are feeling great and thriving or you are simply trying to survive your first trimester.
Related: 87 Stunning Baby Girl Names and 55 Vintage Baby Boy Names
Top 12 First Trimester Pregnancy Favorites
I'm not one for beating around the bush. Here are my favorite items – in no particular order. Keep reading for more details, ideas and product links!
Prenatal vitamins
Pregnancy app
Water bottle
Scale
Comfy leggings
Pregnancy pillow
Heating pad
Lots of snacks
Ginger tea & ginger goodies
Sour candies
Healthy meals
Essential oils
These items are all essential in helping you maximize your health, get the rest you need, embrace your changing body and all around feel the best you can during this exciting time!
Related: Minimalist Mama Baby Registry Checklist
First Trimester Must Haves, In Depth:
Prenatal vitamins
If you were trying to get pregnant, chances are you have already started a prenatal vitamin. Don't stop now! You'll take these throughout your entire pregnancy.
If this pregnancy was a surprise, you may not have started taking one yet. It's time to find the right one!
Your best bet in finding the right prenatal is to talk to your OB. They know your health and have access to your blood work and can make personalized recommendations.
Wondering which one I chose? I take the Wholefoods 365 prenatal vitamin with iron, which you can check out right here.
Pregnancy app
The pregnancy app market is SATURATED. I was so overwhelmed the first time around. I ended up downloading around 10. This time I'm using 1 – my favorite of those 10. Opinions will vary here, so I totally recommend trying a few. You won't know what you like until you play around with them!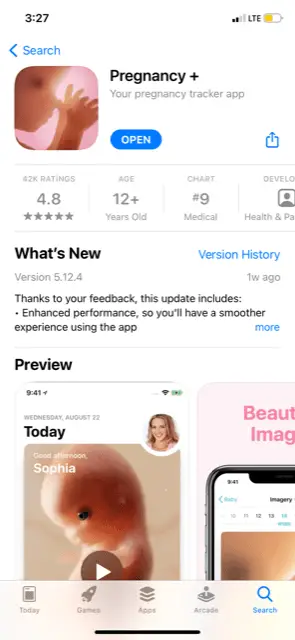 For this pregnancy I am solely using Pregnancy+. I love the baby's growth timeline feature and how they share the size of the baby each week. There's also a whole section dedicated to YOU. You can track your weight, add bump photos and create a birth plan all within the app. It's sleek and super easy to navigate.
Non-toxic water bottle
Plastic can be full of all kinds of toxic chemicals. For that reason, I choose to use a glass water bottle. You can get the one I love right here. It's easy to clean, the perfect size, and it comes in tons of color options.
Hydration is ESSENTIAL in your first trimester. I get massive headaches the second I get even a little dehydrated. Having a water bottle you can take everywhere will help you keep up your water intake!
Home scale
If you want to track your weight at the same time of day, having a scale at home is ideal. Try not to stress about your numbers – your doctor will help you determine if your weight gain is appropriate. Some women do better with not stepping on scale every day as it really messes with their mental health. Others prefer to keep an eye on it and like having that data. Do what feels right to YOU (and your OB!). Just know this – weight gain looks different for everyone!
Comfortable, stretchy leggings
There are all these recommendations for waist band extenders and fancy pant contraptions out there. I didn't get any of them. These stretchy leggings were my favorite things ever, and you can't beat the price. They are one size and literally grow with you throughout your pregnancy. Plus, you'll love how soft they are and that they aren't see through at all!
For professional wear I did invest in a few pairs of maternity pants. You can get them with stretchy waist bands, so you can wear them throughout your entire pregnancy too. I think sometimes we just don't want to let go of our "before baby" clothes, but once you embrace the comfy maternity pants there is no going back!
Pregnancy pillow
Comfort is KEY when your body is changing as an expectant mother to be. There is a lot of hype in the pregnancy world about the U-shaped pillow. I will say this – it's versatile and very cozy. But, it's also very HOT. During pregnancy, we often run hot too, so I find I actually can't sleep with it at night. I do use it to sit up in bed and am glad I have it, but at night something like this pregnancy wedge pillow or this pregnancy knee pillow may serve you better.
Heating Pad
Unfortunately back pain comes with the territory of an expanding body. Fingers crossed you aren't too impacted in your first trimester – but it may be worth considering getting a heating pad like this one now, so you are ready down the road! It's great for back and neck discomfort. I'm obsessed with mine. It smells like lavender and peppermint, but they also have an unscented version if you are sensitive to smells.
Snacks, snacks & more snacks.
Eating small amounts more frequently is key for a lot of pregnant women. It can actually help ward off the pesky nausea so many of us experience.
Some favorite healthy pregnancy snack ideas include:
trail mix
fruit & cheese (pasturized)
veggies & hummus
apple or banana with natural peanut butter
yogurt & granola
smoothies
multigrain or other healthy cereal
oatmeal
larabars
guacamole
homemade muffins (low to no refined sugar)
Now is the time to stock up on snacks! If you plan to breastfeed you'll need plenty of snacks post baby too.
All things ginger
Ginger can be rather magical for helping with morning sickness. I'm a personal fan of ginger tea, but many swear by ginger ale, ginger candies or even ginger beer (watch out for that sugar content though!). Be sure to get the tea (ingredients) approved by your doc.
Sour candies
Another morning sickness game changer. Not the healthiest option, but sucking on sour candies helped me a ton during my second pregnancy when nothing else seemed to work! I found sour skittles to be the best for me, but there are plenty of options out there.
Healthy meals
Now, more than ever, is the time to look after yourself! Food is FUEL, and making sure you are eating the right nutrients can really help you feel your best. Be sure to talk to your OB and understand which foods you should avoid during pregnancy.
Meal planning is a lifesaver for me when I'm pregnant. It helps me make sure I'm eating a good variety of proteins and getting in different food groups. If you are new to meal planning (or need some help!) be sure to check out my e-book Master Your Meal Plan. I teach you how to meal plan for the week in less time than it takes to unload the dishes.
Essential oils
I almost left this one off the list because there tends to be a lot of controversy regarding the efficacy and safety of essential oils. All I can say is this – talk to your OB. Lavender essential oil changed my life when pregnancy insomnia hit me like a brick wall. But I understand they are not for everyone. Again, talk to your OB and do your own research. Plants can be pretty darn powerful.
Lastly, a few tips for when you are wondering how can I survive my first trimester?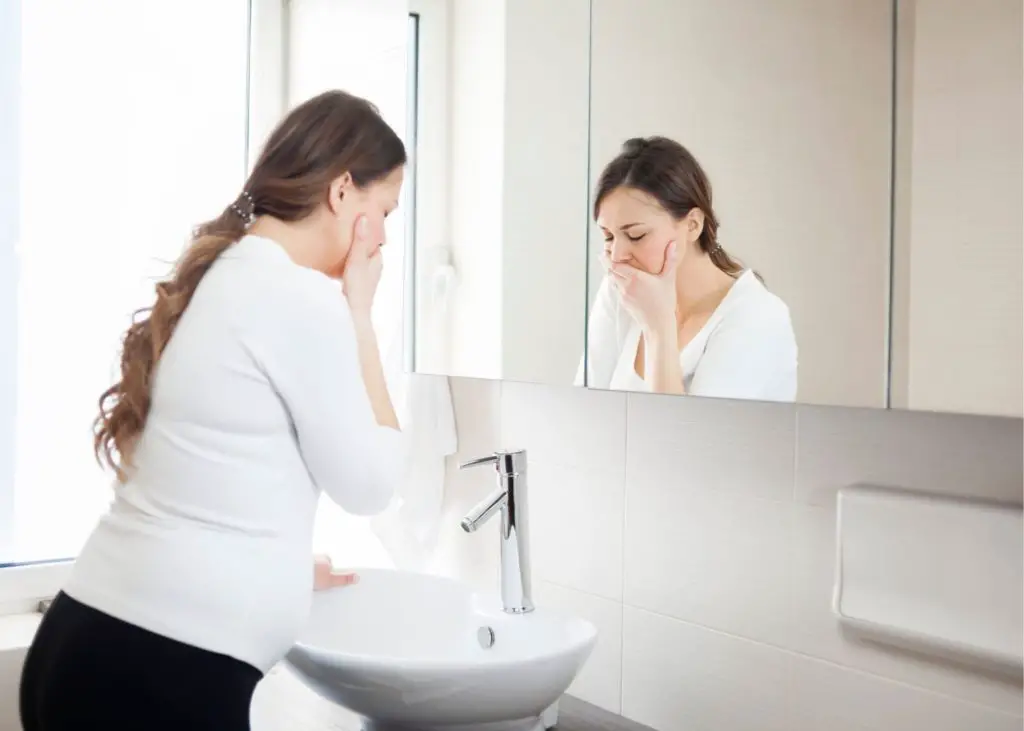 Slow down. You are growing new life, mama! It's ok to acknowledge you can't keep the same pace.
Get adequate rest. I'm not going to lie, it gets difficult to sleep as the pregnancy progresses. Try to get as much rest as you can. Your body is working hard!
Eat smaller amounts, frequently. I'm talking every 1-2 hours. It took me a few days to realize during my second pregnancy that if I ate every 1-2 hours I would actually prevent getting physically ill. I didn't feel good or necessarily want to eat, but when I adopted that new meal plan I felt SO much better. Every pregnancy is different, and it didn't affect me the first time around at all. My best advice is to pay attention to your body and try to find your personal triggers.
Look after yourself. Try to move your body, eat healthy meals and get the sleep you need. Pregnancy isn't easy, but it is incredible to be able to grow life!
If you are expecting, my sincerest congratulations! I wish you a smooth rest of your pregnancy. It's an emotional, wild ride but also an amazing experience.
Xo,
Kinzy
You might also like:
10 Thoughtful Gifts for Expecting Mothers
27 Adorable Gender Neutral Baby Names
87 Stunning Baby Girl Names
55 Vintage Baby Boy Names