This post may contain affiliate links. This means by purchasing through one of these links I may make a small commission at no extra cost to you. Please see my disclaimer for more details.
Are you looking for some creative and fun ways to celebrate Valentine's Day with a toddler?
I've rounded up some top crafts and activities to help get you started. There are so many fun ways to celebrate without breaking the bank!
I know I can't wait to celebrate with my almost 2-year-old this year. She's going to love these Valentine's Day activities for toddlers!
Let's get to it… how to celebrate Valentine's Day with a toddler:
Serve heart shaped foods
The options are endless! Use a cookie cutter and make heart shaped pancakes for breakfast (either punch them out with a plastic cookie cutter or use a metal cookie cutter on your griddle). You can do heart shaped sandwiches for lunch, bake heart shaped cookies together or even do heart shaped pieces of cheese with crackers for a yummy afternoon snack!
Make Valentine's Day cards for friends & family
Do you have a dinosaur loving toddler? Check out these printable dinosaur valentines (Ashley Ode). They are too cute!
I also highly recommend scouring Pinterest for plenty of ideas on making your own Valentine's Day cards in whatever theme suits your fancy! The options are limitless.
Try your hand at making play doh and exploring heart shapes together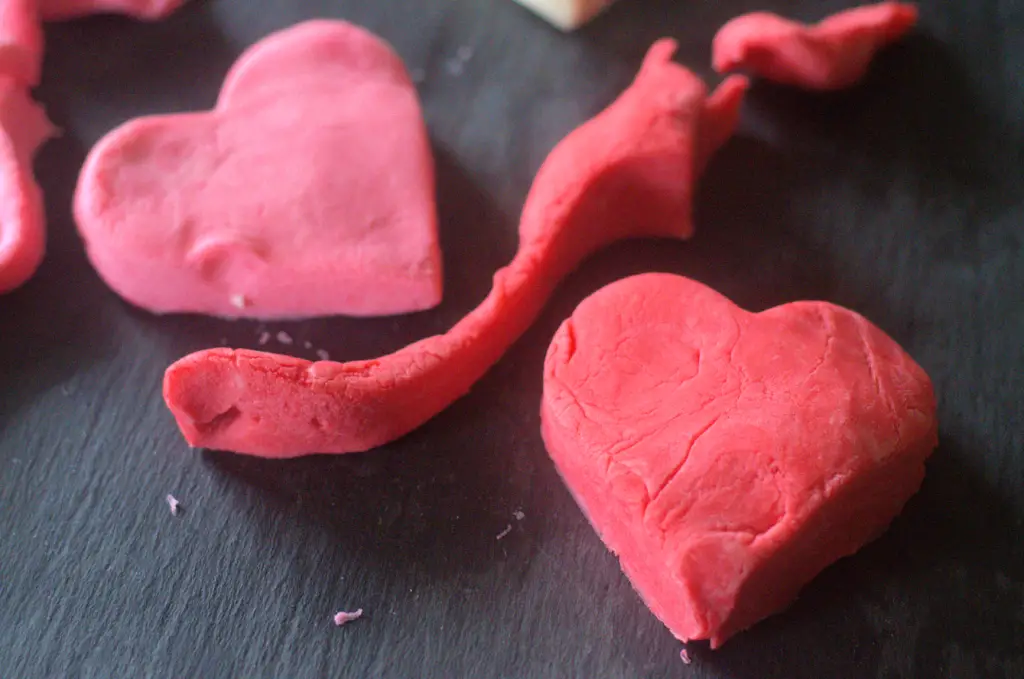 This easy homemade play doh recipe is perfect for Valentine's Day (Two Kids and a Coupon). I love how vibrant the pink color is!
Do some crafty Valentine's Day activities for toddlers
DIY Yarn Hearts
Click here for a tutorial on how to make super adorable DIY yarn hearts (Drug Store Divas). I love crafts that use simple things you often already have – or are at least easy and cheap to get!
Heart Owl Craft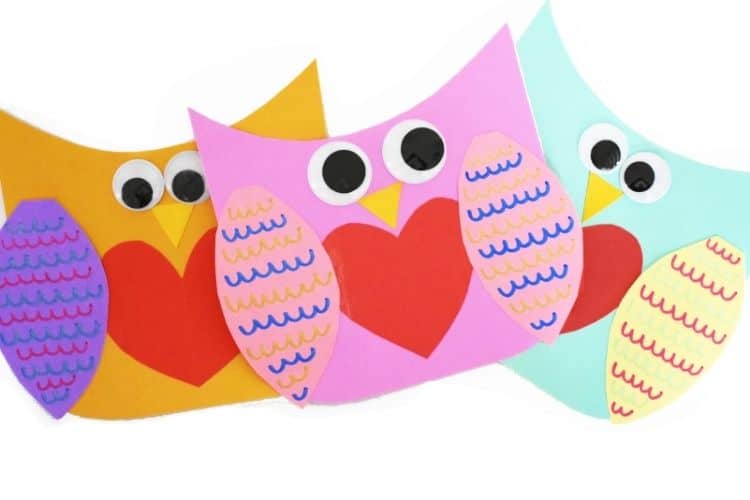 Try your hand at making these adorable owls with this step-by-step tutorial (Journey to SAHM). I mean, how cute are they?!
Picture Frame Valentine's Day Craft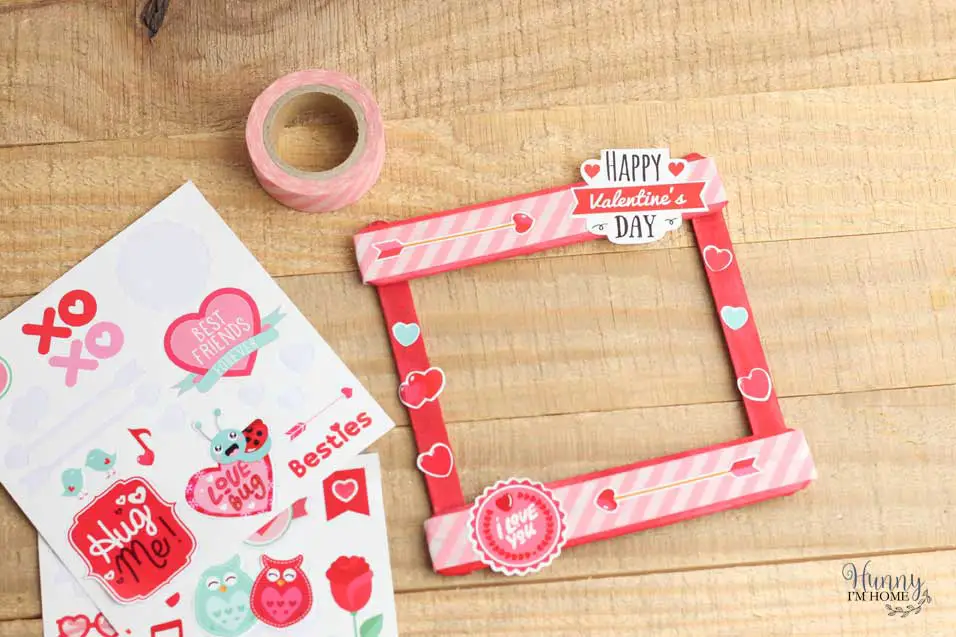 A classic toddler craft. I don't know about you, but I totally remember making these as a kid. Your toddler will be so proud of their work! Get instructions for this Valentine's Day picture frame craft for toddlers here (Hunny I'm Home DIY).
Watercolor Hearts
Let your toddler embrace their artistic side with this cute watercolor heart art project (The DIY Nuts). Personally I can't wait to try this one!
Shaving Cream Sensory Art
Do you love sensory play? This sensory Valentine's Day craft by A Daily Dose of Mom uses simple things like shaving cream and washable paints to make beautiful swirls of pink and red! Your toddler will enjoy making this project, and you might just find yourself swirling too!
Secret Message Valentine's Day Craft
Combine a little science with a lot of fun and create a secret message watercolor painting for your loved ones (The Growing Creatives).
Paint Hearts on Rocks
How adorable are these heart painted rocks (Sustain My Craft Habit)? This one is better for older kids (especially if using acrylic paint)… but you could totally do a toddler friendly version and let your toddler paint rocks with washable paints, and then you could add the hearts, or you can both decorate with stickers etc.
Heart Suncatcher
Make some pretty window decorations with this step-by-step tutorial on creating a heart sun catcher for Valentine's Day (Mom in the Six)
Decorate a candle together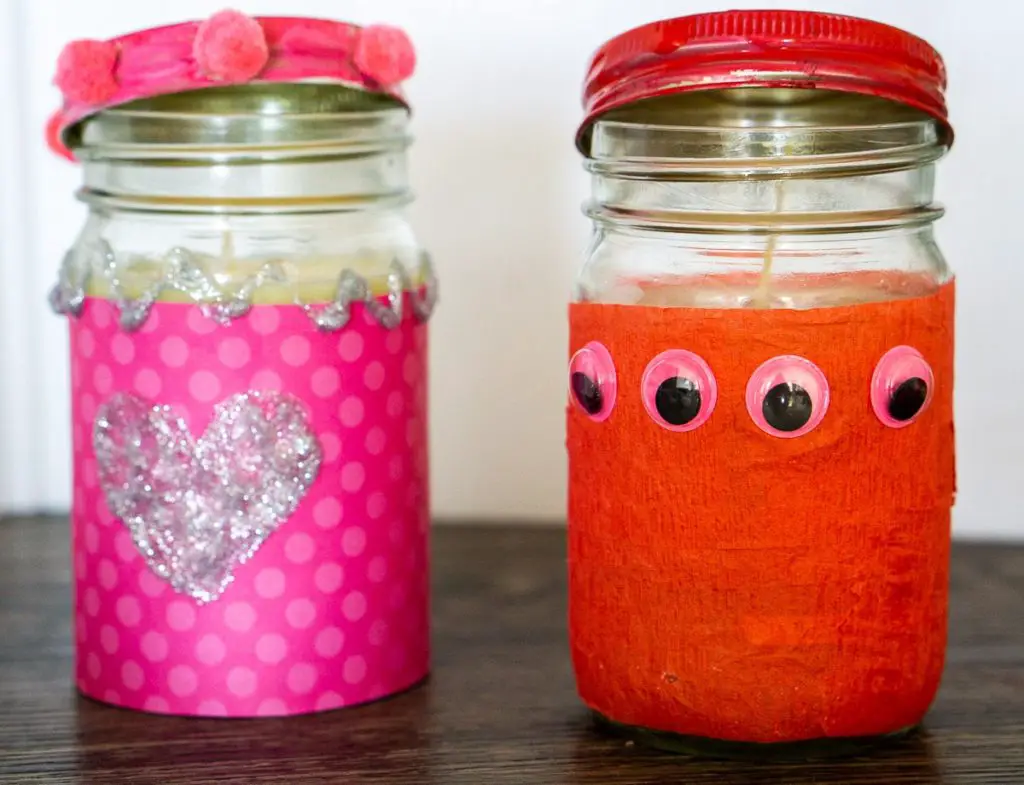 The options are endless for this Valentine's Day candle decorating activity for toddlers (High Chair Chronicles).
Set up a Valentine's Day themed scavenger hunt!
Super Savvy Sarah has you covered with an amazing free printable pack, so you can easily set up a Valentine's Day scavenger hunt! Of course, you could always make your own too. This one is perfect for little preschoolers!
Print out some cute Valentine's Day coloring pages
There are some really cute ones over at Dresses and Dinosaurs. Get the Valentine's Day coloring pages for free here.
Want to make heart shaped crayons for your Valentine's Day themed coloring pages? Learn how to make them right here (Girl Gone Mom)
Learn and play together with Valentine's Day worksheets
This bundle of Valentine's Day worksheets for toddlers are totally free (Reviewz and Newz). You can work on the alphabet, counting, patterns & more.
My friend Viktoria also creates amazing printables for toddlers, and she has a Valentine's Day bundle happening. Included is an activity pack with learning activities on counting, patterns, letter recognition, tracing and more. You also get a coloring book full of adorable Valentine's Day pages and a dot activity pack. All can be purchased separately too.
Recap of these Valentine's Day Toddler Activities
From red, pink & heart shaped foods to handmade Valentine's cards, and Valentine's Day worksheets to scavenger hunts, there is something for every family on this list!
Happy Valentine's Day!
Xo,
Kinzy
You might also like:
100+ Printable Activity Worksheets for Toddlers
The Best Wooden Toys for Toddlers
Unique, Personalized Books for Children