This post may contain affiliate links. This means by purchasing through one of these links I may make a small commission at no extra cost to you. Please see my disclaimer for more details.
Toddlers go from happy to hangry in half a second, don't they?
I find toddler tantrums are less frequent when my toddler is fed nutritious, healthy foods and when I have easy, healthy snacks ready to go at a moments notice.
In the beginning I kept staring into the fridge wondering what the heck to give her for a snack every couple of hours. Finally, enough was enough and I realized I needed to make a snack list I could quickly glance at because my brain has enough other things to deal with on a daily basis!
This changed our snack game. And I'm here today to share my healthy snack ideas for toddlers.
Most are easy, and ready to grab. A few are recipes that need to be prepared, but once they are made they provide grab and go snacks for days!
With toddlers eating 2-3 snacks a day, it's important to have plenty of healthy options. It doesn't have to be complicated either!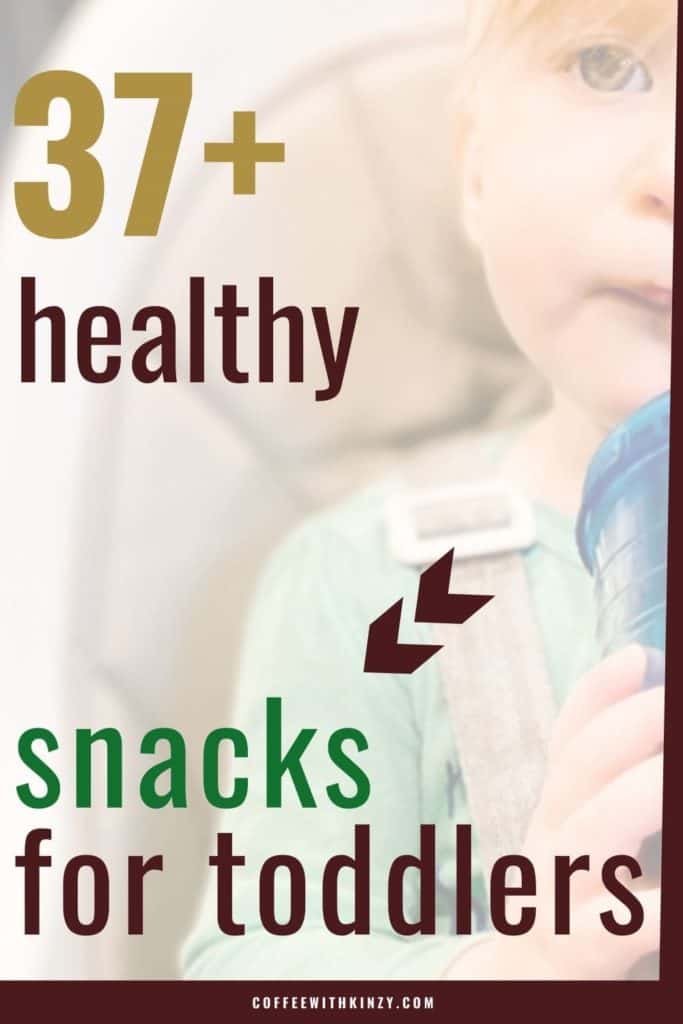 Fruits make excellent snacks for toddlers.
Be sure to peel, soften and slice appropriately!
Easy choices include:
Raspberries (halved/quartered)
Blueberries (halved/quartered)
Blackberries (halved/quartered)
Strawberries (diced)
Mandarins (cut)
Grapefruit (seeds removed, cut)
Kiwi (diced)
Grapes (quartered)
Apricots (diced)
Watermelon (diced)
Mango (diced)
Melon (diced)
Bananas (sliced)
Plums (diced)
Peaches (diced)
Nectarines (diced)
Vegetables make great healthy snacks for toddlers.
Again, be sure to soften and peel as necessary!
Some easy choices include:
Avocado (diced)
Bell Peppers (softened & diced)
Snap Peas (softened and diced)
Green Beans (cooked & diced)
Broccoli (cooked & chopped)
Cauliflower (cooked & chopped)
Carrots (softened & sliced)
Egglplant (cooked & diced)
Beets (cooked & diced)
Veggies with a side of hummus!
Soften for the toddlers, but smear with hummus if they are resistant to eating veggies on their own.
My daughter is obsessed with roasted red pepper hummus and will eat it on almost anything. Mom win!
Smoothies can be a healthy snack.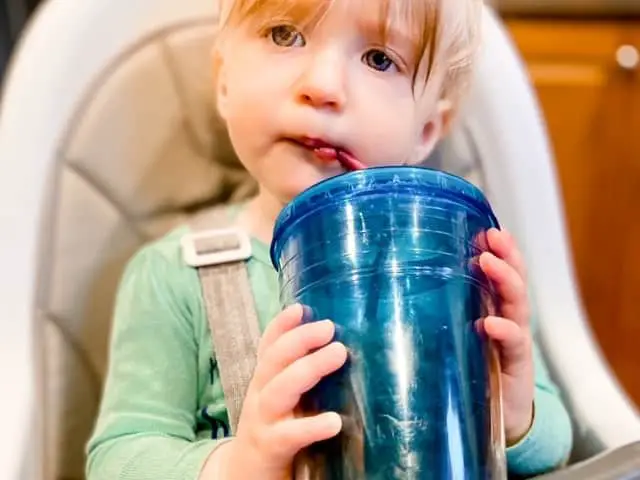 Be conscious of portion sizes with smoothies. They are such an easy way to sneak in things your kids won't normally eat.
Some healthy additions include: fruits, veggies, nut butters, yogurt, almond milk and chia seeds.
No added sugar, oatmeal muffins make tasty snacks for toddlers!
Peanut Butter Banana
Click here for our favorite peanut butter banana oatmeal muffin recipe.
These are seriously so delicious you don't even realize they are so much healthier than typical muffins! My hubby and toddler gobble them up.
Sneaky Spinach Muffins (for picky eaters!)
These Spinach muffins are also a huge hit in our house.
Apple Banana Oat Muffins
These toddler friendly muffins can be whipped up in the blender. Super convenient and quick!
Frozen Yogurt Bites Make a Perfect Toddler Snack
Blend some fruit into a puree and mix with greek yogurt. Pipe onto parchment paper on a cookie sheet and freeze for a couple hours. Makes a yummy, healthy treat!
Cheese makes a delicious, quick snack.
Slice up some cheese and serve with a side of fruit! Perfect snack and easy to pack for on the go too.
Frozen yogurt "Popsicles" are perfect summer snacks!
Basically, freeze your favorite smoothie recipe or fruit puree with yogurt added. Your toddler will think they are being spoiled with a treat! Mom win!
Chia pudding is a surprisingly easy homemade snack for toddlers!
Did you know chia is a natural laxative too? This is a great snack for toddlers suffering from constipation.
Mix 3-4oz of fruit puree with 1/2tbsp to 1 tbsp of chia seeds and let sit in the fridge for a bit (10 minutes is usually plenty).
Baked sweet potato wedges make yummy snacks.
Whip these up while making lunch or dinner and have ready to go for snacks! Kids tend to love sweet potatoes.
Hard-boiled eggs are a filling snack for toddlers.
Also easy to prepare in "bulk". Make a few, keep them in the fridge. Makes for an easy, filling snack.
Did you know you can make your own whole wheat goldfish crackers?
Much healthier than the store bought version. You can search Pinterest for recipe ideas. I'll link one here when I find one I love.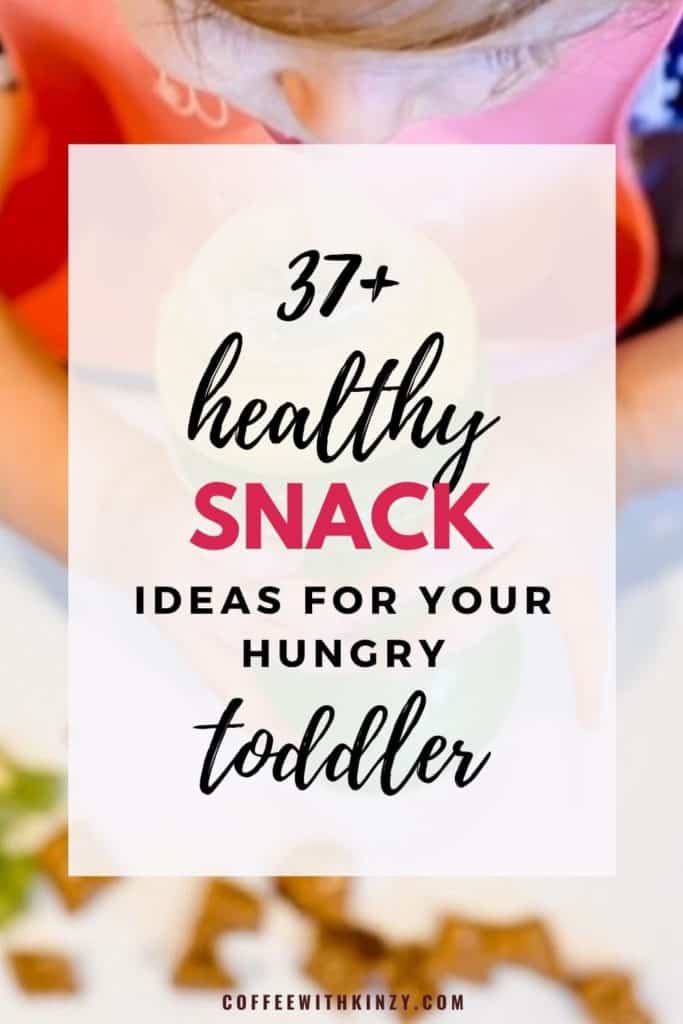 PS – these all make great, healthy snacks for mom too!
The most important thing we can do is try to make sure our kids are getting a healthy, balanced diet. Food is fuel, after all. I hope you found some snack inspiration here. Please share any more ideas you have in the comments!
If you are snacking on the go and traveling with your baby or toddler, be sure to check out this list of the best portable travel high chairs!
Happy snacking!
Xo,
Kinzy
You might also like:
Free planner printables for busy moms
How to meal plan in less than 10 minutes per week
10 tips for creating healthy meal plans with kids!
PS – are you part of my community of mindful moms? Join today and grab your free ultimate productive mama printable bundle!