This post may contain affiliate links. This means by purchasing through one of these links I may make a small commission at no extra cost to you. Please see my disclaimer for more details.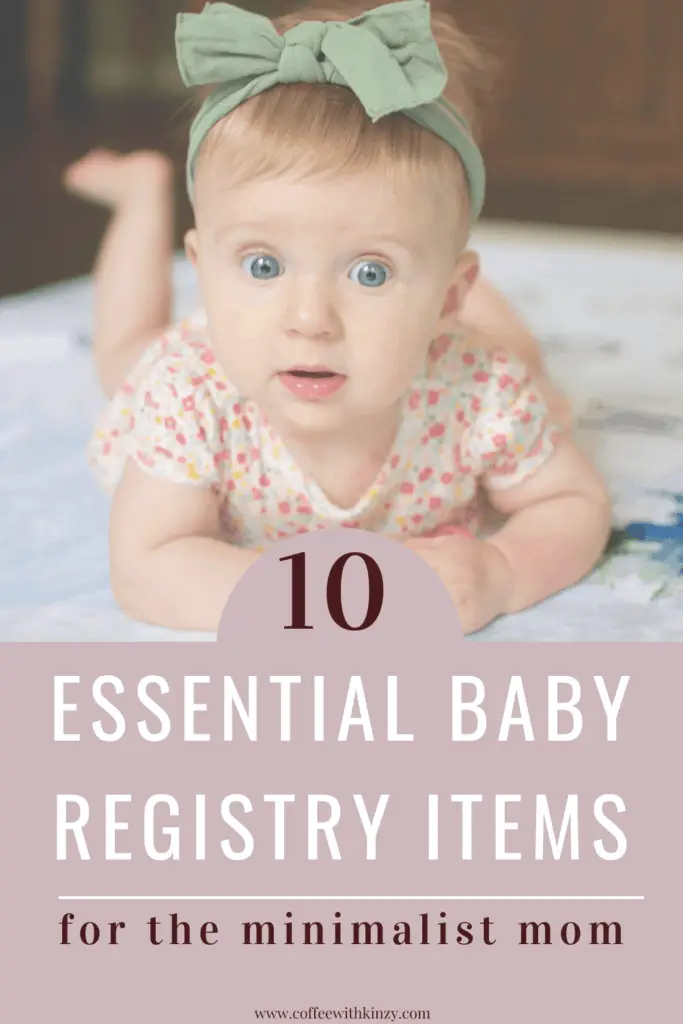 First, to the expecting mamas reading this, congratulations! I wish you a smooth pregnancy and a healthy delivery.
If you haven't already, consider reading my tips and tricks for first time baby registries before navigating through this list! I'm all about finding safe products that make mom (& dad) life easier!
This top ten list is obviously not a comprehensive list of all the things you will want for your sweet bundle of joy – it is simply a list of ten of our most used, must have & favorite items we will definitely use for our future babies too!
If you are looking for a more comprehensive list sign up for my minimalist baby registry essentials printable checklist here:
There are a million products on the market for newborns, and the companies do their best to convince you that you can't possibly live without them. The reality is – you don't need it all. So many of these items end up used once or twice and end up cluttering your home. On this list you will find practical items that are multi-use, gender neutral and of high quality (so they will last for all the babies!). While some of these are on the pricier side, others are budget friendly… I did my best to include a variety.
Ok let's get to it! My top 10 favorite baby registry items for the minimalist mom:
1. Crib & Crib Mattress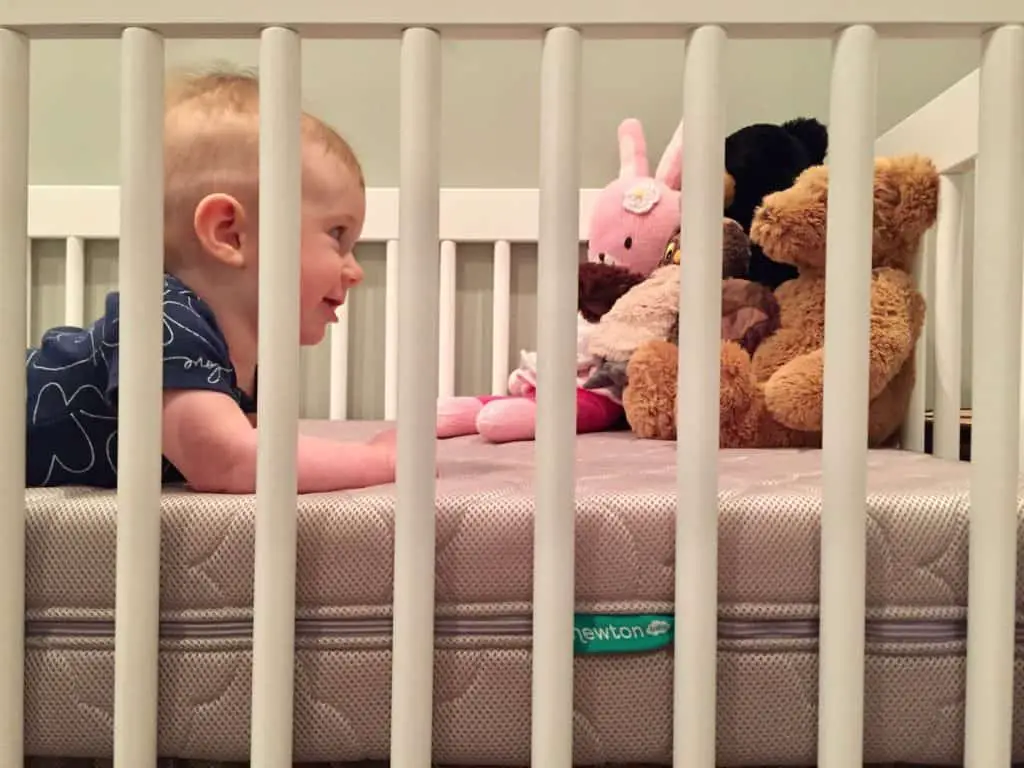 Babies sleep a lot. As in, 12-16 hours per day (and more in those early weeks!). Yes, it may not be in the consecutive stretches you dream about, but in their first years of life they will spend a ton of time in their crib.
The crib itself would make a fabulous group gift. You can use a registry such as Babylist to allow your guests to contribute towards these large ticket items. It worked out really great for us!
The crib mattress I selected for our daughter was definitely one of our splurge items. We chose the Newton Baby mattress because it is non-toxic, environmentally friendly and completely breathable. I mean, you can bury your face in it and still breathe. This alone is HUGE for peace of mind as a new mom. It's also 100% washable, which is great for those bedtime accidents. We are now 6 months in and have used it since S was 2 weeks old and still absolutely love it. It looks brand new! Read my full review here.
For even more great organic crib mattress options check out this article by the Sorta Crunchy Mama!
2. Swaddles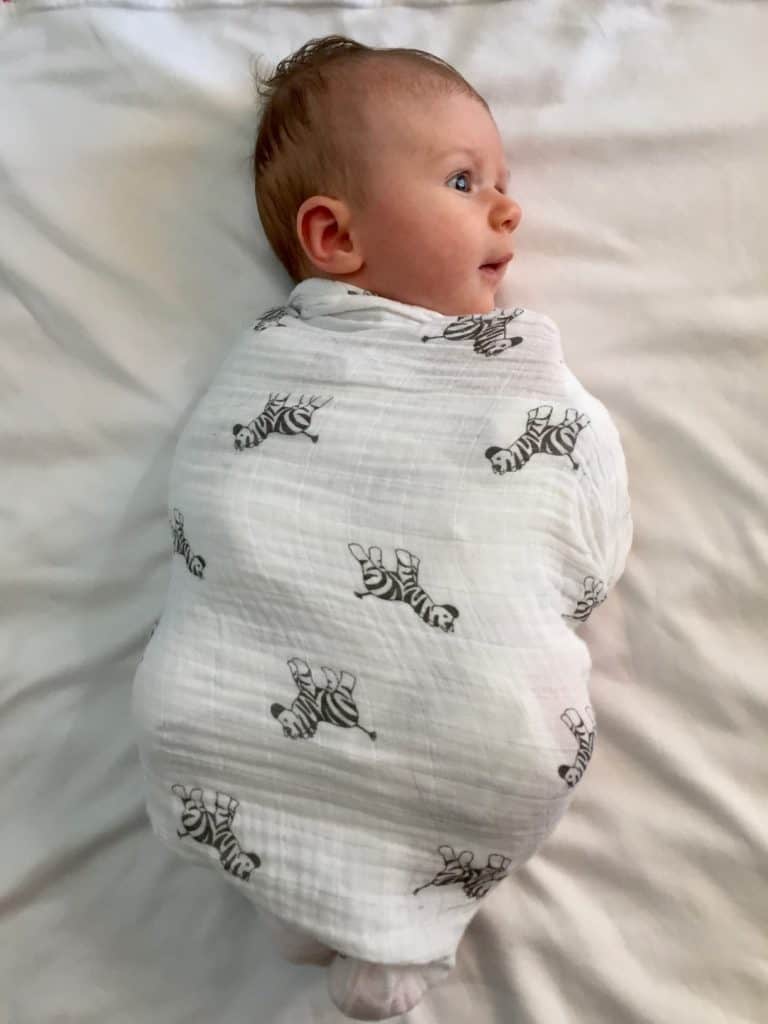 Swaddles have been a baby sleep staple for us. If you decide you want to swaddle your babe, I would highly suggest getting a variety because you never know which kind will work for your baby and which ones they will be able to houdini out of. We used traditional muslin blankets (for summer) as well as the Swaddleme velcro swaddles. By the time S was escaping these we were ready to transition to a sleep sack.
Aden & Anais Muslin Swaddles are our favourites! Plus look how sweet the star and polka dot patterns are. They have designs for every theme!
SwaddleMe Original velcro swaddles make wrapping up your newborn super easy. They are such cute little baby burritos!
3. White Noise Machine
From one mother to another, I sincerely hope you end up with a deep sleeper. Our precious S is just like mom and wakes up at every little noise! The Rohm portable white noise machine has been an absolute game changer. It's travel sized, affordable and works like a charm. 6 months in I am completely satisfied with this product.
4. Stroller Travel System
If you like to get out and about with your little one I would highly recommend considering a travel system: a car seat that snaps into a stroller base. Why? Because when your little newborn falls asleep in the car on the way to your doctors appointment you can just transfer the car seat onto the stroller and wheel him/her right into the office, without waking! These strollers then have seats for when they outgrow in the infant carrier. Some also have bassinets you can snap into the same stroller base.
We chose the Uppababy Cruz with the Mesa car seat and bought the compatible bassinet separately. I wanted something more lightweight than the Vista as we live in a second floor walk up in the city. We used the bassinet for her naps at home and for walks around the neighbourhood. This way we didn't need an additional bassinet for the house. As I mentioned before, I'm all about those multi-purpose products.
Pictured above is the Vista with the compatible car seat and bassinet. This one converts to a double stroller if you have more than one baby too!
Not sure which one is for you? Check out this in depth guide to the UPPAbaby Vista vs Cruz!
5. Zipper, Footed Baby Pajamas
It's as simple as this: nobody wants to deal with snaps every couple hours in the middle of the night.
The Burts Bees pajamas are our personal favorites because they fit our tall girl the best!
6. An Activity Mat
OK, six months in, our activity mat is still a hit! Multi-purpose play at its finest. S loved to watch the toys dangling from just a few weeks old. Now she interacts with them and will still happily hang out on her mat. This thing was basically the sole reason I could eat most of my meals in those early months.
7. Hooded Bamboo Bath Towels
Okay, technically you could get by with the regular towels you already have. But, there is something so sweet about bundling up your babe in a cute character towel. I like the bamboo material as it's gentle for baby. That being said, don't bother with the cute newborn sizes… bigger is better! You can bundle them up more and they will last. I'll just say this – babies grow FAST!
If you are looking for soft and organic, this one by San Francisco Baby is beautiful!
This is another gorgeous, neutral bamboo towel we have and love!
8. Silicone Breast Pump
If you are breastfeeding do yourself a favour a register for the Haakaa silicone breast pump. You attach it to the breast the baby isn't nursing at and it will catch the milk and slowly draw some out. This lets you build up your stash without pumping!! I hate pumping, but I can handle using this while I'm already breastfeeding.
9. A Video Monitor
Being able to have your eyes on a sleeping baby is a huge stress relief as a new mom. I love that I can check she is sleeping peacefully. There are a ton of options out there for video monitors – the technology available today is phenomenal. For an in depth review of some popular models, check out this list of the best baby monitors.
10. Silicone Teethers
These silicone fruit teethers have been amazing! Babies absolutely love putting everything in their mouths and these have fun textures and shapes. They can also be put in the freezer to help keep your little comfortable while teething. As an added bonus they have a clip so you can attach them to their little outfits, and they can't throw them on the floor. Trust me, that's a mom win!
___________
Again, this isn't a comprehensive list of things you need for a new baby! Obviously you also need essentials like diapers, wipes, diaper creams, shampoo, infant first aid kit, bottles, toys, books, etc. These are simply my most used items that I would have loved to receive through my registry and that I personally recommend as must-haves to my expecting friends.
---
For a complete checklist, sign up here:
For more registry tips from an experienced mama, check out this article over at Pursue Today. It's all about 20 savvy tips for what to put on your baby registry!
Tell me mamas, what item are you most excited to get for your little?
Xo,
Kinzy
You Might Also Like:
87 Stunning Baby Girl Names You Are Sure to Fall in Love With (trending!)
Perfect Gender Neutral Baby Names for Your Little
5 Baby Products Totally Worth the Splurge