This post may contain affiliate links. This means by purchasing through one of these links I may make a small commission at no extra cost to you. Please see my disclaimer for more details.
Are you shopping for a sweet newborn baby in your life?
Personalized baby items are PERFECT gifts every new parent is sure to love!
Personalized baby gifts are unique and considerate. They show you truly care, and they become valued keepsakes in a child's life. They also offer up the chance to support small shops, which is always amazing too!
Related post: How To Make A Beautiful Diaper Cake (2, 3 or 4 Tier Options!)
Why are personalized gifts so popular?
Personalized gifts are popular because they are unique, creative and thoughtful! A lot more effort goes into researching and selecting a customized gift than buying something straight off a shelf.
What can you personalize as gifts for babies?
The options today are truly endless! You can have almost anything embroidered, monogrammed or otherwise customized.
Some favorites include:
baby blankets
teddy bears
swaddles
hats
onesies
diaper bags
toys
dolls
piggy banks
ornaments
Where is the best place to buy personalized gifts?
The best place to buy personalized baby gifts is Etsy! There are so many small shops that pour their hearts and souls into the unique items they create.
The best personalized baby gifts for boys & girls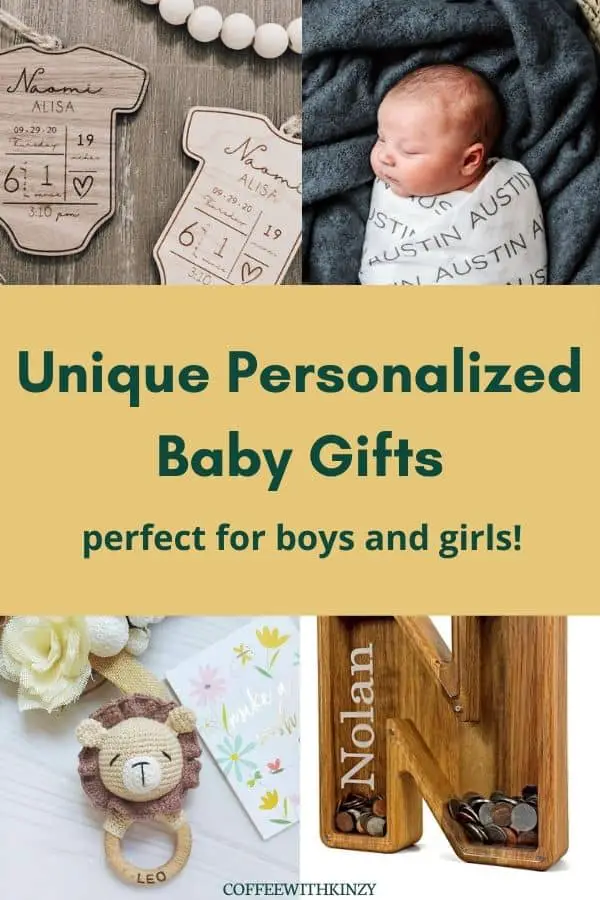 A personalized birth stats teddy bear
My personal favorite as we absolutely adore our elephant! It's our most special stuffed animal and I'm so grateful to have this keepsake for my daughter.
You can get one by clicking here
A personalized baby onesie
Handmade in the USA, these personalized printed bodysuits are a perfect gift for the newborn in your life! NB-24 month sizes available.
A personalized baby rattle
A classic gift with a personalized twist! This little rattle is so sweet. Her shop has multiple other characters available too.
A personalized swaddle blanket
Adorable and super practical as swaddle blankets are commonly used in baby's first 3 months of life. These make great keepsakes and photo props too!
Multiple fonts and colors are available for purchase making the personalized swaddle blanket completely customizable. These blankets are 100% cotton – a great, safe material choice for baby's sensitive skin, as well as hand made in the USA.
Click here for this personalized swaddle blanket
A personalized birth stats ornament
One of the sweetest keepsakes I've seen yet! Adorable on it's own, or even as a gift tag on another present. This laser engraved wooden ornament comes in maple or walnut finishes.
A personalized wooden baby block
How sweet is this personalized baby block? You can get it in multiple different sizes and colors too. It's custom engraved on all 6 sides.
A personalized wooden letter piggy bank
This rustic wooden piggy bank is perfect for boys or girls! It's handmade from organic oak and available in 2 sizes.
Click here to order this piggy bank
A personalized baby blanket
A super soft minky baby blanket personalized with her name makes a perfect customized baby gift! This one has the rosewater hide and then you can choose from an ivory, white or steel dotted side.
Click here for this personalized minky baby blanket
A personalized doll
These little dollies are just the sweetest! Handmade in the USA, they are each 16″ tall and there are multiple colors available for purchase.
Click here for these personalized baby dolls
A customized hooded bath towel
This shop makes totally adorable baby bath towels! They have multiple characters available too. Made from cotton these towels are super soft.
A personalized book for the baby
These one of a kind personalized baby books make such sweet gifts that they will cherish for years to come! They have books for boys and girls, and twins too!
Get the pink one here or the blue one here
A set of personalized baby bedding
While babies don't sleep with bedding other than a fitted crib sheet in their first year or two of life (see American Academy of Pediatrics Guidelines for Safe Sleep), this unique personalized bedding is adorable for when they are a little older – or keeping their crib looking extra cute while they are still sleeping in the bassinet!
Check out this bedding right here.
Pin me to save for later and share the love!
Recap of these unique personalized baby gifts & keepsakes available on Etsy
As you can see, there are a ton of options for unique personalized gifts for the sweet baby in your life. My personal favorites are the ornaments! They are small keepsakes sure to be cherished forever.
Happy shopping!
Xo,
Kinzy
You might also like:
Practical gifts for one year olds
Brilliant gifts for expecting mommies
The best wooden toys for toddlers