This post may contain affiliate links. This means by purchasing through one of these links I may make a small commission at no extra cost to you. Please see my disclaimer for more details.
Are you asking yourself the question of what do you give a one year old baby for his/her birthday?
I've been there too.
Before I had a baby myself I would aimlessly wander the toy store looking for something in the right age range and I just hoped it would be a hit with both the toddler and the parents!
I had no clue what kinds of things would actually be practical gifts for a 1 year old baby.
I hope this will save you from following in my inexperienced footsteps…
Practical toys are open-ended, imaginative and will last for years to come. There are plenty of non-toy practical gifts too!
Let's get to it, shall we?
Related Post: The Best Wooden Toys for Toddlers: 20+ Toys for Tun, Imaginative Play!
The Best First Birthday Gifts (on Amazon)! Practical items they will use and love.
A wooden tricycle that converts to a run bike (teaching balance without training wheels)
Musical instruments provide hours of imaginative play!
Multi-purpose play at it's finest. Build, learn letters, numbers, animals & more.
Interactive puzzles perfect for learning and playing with animals!
Rainbow stackables, the perfect toy for imaginatie play!
These stackable wooden cars are perfect toys for one year olds!
Sweet plush dolls from the Manhattan Doll Company.
Organic cotton lovey's they can carry around!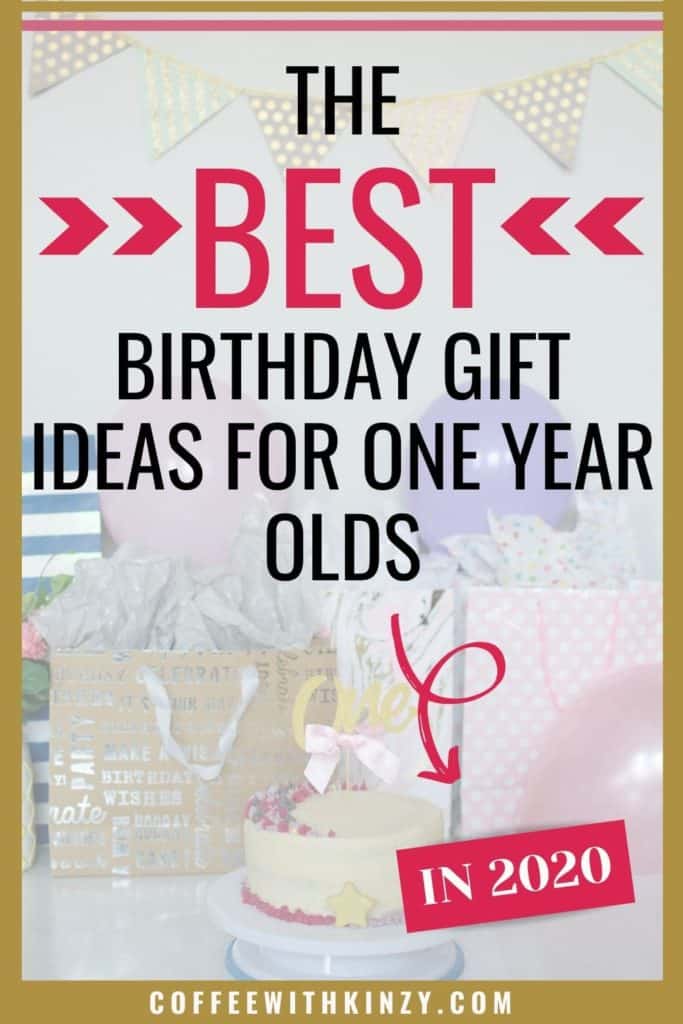 PS if you are planning a birthday party for a 1 year old be sure to check out this article of 10 cute & whimsical first birthday party themes!
Tried & Tested Toys for a 1 Year Old
These are all toys/items we have, love and use every single day. They are practical and fun, and I included items from a variety of price points.
A tricycle / run bike
These are amazing for teaching balance and techniques needed to ride a bicycle.

We are big fans of this wooden one by Kinderfeet (available on Amazon). At 12 months old it's a little hard for her to steer (it's meant for 18+ months) but she is already learning and growing so fast. This will last many years as it converts from a 3 wheel trike (how she uses it now) to this two wheel balance bike pictured below.
Wooden Musical Instrument Set
Babies LOVE to make noise, and there is no sweeter sound than making music. These are my daughter's favourite toys (Melissa & Doug, available on Amazon). She uses them multiple times a day every single day!
Wooden Blocks
Every kiddo should have a set of blocks. These are some of the most multipurpose toys out there! We love our wooden blocks (available on Amazon) and Stella also loves pulling along the little wagon they came in.
Plush Dolls
Plush dolls are great toys! You can snuggle them and they are perfect for pretend play. For example, have a pretend tea party, feed the teddy bear, hug the stuffed animal, kiss the doll, etc. The teaching opportunities are endless with these!
We love Chloe, our bunny made of high quality cotton, from Cuddle & Kind. They have a great mission and each purchase feeds children in need.
Puzzles
Puzzles are great for stimulating fine motor skills and hand eye coordination. We love these wooden puzzles (available on Amazon)
Stackables
These stackable wooden rainbows (available on Amazon) are all the rage – and we see why! So many fun creations you can make.
Cars
I remember being obsessed with cars when I was a kid, and my daughter took a liking to them right away too. She loves to drive these little wooden stackable cars around everywhere (available on Amazon).
Other practical gifts for a 1 year old baby girl or boy:
Books
Books are my daughter's favourite. She reads them to herself and it's the most adorable thing ever. Of course, she loves when we read them to her too.
Board books are the best for this age, so they can't rip out the pages and they can play with them independently too.
Some favorites are Giraffe's Can't Dance, Mama Loves You So, and You're My Little Cuddle Bug (all available on Amazon).
For more great book choices check out this post here: 10 Books to Add to Your Toddler's Library!
Clothes
If you decide to gift clothes I encourage you to consider cotton, linen, wool or other natural fabrics. Definitely size up, these kiddo's grow so fast!
For affordable clothes be sure to check out Carter's (definitely size up!) and the Cat & Jack brand from Target.
Another great place to shop is Janie & Jack. So many adorable and unique finds!
Feeding Set
By one, these toddlers are often eating 3 meals and a couple snacks a day. Toddler utensils, bowls and cups are all great items to have that will be used again and again! A great choice are Replay utensils and plates because they are made of recycled milk jugs making them a practical and eco-conscious option! They are also BPA-free, PVC-free, phthalate-free, melamine-free, and dishwasher safe. They are also quite affordable!
Another great option are these bamboo suction plates. They are great because they suction so well to high chair surfaces and feisty toddlers don't stand a chance in getting them off!
More First Birthday Gifts for One Year Olds
Play Kitchen
We have our eye on this play kitchen. Our friends have it and the kids love it. Hours of imaginative play and mimicking mom in the kitchen!
If you are splurging for the one year old you are shopping for, this Melissa and Doug play kitchen is a great find! It has thousands of 5 start reviews and will provide years of imaginative play!
Water Table
We are starting to look for some fun summer toys and this is high on the list. For more inspiration you can check out this list of best water tables for kids.
Toddler Pool
We can't wait to get a pool. Our daughter absolutely loves swimming and water. Check out this amazing post over at Leslie W Blog on 12 awesome inflatable pools & water slides for kids.
Doll
Dolls make for great pretend play for toddlers. I love these soft dolls by Manhatten Toy Company (available on Amazon). There are also a ton of amazing hand made dolls to be found on Etsy!
A lovey
The chances are pretty good that baby already has a lovey, but if not, this is the age they start to become quite attached to certain things and it's been a great time to introduce a nighttime lovey for us. We particularly love this organic cotton one by Gerber Baby (available on Amazon).
Experiences
Tickets and gift cards to local activity centers make great gifts for toddlers! Treat the family to a fun day out at the local nature museum or indoor baby playground.
A few things to consider when buying gifts for a 1 year old baby:
Moms tend to be super conscious of the quality of products that their children will be both consuming and using. You want to consider how natural the items are and keep in mind if the family is pro organic materials.
Are the ingredients non-toxic?
Finding out I was pregnant sparked my own personal journey to non-toxic living. I started to research the materials and ingredients used in baby products and found myself appalled. So many things are synthetic, contain unnecessary toxins and are simply not safe for babies.
Are the materials used natural?
I started to be conscious of buying as many natural materials as possible. Safe and gentle are the words I want to describe the fabrics used for my baby. If you are buying clothes consider organic materials. Try cotton, wool or linen over polyester.
Can you do without plastic?
For toys, I am immediately drawn to wooden and fabric toys over plastic ones.
The world has too much plastic, and babies don't need these over stimulating light up, music playing crazy toys. Yes we have some in our house, but they are all hand-me-downs. I haven't and will not be buying any anytime soon. I also rotate them out so my daughter isn't exposed to them all the time.
Are the toys open-ended?
Consider buying open-ended toys: toys that spark imagination and have multiple uses. These are the kinds of toys you will find in this list of practical gifts for a 1 year old baby because they stand the test of time.
The transition from baby to toddler.
One year olds are leaving behind their baby days for toddlerhood. They are often transitioning down to one nap and want to play all day long.
They are learning to walk and talk. They love to mimic mom and dad. One year olds are little sponges. Moms want toys that encourage their little one's development and growth!
Recap.
All of these items are great practical first birthday gifts that will last for years to come. Happy shopping for the sweet little baby in your life!
Xo,
Kinzy
You might also like:
24 Boredom-Busting Activities for Toddlers
10 Whimsical First Birthday Party Themes
How to Have an Epic Birthday Celebration at Home (for kids)