Hey mama!

Are you looking for a way to stop feeling overwhelmed and start feeling in control of your household chores?
Do you find yourself wondering if it's actually possible to keep a clean house with a toddler (or 2, or 3 or 4…)?
Two months ago, I was there. Overwhelmed. Frustrated. I was losing my mind and nearly pulling my hair out on the daily.
Now, I have some good news for you! By creating a simple and effective cleaning schedule, it is totally possible to ditch the cleaning overwhelm.
Related: The Laundry Schedule You NEED! (+ free printable laundry schedule pdf)
Having a strategic cleaning schedule is perfect for ALL moms: work at home moms, working moms and stay at home moms!
A few things to note…
Everyone's schedule will look a little different as our homes are different sizes, our spouses contribute different amounts and our families are all around unique!
I've included a printable version of my personal cleaning system to get you started. Please know you will likely have to modify it to fit your household perfectly. It's meant to inspire you to find what works for your family.
The secret to success?
I would argue there are 3 key elements to be truly successful.
The first secret to a successful cleaning schedule for busy moms is having daily tasks that get completed each and every day.
The second is to just have less stuff. Declutter. Simplify. Minimize.
The third is to set realistic expectations. I've come to accept this is not the season of life to have a perfectly spotless home.
Simple daily tasks.
Having daily tasks is HUGE in keeping a tidy & clean house with kids. These are simple and quick chores that make an enormous impact.
These tasks could include:
Making your bed – ~30 seconds
Throwing a load of laundry in the wash first thing – ~2 minutes
Wiping the kitchen counters/surfaces – ~ 5 minutes
Loading/unloading the dishwasher & washing dishes – ~ 5-10 minutes
Sweeping/vacuuming the kitchen – ~2 minutes
Puting clothes away – ~2 minutes
These kinds of tasks also help to limit the steps you take (and therefore time you spend) in tidying and cleaning your house.
For example, when you eat lunch, if you load the dishes straight into the empty dishwasher you are saving future you time by not loading them into the sink and then later having to load them into the dishwasher. A two-step process becomes one.
The same thing applies to leaving coats/clothes hanging on chairs or draped around the house. If you put it straight away you save future you from having to tidy it up later.
I also am a huge advocate of throwing in one load of laundry first thing in the morning.
One – it makes you feel super productive to already have laundry going when you sit down to have coffee.
And two – it's easy enough to find a minute to flip the laundry into the dryer during the day.
Then, I either fold and put it away with my toddler (she loves pulling clothes out) or I wait until my husband is home and can watch her while I do a few chores.
By doing daily loads of laundry I am literally never swamped in what may be the most annoying chore ever.
The laundry has its own daily rotation…
Mondays & Tuesdays I do baby laundry, Wednesday I do towels, Thursdays & Fridays I do my laundry and on the weekend my husband does his and I do sheets.
My hubby has to air dry almost all of his clothes because any shrinkage is bad news for a 6'9″ man, so he does his own laundry. This busy mom doesn't have time for that! I really don't even buy clothes for myself or my child that can't go in the dryer…
Less stuff = less cleaning.
Embracing minimalism has really been game changing is this department.
I still have work to do in this area, but I am well on my way. It's been extra challenging getting my husband to give anything up too – he's definitely one of those "but we may need it in 5 years" kinds of people.
It's just so much more efficient to have less clutter. Think about how much time it takes to dust a shelf covered in knickknacks compared to one without?
Mind blowing-ly simple.
Let go of perfection.
Unless you have the resources to hire professional cleaners (and then you probably aren't reading this blog post…) it is time to let go of perfection.
Small children create epic messes.
Unless you want to spend your entire day cleaning (no thank you) you have to give yourself grace.
It's okay for your home to look lived in.
This is not the season for a perfect, spotless & orderly home.
Once you have figured out your daily tasks you'd like to complete, you can arrange the rest into a weekly/monthly/quarterly schedule.
The weekly cleaning schedule.
On top of the daily tasks there will be a weekly item to complete, and occasionally a monthly or quarterly task.
The thing is, when you actually do these chores once a week they are much faster to complete than when you wait until they are so dirty you have to do major scrubbing and deep cleaning.
So yes, at first it will be a bit time-consuming to get on top of your schedule. But once you are there and committed – it is well worth it mama!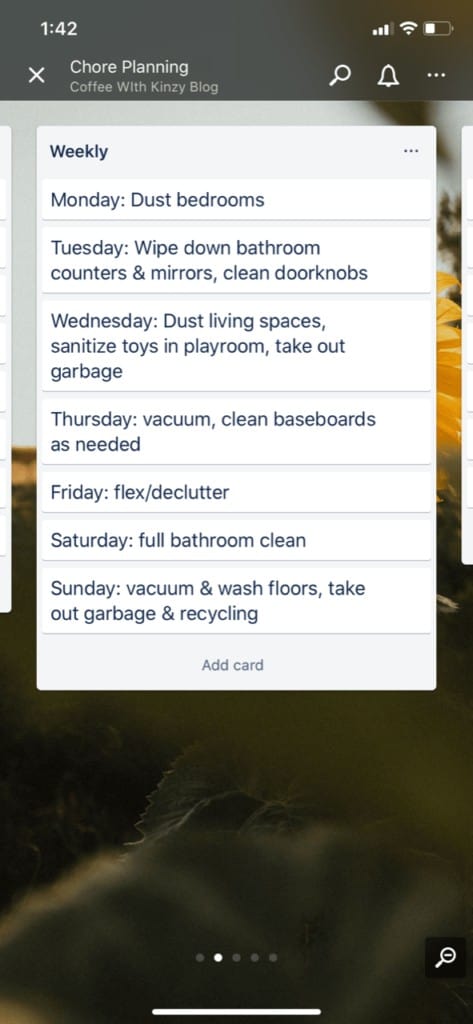 Step one here is to list out all the weekly tasks and then divide them up as equally as possible.
Our weekly cleaning schedule looks like this:
Tuesday: wipe bathroom counters/mirrors, clean doorknobs
Wednesday: dust living spaces, sanitize toys in playroom, take out trash
Thursday: vacuum, clean baseboards as needed
Friday: flex/declutter/dayoff
Saturday: full bathroom clean
Sunday: vacuum & wash floors, take out trash & recycling
Now, some of these are done by my husband (garbage, recycling and roughly every other bathroom clean) and some are done by yours truly. Obviously splitting things up makes it even easier on you!
Monthly Cleaning Tasks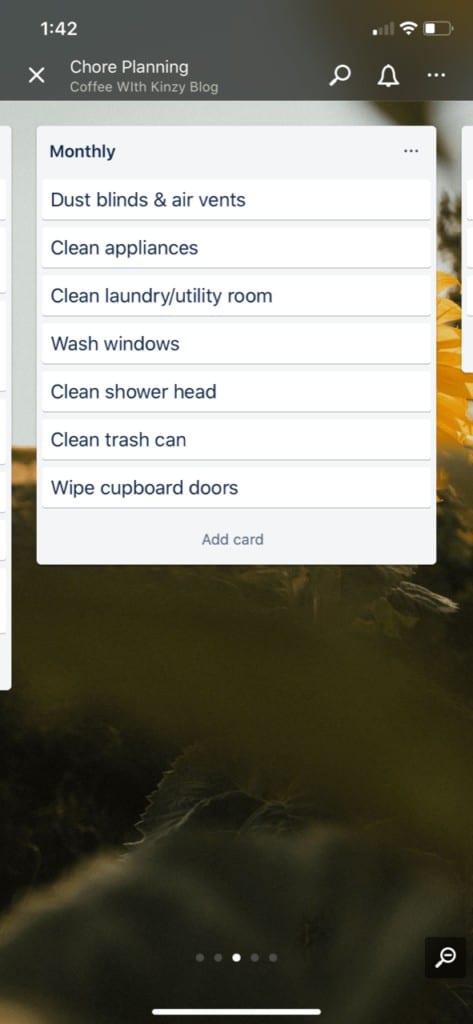 Thankfully not everything needs to be done weekly. Some monthly tasks may include:
dusting blinds & air vents
wiping down cupboard doors
Quarterly Cleaning
Once a quarter we knock out a few other things like
moving furniture and cleaning underneath
deep cleaning light fitures
We tend to knock out the monthly and quarterly tasks on a rainy or productive day around the house. One of us works while the other entertains our toddler. That's just what works for us.
How to set up your cleaning schedule for busy moms?
List out your tasks.
Divide them up between daily, weekly, monthly & quarterly lists.
Use a chore planner to write out your schedule. You can snag my free printable template by signing up for the ultimate productive mama printable bundle here:
Another great resource for planning/scheduling is Trello. You can totally make a chore planning board and drag tasks around until you are satisfied with your schedule. You can even set deadlines if you want.
Last note…
These schedules don't have to be rigid.
You'll notice my daily schedule has a flex day/day off – that's because MOM LIFE. Not everything goes according to plan and not every day are you going to feel like cleaning xyz.
Give yourself grace.
It's totally OK. If you take Tuesday off, complete those tasks on Friday instead. Sometimes I double up my weekend tasks to take one of the weekend days off too.
A lot of people seem to think routines and systems like these are rigid and you "fail" if you don't adhere 100%. I don't believe in this at all. It's a structure and a baseline to make things more efficient and help establish positive habits and self-discipline.
It's mean to take the stress out of cleaning and remove the scenarios where you exasperatedly look around your house wondering what to clean in your spare 15 minutes.
As an added bonus, once you get into the habit of dusting the bedrooms on Mondays, you will start doing it without even thinking about it. How awesome would that be?
Grab this free, printable copy of my personal household cleaning system here:
Happy systemizing, mama!
Xo,
Kinzy
If you enjoyed this, check out how to meal plan for your family in less than 10 minutes per week!
If you would like to get started using my favourite natural household cleaners, check out my friend Laura's Instagram account here for more information.