This post may contain affiliate links. This means by purchasing through one of these links I may make a small commission at no extra cost to you. Please see my disclaimer for more details.
Are you looking for screen free activities for toddlers of all ages? Perhaps some crafty ways to keep your toddler entertained at home… without devices?
Well you, friend, are in the right spot!
As a stay at home mom of a young toddler myself, I've done a lot of research and creative thinking to come up with this ultimate list of screen free activities for toddlers and preschoolers!
The best part? You don't need a ton of supplies. Many of these can be done with simple things from around the house. These screen free toddler activities are so much fun. They are sure to have a blast!
Related Post: 55+ Practical Gifts for 2 Year olds (that aren't a waste of your $$$!)
The ultimate list of screen free activities for toddlers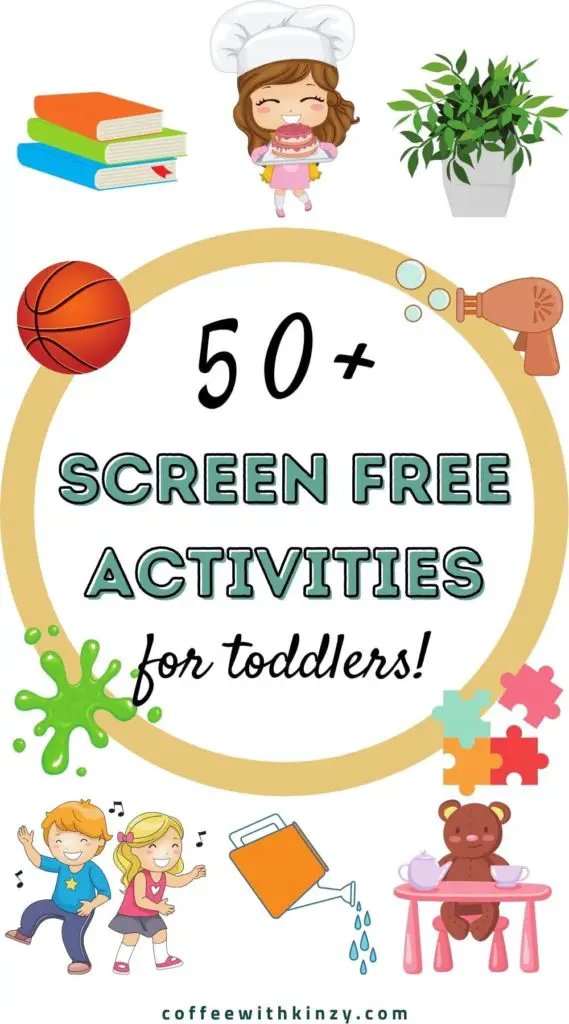 Have you ever asked yourself what can a toddler do instead of screen time?
There are countless ways to have fun without screens. Here are over 50 ideas to get your imagination flowing!
Read books together
Here are a bunch of top books for toddlers to add to your bookshelf!
Bake yummy treats
This is a staple in our house! We love time together in the kitchen… and at the end you get a delicious treat to enjoy together too.
Cook a meal
Even young toddlers can get involved with meal prep. They can dump ingredients into a bowl or stir items that aren't on the stove. Involving your kids in cooking helps them become more adventurous eaters too – they love to try their creations!
Water the plants
Perhaps even get your toddler their own easy to take care of plant! Toddlers love helping and doing what their grown-ups are doing.
Do a chore
Instead of saving your chores for nap time, do them together (if safe). Yes, it gets done much slower, but it does get done and they get to help and learn too! This leaves you more free time. That's a win-win, friend.
Play an instrument
Play music together or teach your toddler how to play a musical instrument. It's fun for everyone.
Sing a song or create your own!
This is pretty self-explanatory, but always a hit.
Play a board game
If your toddler is a little older, you could introduce simple board games and the concept of family game night!
Decorate for the next holiday
Let your toddlers help you decorate (and fix it while they are napping… ha ha). It's a great way to spend time together doing something out of the ordinary!
Crafty Screen Free Things To Do At Home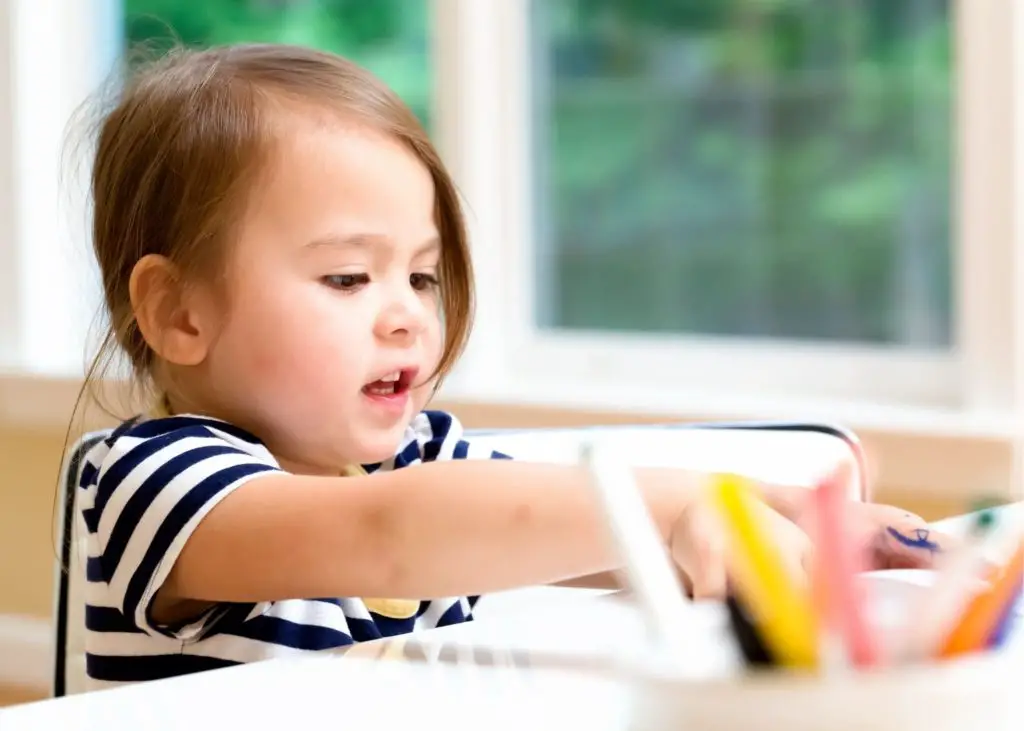 Do a simple craft
Toddler's may not have the longest attention spans… but they love getting crafty! Crafts help develop their fine motor and listening skills. Plus you end up with little keepsakes for yourself or to hand out to family and friends!
Make homemade cards
Save $$$ on store bought cards and recruit your toddler to help you craft your own. Family and friends will find them oh so endearing!
Make salt dough ornaments with cookie cutters
You can get wildly creative here. Salt dough ornaments are NOT just for Christmas. You can make heart ornaments to hang up for Valentine's Day, Easter basket tags, gift tags for Mother's & Father's Day and so much more. Plus, this one tends to be a multi-day activity. Make the ornaments one day and paint them another!
Paint a picture
Let your toddler's imagination soar with a blank piece of paper or let them paint a coloring page. They will love exploring different colors and showing off their masterpiece at the end. Plus – washable paints really make cleanup a breeze.
Paint an object
Check out your local dollar store for all kinds of little wooden figures you can paint. You could do a bird house, an ornament or make a sign for their room together. Again, the options are limitless!
Finger paint
Sensory play with finger paints is messy, sure, but also so much fun. Make sure you are using washable paints to make cleanup easy… in fact, for even easier cleanup, be sure to check out the next idea:
Bath paint
Paint in the bath? Yes please. Cleanup is the easiest it'll get for crafting or painting with toddlers… they are already in the bath!
Draw
Toddlers can have a ton of fun with washable markers and crayons. Try using different surfaces – construction paper, old boxes, coloring books & more. Switching things up helps keep them interested over time.
Coloring books
There are a ton of printable options out there so you can print off coloring pages for any of your toddler's interests! From traditional Disney characters like Mickey and Minnie to Paw Patrol and Frozen characters, you can find something for every toddler and preschooler.
Tie die an old t-shirt
Get your craft on by updating some old shirts with the tie die trend!
Put together a photo album / scrapbook
Look through family photos and create a memory book together. There are opportunities to practice gluing and cutting (with appropriate scissors) if you have an older toddler too.
Learn & Play: Printable and Educational Screen Free Toddler Activities
Printable worksheets
Learn and play together with printable worksheets you can do at home. These are AMAZING for teaching letter and number recognition, patters, tracing, matching & so much more.
Check out our favorite printable worksheets for toddlers right here (101 options!).
Dot marker worksheets
I'm not sure what it is about dot markers, but my toddler is obsessed. She loves dabbing them and exploring all the different colors. You can find plenty of dot marker worksheets for toddlers and preschoolers in these bundles.
Tracing
Practice tracing simple patterns and move on to their favorite characters as their skills advance. It's an important fine motor skill for toddlers to learn!
Count the toys
Learn numbers and have fun counting their various toys. You can start with counting to 10 and work your way up to 20, 50, 100 + more!
Do a puzzle
This one is pretty self-explanatory. Melissa & Doug makes some phenomenal puzzles for toddlers and preschoolers.
Indoor Water Play For Toddlers
Water play
Whether you have a water table or not, you can have fun with water play! We just use plastic buckets from a storage shelf and various kitchen gadgets to have fun pouring and playing. Trust me, it doesn't have to be fancy. Even learning to pour from one cup to another is a skill toddlers need to learn (and they love it!).
Bathe/wash the toys
An extension of water play and great excuse to involve your toddler in cleaning of their waterproof toys!
Sensory Screen Free Activities for Toddlers
Play with play dough
Or make your own! Here's a great recipe from The Best Ideas for Kids for DIY play dough.
Play with slime
Similar to play doh, another sensory play option is slime. For whatever reason toddlers and preschoolers seem to be obsessed with this gooey stuff.
Play with kinetic sand
Yet another alternative to switch things up. There are tons of kinetic sand kits out there too if you are up for purchasing some new toys.
Sensory bins
Sensory bins are a phenomenal screen free toddler activities. You can literally do up one for any occasion and use things from all around your house. They are all the rage for a reason!
We started doing so many sensory bins I bought this little scoop and pour kit so I could have my kitchen Tupperware back. My daughter loves them!
Building Activities for Toddlers
Build something out of magnetic tiles
First up in the series of building activities. A good alternative to having them build is to build something for your little(s) while they are sleeping. It serves as an invitation to play (and destroy as toddlers do). They will be so surprised to find a magical creation awaiting them.
Build something out of blocks
Build a tower, build a castle, build a track outline for their cars. Learn letter recognition, spell out their name, and learn new words all with toy blocks!
Build something out of Legos
Cars, trains, planes, houses, castles, towers… Is there anything you can't create with Legos?
Build a fort
Imaginative play at it's finest. Use couch cushions, chair and more to create tunnels into and out of your creation. They'll have a blast!
More Awesome Screen Free Toddler Activities
Play with stickers
You can find sticker roles and packs with just about any character on them. The little 1″ circular dot stickers are great for an alternative to dot markers for worksheet play too (and they are less messy!).
Bubbles
Get outside and play with bubbles! Whether you have simple wands, a bubble machine or bubble guns there is plenty of fun to be had. There are also plenty of "spill proof" options for younger toddlers who are independent and insist on doing it all themselves!
Tea party
Throw of a faux tea party or have yourselves the real deal (without the hot tea). Line up stuffed animals, get dressed up, set the table and have a party! Toddlers are sure to be delighted with their own tea party!
Play dress up
Whether it's old Halloween costumes or fancy clothes, get dressed up and let your imagination soar. You can do at home fashion shows or photo shoots too. It's always a fun time!
Build your own car track with painters tape
Painters tape is a toddler parenting must have. It comes in handy all the time. One of our favorite activities is to build a car track around the playroom. I can then cover it up with the rug and nobody knows it's even there!
Energy Burning Screen Free Things to Do With Toddlers
Hide-and-seek
They might not quite understand the game at first, but you are sure to burn energy and get lots of giggles with a good game of hide-and-seek.
The floor is fire
If you've never seen this game before it's basically where you pretend the floor is fire and you step on pillows/cushions etc to get around the house. This is a great energy burning activity for older toddlers. Plus you really get to practice your climbing and balance as you navigate avoiding the fiery floor.
Dance party
Throw on your favorite tunes and dance like nobody is watching. You'll feel great and your toddlers will have so much fun too!
Go to the park
Let them burn energy climbing the play structures and perhaps playing with neighborhood friends!
Go for a walk, bike ride or scooter ride
Explore your neighborhood with a walk, scooter ride or bike ride. Everyone benefits from exercise!
Play in the sprinkler
If the weather is right let your toddler have a blast running through the sprinkler in the backyard. It's certain to burn energy and wear them out!
Go swimming
Whether you have an inflatable pool at home, a backyard oasis or a neighborhood pool nearby, swimming is always a great time! We can't wait to sign our toddler up for some swim lessons this summer.
Do an easy nature scavenger hunt
Depending on where you live, look for certain color leaves, pine cones, flowers, birds, rocks & more. The kids will love finding treasure and checking off the boxes!
Play with a ball outside
Don't discount simple play like tossing a ball around. It's good energy burning fun for everyone!
Learn a sport
Maybe its baseball, basketball, golf, ring toss or any other sport! It's never too early to start introducing littles to different activities. Plus if it's a sport you love you'll enjoy teaching your toddler too!
Host a play date
Have friends over and let the kids wear each other out! This is a staple during non-pandemic times.
As you can see there are countless ways to keep your toddlers entertained without screens!
Grab this free printable list of screen free toddler activities to have on hand:
(CLICK THE IMAGE FOR FILE)
Xo,
Kinzy
You might also like:
The Best Outdoor Toys for Toddlers
Top Wooden Toys for Toddlers
37+ Healthy Snacks for Toddlers That Are Picky Toddler Approved!