This post may contain affiliate links. This means by purchasing through one of these links I may make a small commission at no extra cost to you. Please see my disclaimer for more details.
Outdoor play is the BEST!
There's just nothing better than playing outside and enjoying fresh air together.
Today I'm rounding up the best outdoor toys for toddlers, so you can keep your toddler entertained and active while outside. From water play to introducing your tot to sports, and gardening toys to playhouses, there is something for everyone on this list!
Related post: Top wooden toys for toddlers
These toys are timeless and fun, and are designed to last for years to come. I'm all about multi-use everything, probably due to living in a smaller space. Kiddos already come with so much clutter, am I right? I prefer to keep toy purchases intentional and practical!
The Best Outdoor Toys for Toddlers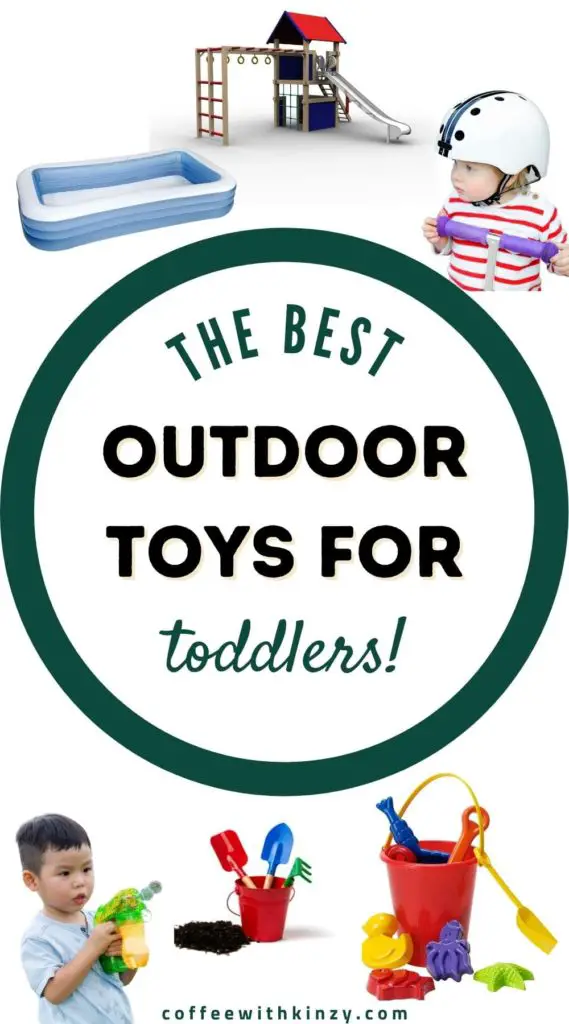 For those of you who want the summary… here it is: a list of the top outdoor toys and gifts for toddlers! For more details on each product, keep scrolling.
inflatable pool
sand toys
water table
activity/sand table
sprinkler
slip and slide
run bike & helmet
power wheels
watering can / gardening toy tools
soccer ball
basketball
baseball
golf
play house
swing set
As you can see there is no shortage of activities you can do outdoors with your toddler. Go make some awesome memories outside!
In depth dive of these top outdoor toys for toddlers:
Let's take a look at the details of each of these awesome outdoor toys for 2 year olds (or toddlers 2+).
An inflatable pool
For some fun, outdoor water play at home!
I mean, how cute is this watermelon pool?
You could also go fancier and grab one with a little kiddie slide too. This one has a ton of great reviews!
If your budget is a little higher, this is another option that looks like a blast!
We got this adorable rainbow pool at Target last year. Unfortunately I don't see it available this year, but they have some phenomenal options too.
Sand toys
Sand toys never go out of style!
Personally I'm a huge fan of anything by Green Toys because they are more eco-conscious and made of recycled plastic. The quality is high too. We love every single Green Toys product we own.
You can't beat the value of this set. Plus I love how it comes with its own little mesh bag to carry the toys in.
Water tables & activity/sand tables
Toddlers tend to be fascinated by water and love water play. We have our eye on these water tables due to their high reviews and value:
I love how this one has an umbrella you can attach too!
There's nothing quite like a wood, multi-purpose option. Love that this table is 3 in 1 and has the umbrella too!
Sprinklers & splash pads
For even more water play! This Melissa & Doug flower sprinkler is adorable:
They have a splash patrol version too:
Slip & slide
A great choice for older toddlers and children!
Run bike & helmet
I can't say enough good things about this run bike we have. It turns from trike to bike so it grows with your toddler!
The Strider bikes are super popular too.
This Schwinn helmet has multiple color options and comes in both infant and toddler sizes.
These character helmets are all too adorable too!
Powerwheels
Need I say more? So much fun!
Features:
Manual & remote control
Can connect music
3 speeds
Rechargeable 6V battery
3 color options
Features:
Manual & remote control
3 speeds
Rechargeable 12V battery
6 color options
Features
No remote control, manual only
Rechargeable 12V battery
6 design choices available
Garden Toys
Learn to garden and play at the same time with these clever toys!
This little wagon set would make an awesome gift.
This set comes with a tote bag to carry the tools in.
Sport toys
Introduce your tot to soccer with this fun set.
Or perhaps basketball is more your speed.
Learn hockey with this introductory toy.
Teach your toddler golf with this Little Tykes set.
Or learn them all with this 5 in 1 set!
Playhouse
Next up are some awesome playhouses! These let their imaginations soar. We have our eye on a couple of these options for when we purchase our next home (we are in the process of house hunting now!).
I'm pretty obsessed with this natural wood playhouse. I love that it's made from responsibly harvested solid wood too.
A more affordable option is this Little Tikes Cape Cottage playhouse. It's plastic but so lightweight you can easily move it around.
Swing set
You can't beat having a park in your backyard. If you can swing it (ha ha), this would be a phenomenal outdoor toy to add! (Note this one is recommended for ages 3+)
If your toddler is anything like mine, they just want to live in the swings. You could add a bucket swing like this one to your own backyard (don't forget hanging straps or other mounting hardware!).
There you have it. This concludes this roundup of the best outdoor toys for 2 year olds (or toddlers 2+).
Happy toy shopping!
Xo,
Kinzy
You might also like:
24 Boredom-Busting Indoor Activities for Toddlers
The Best Wooden Toys for Toddlers