This post may contain affiliate links. Please see my disclaimer for more information.
Do you want to throw a space party? A Galaxy party? An out of this world, amazing birthday party?
You're in the right spot, mama.
I'm sharing 10 amazing space birthday party ideas for kids! A guide to planning your space birthday bash, if you will.
We chose a space themed party for my daughter's first birthday. Her name is Stella, meaning star, so we just felt personally called to that theme.
Whatever your reason may be, I'm here to tell you it's a fabulous choice!
Let's get to it. How to plan a space birthday party for kids: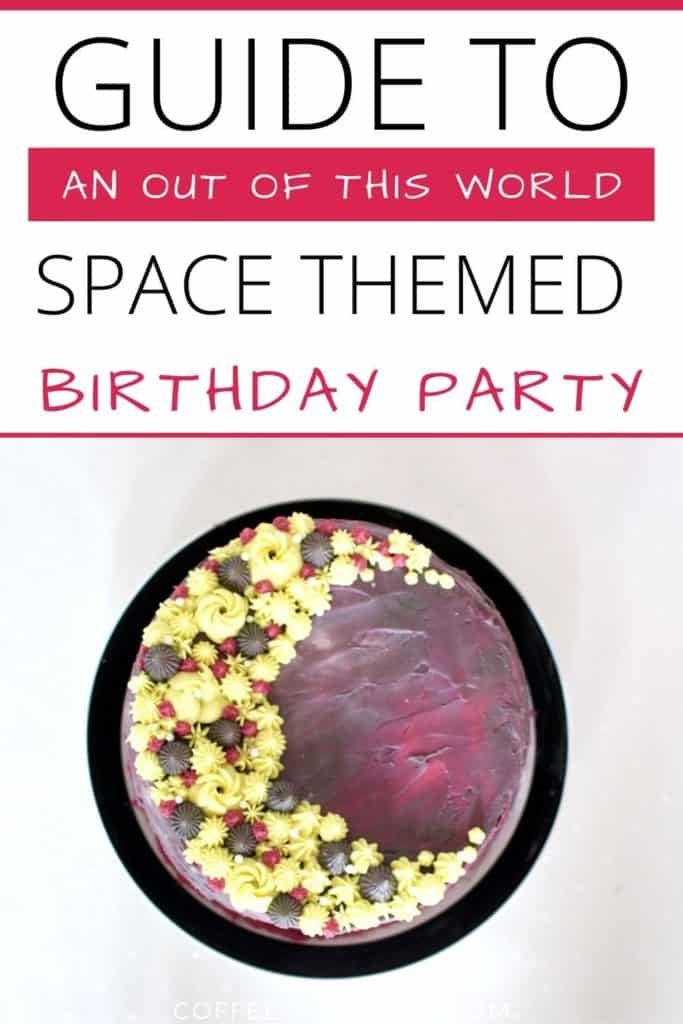 First you need a guest list.
Every party needs a guest list. I highly recommend brain dumping the list and then narrowing it down to your preferred size.
This works for both physical (in person) and virtual birthday parties. It helps you make sure you are organized and you don't accidentally leave anyone out!
Don't skip this step. Trust me. I didn't do this for my wedding and ended up forgetting one of my cousin's children while inviting the rest. Don't even ask, I have no idea how it happened. I don't think I'll ever live that down either…

And speaking of virtual parties, if you are planning a virtual birthday for your child during this global p a n d e m i c that is currently happening –> check out this post on 12 Epic Birthday at Home Ideas for Kids!
Next you need some invitations!
This can be as fancy and formal as you want it to be.

I'm a big fan of Mixbook for physical invitations. Their quality and customer service have been outstanding. I've used them many times in the past.
Canva is great for creating free graphic invitations you can email out to family and friends.
Lastly, you can totally just make a Facebook event and have your RSVP's super simplified in there. That's what we did this year for our virtual birthday party for S.
Do whatever works for you, mama!
Time for Space decorations galore!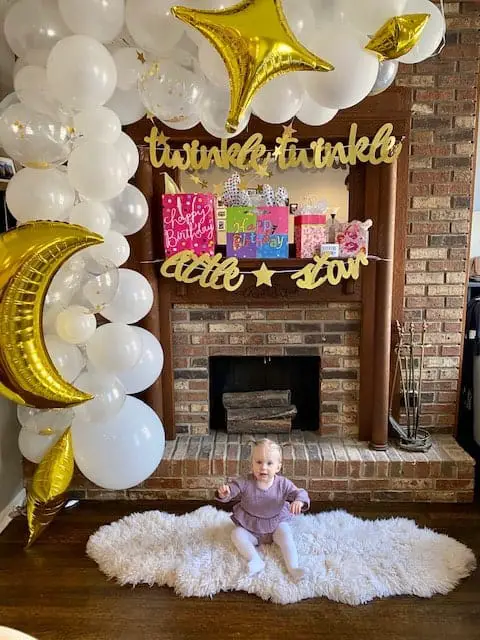 I've always been obsessed with balloons. To the point where I incorporated them into our first look at our wedding…
There are some amazing balloon arches out there! They come in super simple kits making it a breeze to set up. This is the one we used for our Twinkle, Twinkle Little Star party for S: (available on Amazon)
It even came with a cute on theme banner! And I love love love the giant moon balloon.
Other decorations you could look at in including could be table clothes, plates, napkins, birthday hats (which make a fun craft, by the way)…
Banner Ideas
Are you team the pun-ier the better?
Houston we have a birthday!
Twinkle twinkle little star one year old is what you are!
Two the moon!
It's (insert Child's name here)'s First Trip Around the Sun!
Feed the party goers.
The secret to fun party food? COOKIE CUTTERS!
Use cookie cutters to shape fruits, cheese, sandwiches & more as stars, moons, rockets…
I had planned to put star shaped fruits on skewers as magic wands for our party. So whimsical & fun, a nice girly touch too!
For more space food inspiration and information on how to make space rocket skewers (they are awesome!!) head on over to Par-Tay Like a Cherry and check out her guide to Space Party Food.
Birthday = Cake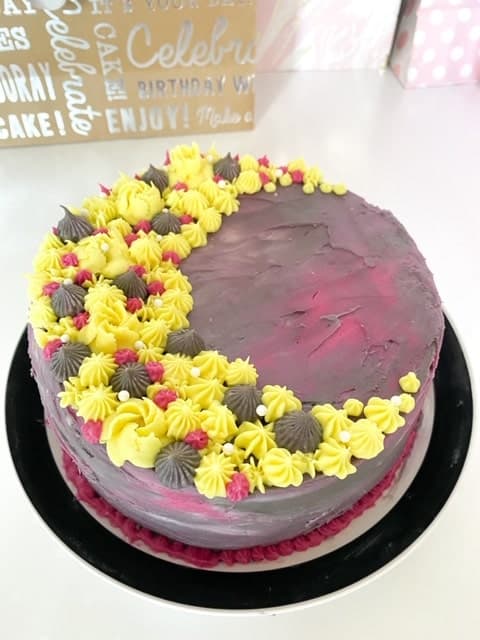 In my mind, anyways.
Baking is so much fun! You could totally do a cake or cupcakes (or both!). You can do a galaxy effect for the icing (as pictured above), or decorate with planets and stars. Galaxy cupcakes are pretty amazing too (worth a Google search!).
Sugar cookies are another easy themed dessert to take on yourself, and you can make larger quantities too, depending on your party size.
Party Games
My toddler is too young to really play games yet… but Par-Tay Like a Cherry has you covered again with some epic DIY Space Party Activities! From decorating rockets to hunting moon rocks, these are fun activities to include in your space party!
Party Favours
Make a batch of space themed sugar cookies, frost them with royal icing and package them up in cute individual bags for a party favor sure to please!
Another easy and cute way to package up favors is to decorate a tag and attach it to any item you want to give out. For a space party you could write "Thanks for making my party a BLAST!". You could give out bubbles, space slime, stamps, stickers, etc.
You made it!
Happy party planning mama! I hope this guide sends you in the right direction.
Xo,
Kinzy
PS.
Exploring theme options? Check out this post on 10 adorable first birthday party themes (totally adaptable to more ages!)
Celebrating your little's birthday at home? Check out this post on 12 fantastic birthday at home ideas for kids!