A Complete Guide to Hosting a Teddy Bear Picnic Birthday Party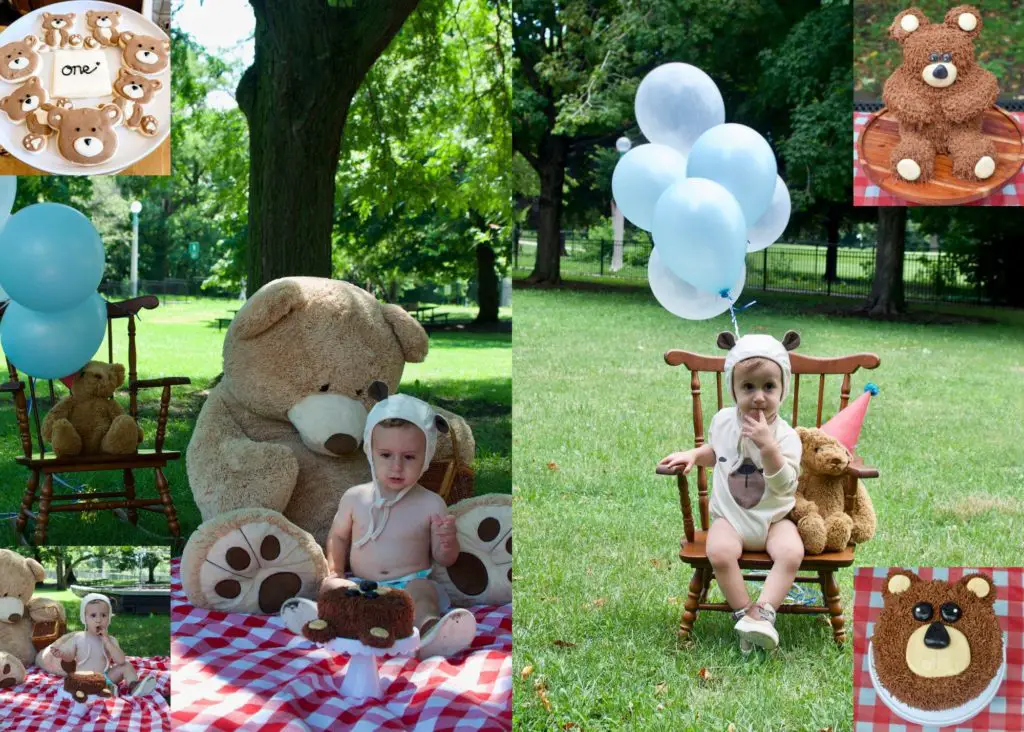 Today I am sharing ALL the teddy bear picnic birthday party ideas! I originally saw this theme on Pinterest and just knew I had to embrace it for my son's first birthday. We dressed him up as a little bear for his newborn photos and have called him our baby bear all along. It was PERFECT.
This theme is also fantastic for any kind of summer party, by no means does it have to be for a birthday.
This post may contain affiliate links. This means by purchasing through one of these links I may make a small commission at no extra cost to you. Please see my disclaimer for more details.
Teddy Bear Picnic Birthday Party Invitations
Etsy is usually my go to resource for digital and printable party invitations. While there are some cute teddy bear picnic birthday party invitations listed there, I couldn't find *exactly* what I was looking for.
I ended up designing my own in Canva. You can support my blog and buy it here for just $1 (Canva is a free tool you can use to customize it).
Teddy Bear Picnic Birthday Party Decorations
There are sooo many amazing options out there! We chose red and baby blue as our colors and then added in as many teddy bears as we could. One great thing about this theme is often you already have teddy bears at home you can use as decor.
I was able to score the giant teddy bear in the pictures above from a local free-cyle parent group.
TABLE CLOTHS
These table cloths were perfect for the picnic tables at the park:
PICNIC BASKETS
These fun baskets make a great addition to your teddy bear picnic party and help you transport all the goods too!
BALLOONS
Balloons are always a hit with kids! We got ours from Party City.
PAPER FANS
Paper fans and banners make great affordable decorations as well.
PRINTABLE BANNERS & LABELS
I used these free printables from Oh My Fiesta! I don't have any great pictures because unfortunately it rained on us and we didn't set them up. But they are adorable and a perfect free addition to your party!
Teddy Bear Picnic Birthday Party Supplies
TEDDY BEAR PLATES & CUPS
This plate and cup set was ADORABLE and the best value I could find. The kids all LOVED the plates and cups. I liked the neutral colors too.
Note it doesn't come with utensils but you can bring those from home or grab an affordable set from Target or the Dollar Store.
BIRTHDAY PARTY HATS
Grab a pre-made set in your chosen colors or a blank one like this and set it up as an activity for the kids to do at the party!
Teddy Bear Picnic Birthday Party Food Ideas
For our teddy bear picnic we had lots of fun teddy bear picnic themed foods including:
Some other fun ideas might include using a bear cookie cutter to make mini sandwiches, melon cutouts or fruit skewers.
Teddy Bear Picnic Birthday Cake
I followed this brilliant tutorial by The Little Black ShadeTree.
While it was very time consuming to make (several hours) it wasn't quite as difficult as I imagined. I wish I had time to make the cute little bunny but I still had a few other party things left to take care of. For my first attempt at a 3D cake I'm pretty happy with the results (see the pic below).
My top tips if you are attempting this cake are to make sure your cake pop style dough is stiff enough and place the ears very carefully with toothpicks. Also I definitely advise having room in your fridge so the frosting can harden.
Teddy Bear Picnic Cake Smash
To make this adorable bear cake I used this healthy smash cake recipe, homemade chocolate buttercream and some marshmallow fondant. I followed this tutorial from the bear foot baker on how to create the bear cake. It was actually much easier than I anticipated it being!
We had a blast with our teddy bear picnic party and we hope you do too!