We all become mamas at different ages and in different stages of our lives.
From meeting and chatting with moms from around the globe, I've noticed motherhood tends to be a wild adjustment for all of us!
Some of us choose to be stay at home moms, while others fall into being one through their life's circumstances. For others yet, it's simply more practical than paying the rising costs of childcare.
There are so many paths that can lead us to be home with our babies.
It's a huge lifestyle change and I'm here today to share what I've learned in how to be a happy stay at home mom.
First, a little backstory as to how I became a stay at home mom…
I personally fall into the category of "mostly stay at home mom".
I do work one half day a week (normally, it's on hold during c o v i d) to keep my license and skills active (I worked hard to become an Optometrist and it's a career I wish to maintain for when my children are school age). In the meantime, I'm grateful I have the choice to stay home and care for my daughter in her early years.
You may even consider me a work at home mom since I do blog too, but I only do so during nap time and occasionally after bedtime. It's currently a part-time passion project and I love the sense of community in connecting with other moms in my quiet time.
The transition from working eye doctor to stay at home mom was one I couldn't comprehend and certainly wasn't prepared for. I've been working since I was 16. Anytime I wasn't in school I was working to pay for said school.
I went from being a busy bee working woman juggling my job, time with family & friends, attending kickboxing classes and doing home projects to being at home around the clock, with my focus being on nurturing my sweet little girl and adopting a much slower pace of life (note: it's slower at first, but boy does it pick up in a whole new way as they grow into toddlers!).
I poured all of my energy into caring for her. The newborn stage is a blur of nursing, sleep deprivation and glorious baby cuddles. I often felt productive if I changed my clothes or brushed my teeth. I had a whole new, beautiful purpose, yet I could feel myself slipping away.
In truth, I wasn't losing myself, it was my old habits and lifestyle that were lost.
As I dove into some much-needed self-care and personal development I realized I, in fact, was finding myself in motherhood.
I want my daughter to love herself and be confident and grateful, and I know I need to lead by example. Every day I am connecting more with my truest self – and I'm the most confident version of "me" yet!
I don't think it's possible to be 100% prepared for motherhood. There is nothing quite like it. But if you are a new mom or transitioning into a new role as stay at home mom, I hope you find these tips helpful. They are the things that helped me feel confident, joyful and fulfilled in my new role being home with my daughter.
Here they are…
12 tips & tricks on how to be a happy stay at home mom.

Give yourself grace.
This one may sound a little woo woo, but it's actually so important.
Being a stay at home mom is a HUGE learning curve.
You are learning how to be a mom, or how to 'mom' all day long. If you are reading this, this is something you probably haven't done before or may be currently struggling with.
Things don't always go as planned in motherhood, and that's ok!
This was, admittedly, super hard for me to grasp too. I'm a planner. A time blocker. A schedule and routine loving woman! If my daughter took a short nap I wasn't anticipating I'd get all worked up because I wanted to get xyz done or take a nap myself. I quickly had to adapt and let that mentality go. It was too draining.
This is a new season. A season where we need to remember to embrace change. And give ourselves all the grace for the hard days.
Bad moments don't make bad moms – Lisa Terkeurst
Let your child(ren) teach you. Flexibility. Adaptability. Spontaneity. How to go with the flow, so to speak, if that isn't your style.
Soak up all the snuggles and cuddles and those slower days, because mamas, babies sure don't keep…
Find yourself some amazing mom friends.
Join a stay at home mom's group in your town/city if they have one and/or connect with other moms on social media. Find a group of moms who can relate to everything you are going through. Connection is key when you are home all day with kids (often times many of whom can't even talk back to you).
Check out this related post on 5 reasons to find a mom group in your community.
Don't play the comparison game.
While you want to connect with other moms who can relate to you, laugh with you and cry with you, try not to get caught up in the mom comparison game. There is no one way to parent, we all have unique values and priorities.
Every child is unique too. They will hit milestones at different speeds. One will walk at 8 months and the other maybe not until they are 15 months. As your baby grows nobody will know who walked first or who talked first…
Create new routines.
A lot of us are creatures of habit and, kids, well they thrive off routines!
It's pretty natural to create new routines for your baby (for example nap time and bedtime routines), but don't forget about new routines for you too!
In addition to the new routines, motherhood takes adjusting all the ones you may have established prior to having kids. Time is so different as a new mom – you typically only get little breaks (nap time or when your partner can take over), and often you don't even get those (some days baby just wants to be held, and by mama only!).
Let's chat about a few examples…
Cleaning Routine
Pre-kids, I used to clean in large chunks of time. I'd set aside a couple of hours on the weekend and just plow through it. That just doesn't fly anymore. Now I'm all about daily cleaning in small amounts. Check out my manageable busy mom cleaning schedule here.
Morning Routine
Another routine that has been a game changer was finding a solid and empowering morning routine. It doesn't have to be long or fancy, but investing a few minutes into looking after yourself first thing in the morning does wonders for a mama's mindset. You can read my blog post all about creating your perfect morning routine here.
Evening Routine
While we typically don't even think twice about creating this lovely, relaxing bedtime routine for our babies we often don't have any sort of evening routine in place for ourselves! It's so relaxing to wind down and let any stress from the day melt away before heading to bed yourself. Read here how you can plan the perfect evening routine for busy moms.
Self Care Routine
Self-care looks a little different after having kids too. You may not have hours to yourself, but there are plenty of ways to fill your cup! Check out my post here on 15 brilliant self care ideas busy moms can do at home.

Enlist help!
Accept offers and enlist the help of family/friends to get the much-needed breaks you deserve.
Being a stay at home mom isn't easy – you work around the clock for no pay! To prevent burnout it's essential to get in some break time and focus on yourself too.
Again, all of our situations are different. Some families have grandparents nearby who help out all the time. Others are single moms taking on these responsibilities alone. Whatever your case may be, if you can have someone you trust watch the baby for even a few minutes while you take a hot shower or drink a hot cup of tea, it can give you some rejuvenating rest.
I was definitely guilty of not accepting any help in the beginning. I felt like I had to do it all myself to be seen as a good mom, when in reality all that does is burn you out fast. Once I let my husband take on more responsibilities we all felt better!
Find activities to do with your baby.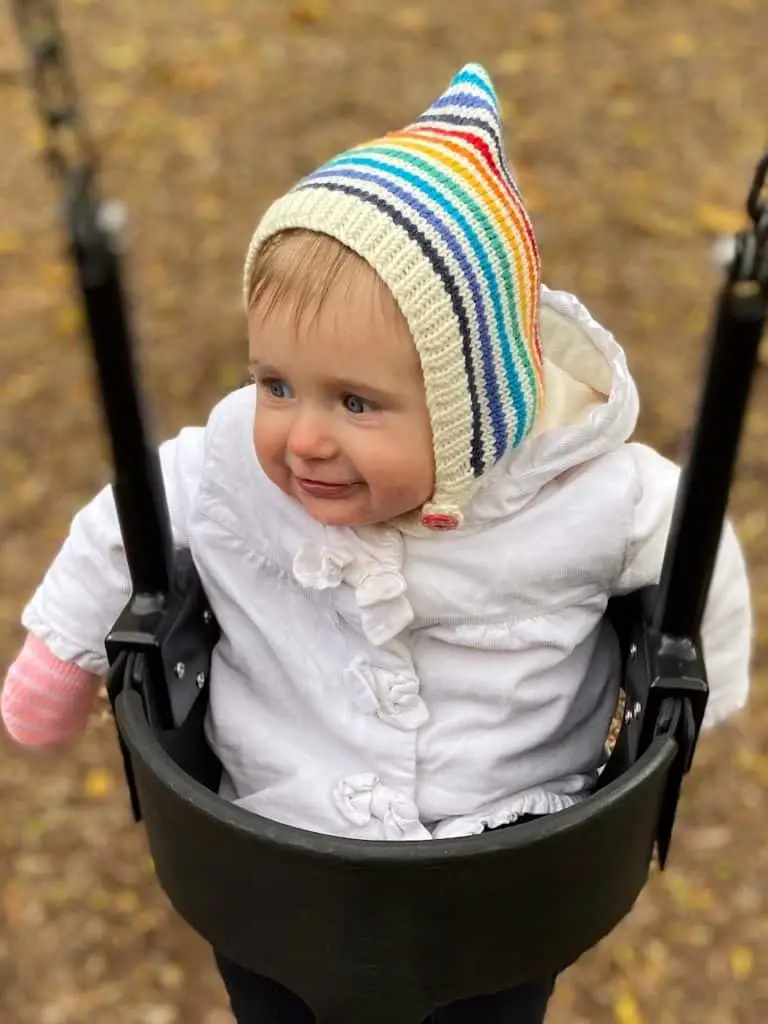 This one is all about getting out of the house, mama.
Go for walks, go to the park and chat with other moms, or find a baby/child story time near you! Check out music classes, baby/kid concerts or attend mom meet ups. There are often tons of baby/kid friendly activities available if you look for them!
Get outside as often as possible.
Have you ever found yourself in an unexplained funk?
Unmotivated and dragging your feet until something or someone made you get outside…and then you felt 100% better?
I know I have. Many times.
Getting out does wonders for the soul. Every time. Some days it's a lot of effort to get out the door, especially with kids, but it's worth it.
Sunshine is powerful. It releases mood elevating hormones in the brain! So if you find yourself in that unexplained gloomy mood (or if one of your kids is in one too) – get you and the family outside!
Find a new hobby or creative outlet.
Find something to let your mind get a break from 'mom-ing' and be otherwise stimulated. I find this one to be a key component of how to feel fulfilled as a stay at home mom.
Personally, I love to blog, learn about the technical side of operating a website, read all genres of books and bake, to name a few.
I'd love to learn a little macrame next…
What hobby do you want to get into? Drop me a comment at the bottom, I'd love to hear!
Embrace meal planning.
Take the stress out meal times by having a plan. You can save so much time and so many trips to the grocery store through effective meal planning techniques. I dive deep into how you can meal plan for your family in under 10 minutes a week in this post. Trust me, whether you are an avid cook or not, it's totally worth learning how to do efficiently!
Set up a chore routine.
On the same page as meal planning… automate your chores too! When you have a plan you don't have to expend energy wondering what you should be cleaning next or waste time looking around exasperatedly not knowing where to even start!
Snag my chore planner for free in this blog post.
Move your body.
The fatigue is real in motherhood… but the right kind of exercise is energizing! Of course, if you are a new mama, you want to wait until you are cleared by your OB and post-natal physical therapist, but there are a ton of home workout options out there to get moving!
For more info on exercising as a new mom, check out my top 7 tips on losing weight while breastfeeding.
Have date nights!
It's way too easy to pour everything into our children, but it's still important to nurture our relationships with our partners. You can have sweet, romantic date nights at home. They don't have to be as late or as extravagant as dates pre-kids 😉
Click here for some fun stay at home date night inspiration!
---
There you have it, 12 ways to find joy and be a happy stay at home mom. Which resonated most with you? What tips would you give to a new stay at home mom? Let's chat below!
Xo,
Kinzy
You might like: