This post contains affiliate links. This means by purchasing through one of these links I may make a small commission at no extra cost to you. Please see my disclaimer for more details. I only recommend companies whose products I use and love!
Are you wondering what to put in your diaper bag? What items you actually need, and how to pack your diaper bag without looking like your moving out every time you go out?
You've come to the right spot.
Let's walk through how to pack a diaper bag and what items you will actually want to have on hand. There's a free diaper bag essentials checklist available too:
We promise no spam. Unsubscribe at any time. See our privacy policy for more details.
PS – I shared another post on a minimalist mama's newborn stage diaper bag must-haves here in case you are looking for that. There is a free checklist available at the bottom of the post!
Today's topic, however, is about the diaper bag essentials needed for the different stages of baby's first year! Once your little one is more active and more curious there are a few additions you may want to think about adding to your pack.
First, let's review the primary diaper bag essentials: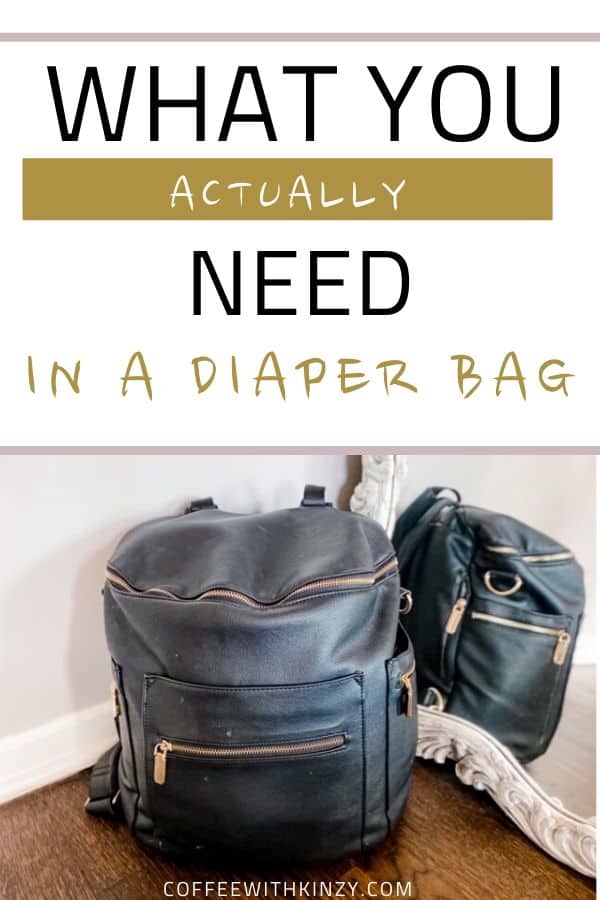 I err on the side of being more minimal. One, I don't believe you need a ton of stuff. I LOVE all things multipurpose… and two, I don't want to lug around a heavy diaper bag and a heavier baby 😛
The Diaper Bag itself

I like a backpack style for comfort and all the available pockets. The diaper bag basically becomes your purse. Luckily, there are plenty of stylish and affordable options out there!

Diapers, Wipes & Diaper Cream

For a day out, pack the same number of diapers you would go through in that time period at home and add 5. Since diapers are lightweight, best to be over prepared for this one!

Diaper Disposal Bags

In case you need to put your dirty diaper back in your pack, or to wrap up any soiled clothes. You can totally use re-usable ziplock style bags for this to be more environmentally friendly. Just make sure they are washable!

A Reusable Changing Pad

This is an easy environmentally conscious switch, friends. No need for disposable changing pads unless you are travelling (and even then…). In fact, a lot of diaper bags come with these now.

Hand Sanitizer

Keep those germs at bay. Pretty self-explanatory item, you should always have this on hand for good hand hygiene.

Spare Clothes for Baby

Trust me, you don't want to carry a naked baby home. You would certainly get a few giggles from your fellow parents!

Baby blanket

Multipurpose – maybe you need a blanket or something to sit on, it's good to have a small blanket in the bottom of your pack.

Burp cloth

This one is pretty self-explanatory.

Spare Clothes for Mom/Dad, extra nursing pads for mom

I mean, this is up to you but I sure like a fresh shirt when have been puked, pooped or peed on.

Pacifier

If your baby takes one, definitely carry one or two of these bad boys!

Baby Wearing Sling/Carrier

OK I promised a minimalist list, but this item has saved me time and time again. Seriously. More times than I can count. When your baby just needs to be close and you want your arms free, THIS is your lifesaver!

Water bottle for mom/dad, sippy cup of water for older babies

Hydration is key, friends. I've never been thirstier than as a breastfeeding mom!

Feeding essentials

Depending on your situation this may be bottles & breast milk or formula, or a nursing cover if covering up is your thing.

Parent essentials

Think wallet, keys, phone, etc. It's your purse now!

Snacks

Particularly for toddlers and breastfeeding moms!! Never, ever leave without a snack.

Sun protection

Think hats & sunscreen.

Small emergency kit

You can always have this in the car, but if you are out walking it's nice to have a couple of things on hand (think band aids, a thermometer, etc).
You do need quite a bit of stuff for a tiny human, eh? But thankfully most of it is small and light and easily stored in an organized diaper bag.
Now that you have those baby bag essentials…
Let's chat about some nice-to-have items:
Spare bibs –> drool comes in epic proportions during teething times…
Crinkly Books –> aka distractions
Favorite toys –> see #2
Teethers –> relief for the poor teething babes
Basically you want to add a few entertaining items to distract your kiddo if you are out and about getting things done!
Do you want a printable checklist?
You can grab this one right here:
We promise no spam. Unsubscribe at any time. See our privacy policy for more details.
Now, how do you pack the diaper bag and keep it organized?
You HAVE to get a diaper bag with tons of internal and external pockets. You can grab my favorite stylish diaper bag by clicking here (available on Amazon). It has TONS of pockets, a key ring, insulated compartments for bottles, external pockets & so much more. I get tons of compliments on it and it still looks brand new (15 months in!).
Once you have your diaper bag, start to pack it in sections. Group things you will need together. For example: diapers, diaper cream, wipes, and the change pad will all be used together. Place these somewhere easily accessible (I use the large back pocket).
Put large things on the bottom. This would be things like the baby blanket, the extra clothes for mom, etc.
Have seasonal/situational small packets you can place inside the main compartment of the diaper bag –> have a summer one with sunscreen, a hat, bugspray, etc that you can throw in when you need it. Consider a toy packet when you know you will need extra entertainment or a restaurant packet when you will need bibs, utensils, etc.
Repack the bag as soon as you get home! This will mean you are ready to go next time you need to leave the house and you won't have to scramble to check the diaper bag.
Inspired to organize your diaper situation at home? Check out this article on all the must-have's for a diaper change station!
My favorite products:
Thinkbaby Sunscreen
It's chemical free, reef-safe and water resistant. We love our Thinkbaby sunscreen.
Baby K'Tan soft baby sling
The Baby K'tan Baby Carrier is a wrap without any wrapping. Sized like clothing, it easily slips on like a t-shirt for multiple carrying positions. LEARN MORE!
The best straw cups for toddlers!
I've tried so many cups and these are great! You can buy them here (on Amazon).
That's a wrap, friends!
The diaper bag becomes your go-to bag for quite a while. I recommend getting one that has tons of pockets and storage, and keeping it organized! It'll make your life so much easier and you won't end up losing things into the depth of the bag.
Xo,
Kinzy
You might also like:
How to lose baby weight while breastfeeding
The Best Crib Mattress Ever: for Babies & Toddlers!
5 Baby Items Totally Worth the Splurge