Disclosure: We received a personalized story book from MonkeyPen Books in order to share our opinion about their books, but this isn't a sponsored post. All opinions are our own.
Are you looking for beautifully illustrated, personalized children's books?
I'm here today to share a fabulous option – by MonkeyPen books!
It's a truly seamless experience from start to finish, and we are totally in love with our personalized story book.
My daughter is 18 months old and LOVES finding herself throughout the book. She exclaims "baby Stella!" on every page. She picks up her book at least 5 times every day and requests it at every nap and bedtime. It's so heartwarming to see.
Related Post: 15+ Festive Toddler Books About Fall
Why you should consider MonkeyPen for your personalized children's books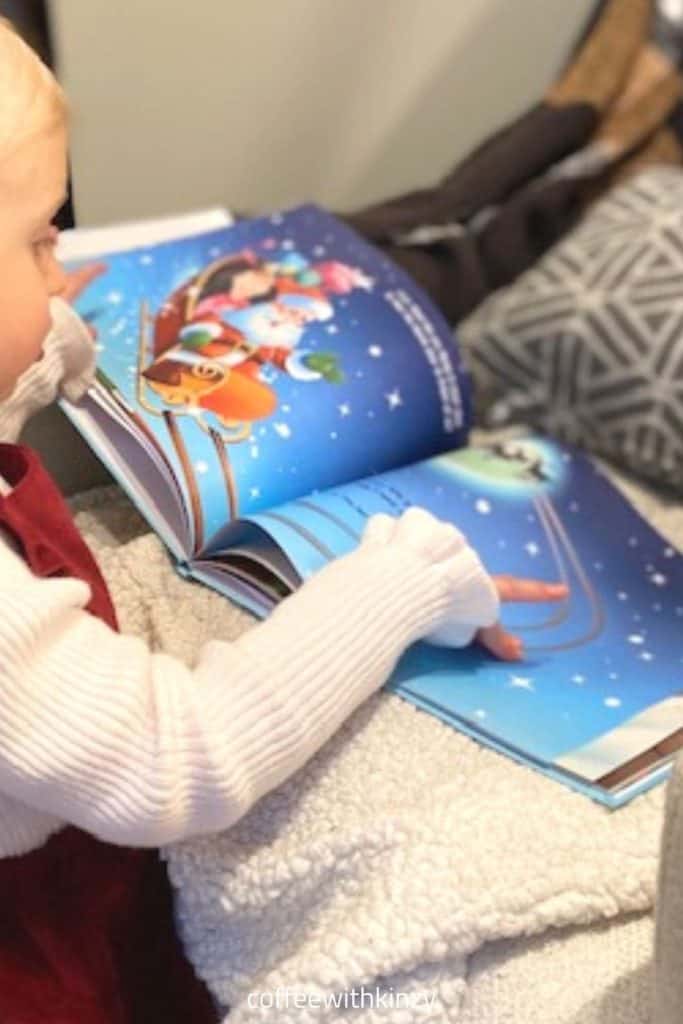 There are a few things that make MonkeyPen really stand out.
The illustrations are GORGEOUS. The drawing looks exactly like the photo of my daughter I uploaded in the creation stage. It's awesome!
Your child appears in the book 13 times – not just once or twice like a lot of the personalized children's books out there.
A personalized message to your child is printed on the first page. We chose to write:
Dear Stella,

Merry Christmas. We love you forever & always!

Love Mommy & Daddy.
They value your child's safety and per their website, they delete the photo immediately after use. I personally like that they don't have a picture of my child floating around in their database.
By purchasing from MonkeyPen books you are supporting a business that believes books should be accessible for every child. By purchasing a personalized book for your child, you become a partner in their free book project as some proceeds go towards creating their collection of free books. Their goal is to create 10 thousand free children's books – how cool is that? I love finding businesses with awesome missions like this one.
They have a unique 30 day, 110% money-back guarantee. If you aren't satisfied, they will completely refund you… + 10% if you are unhappy with the service. Totally awesome!
Related Post: 10 of the Best Books for Toddlers Available on Amazon
MonkeyPen has a collection of free e-books available on their website!
You can check them out here. As of the time of writing, they are available for immediate download (no email required).
A personalized story book for kids makes a truly thoughtful gift.
These personalized children's books with their name and picture will become treasured keepsakes for years to come! It's truly magical to read a story where your child is the star.
Check out MonkeyPen books for some of the best personalized children's books. They have a Christmas story, a zoo book and a sea adventure too! It's so hard to choose – they are all adorable!
Xo,
Kinzy
You might also like:
Practical Gifts for One Year Olds
30+ Stocking Stuffers for Toddlers (Under $10!)
How To Put Together A Perfect Toddler Christmas Eve Box