Do you find yourself stuck in a rut cooking the same recipes over and over? Are your husband and kiddos tired of eating the same things again and again? Today I am sharing with you some top tips on introducing variety into your cooking! And the secret lies in weekly meal planning categories, my friends.
If you haven't already read my 5 step system to easy peasy meal planning using Pinterest, you can check that article out here. Trust me, if you use Pinterest and you want to meal plan, it's worth a read.
And now that you are successfully meal planning for YOU and your family, you can start to introduce some variety into your diet. How you choose to split up your categories is up to you: it will really depend on the types of cuisines you like to eat and the cooking methods available to you. Read on for my 15+ weekly meal planning categories!
15 Top Weekly Meal Planning Categories for Busy Moms
You read that right. That's more than 2 weeks covered for you, and you will have multiple recipes that fall under each category. This adds up to months worth of unique meals!
Soup Night
If you like soup, make this a staple. Large soups are easy on the pocketbook & make large quantities. This means easy lunches & leftovers, friends.
Sheetpan Dinner
Dice up the goodies, throw 'em on a sheet pan and bake away. Nutritious and easy meals in under 30 minutes! I love these for busy weeknights.
Skillet Dinner
Oh another just fabulous one pan meal. These are usually ready in 15-30 minutes and are weeknight staples as well. Fast, low dishes, yummy = win, win, win!
Crockpot Recipes
When you just don't have a lot of energy (ie hump day anyone?) toss a bunch of ingredients in the slow cooker and you don't even have to think about dinner come evening time, it's ready for you!
Instapot Recipes
Sense a theme? Quick meals for weeknights make meal planning successful for busy mamas!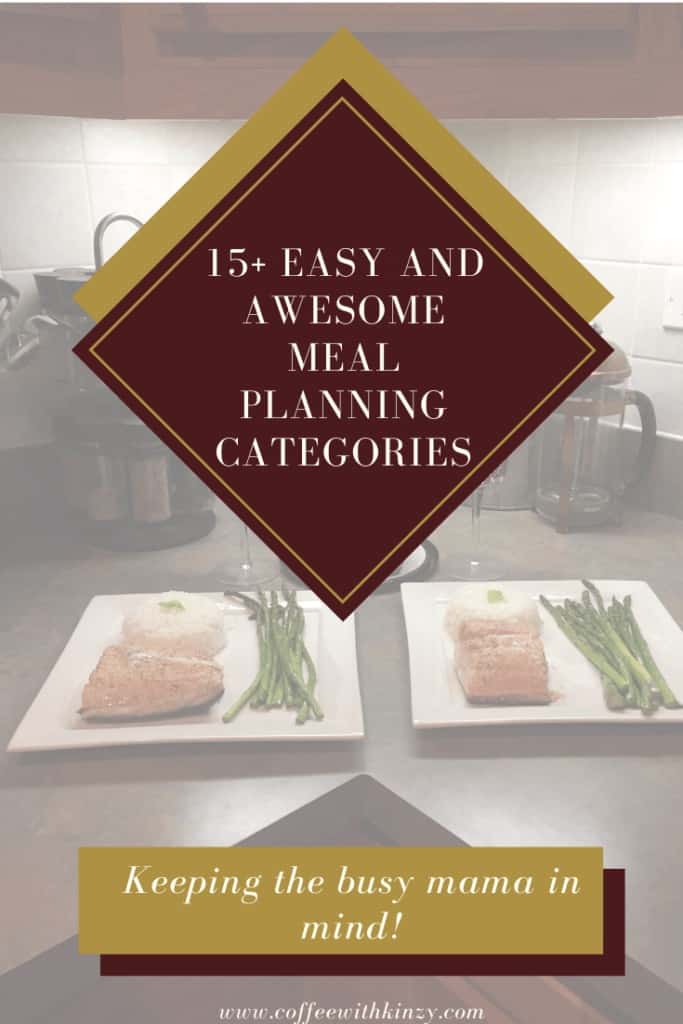 Casserole Night
Casseroles are great for using up ingredients and hiding veggies from kids.
Pasta Tonight?
My hubby's personal fav is pasta night. So many options in just noodles alone – never mind the toppings!
Bowl Recipes
All the rage and I am here for it! Top cilantro lime cauliflower rice with baked salmon and avocado for a easy, delicious bowl!
Salad Night
Again, there are endless options here friends. My personal fav and staple is taco salad. Too easy, too yummy.
Breakfast for Dinner
When all else fails… cook up some breaky.
Meatless Recipes
Meatless Monday anyone? This is a staple in our house as we try to get in more plant based protein.
Taco Night
Fish tacos, shrimp tacos, ground beef tacos, chicken tacos… So. Many. Tacos. Embrace taco Tuesday!
Seafood
We don't do this enough – but I love scallops and shrimp!
Fish Recipes
Get in those omega rich fishes! I try to schedule fish 1-2 times a week in our house.
Stir Fry Night
If you hate the prep you can buy pre-made stir fry veggies at the grocery store or even the frozen veggie mix at Costco is great for this!
The secret to success…
IS choosing which categories appeal to you and then NAMING YOUR PINTEREST BOARD SUBSECTIONS AFTER THEM! At the beginning of each week pick your 7 categories, scroll for a recipe to catch your eye and BAM! Meal Plan Done!
Check out my Pinterest here to see how I meal plan for our family.
Looking for even more options?
Try separating your categories based on main protein component: fish, chicken, pork, beef, shrimp, tofu…

OR

try divvying them up by cuisine: Mexican, Italian, Thai, Vietnamese, American etc.
A couple last pieces of advice:

Don't dive straight into 7 new recipes. That is overwhelming for ANYONE never mind a busy mama and may lead to you to meal planning burnout…mid week. You need to cook some go-to recipes; the ones you know are delicious, nutritious and easy week night meals. I would recommend setting 1-2 days a week to try NEW recipes –> do these on your days off or on all around less busy days. Don't go do this on Wednesday when you are just trying to make it to the end of the week.

Ditch the recipes with too many complicated ingredients or that take too long. Keep things simple, tasty & nutritious. This will set you up for long term success.
Once you do this for a couple weeks it will become a routine AND a habit. It gets so much easier. Have fun with it!
That's a wrap, friends. Did you find this helpful? Drop me a comment below!
Xo,
Kinzy